NEW RELEASES: 9th April 2018
April 9, 2018 · 0 comments
A new week has arrived and that means there's a new release to add to your anime collection! But we also want to take the opportunity to catch you up on some news you may have missed from us over the past week too.
Read on below for the details.
---
NEW RELEASES FOR WEEK COMMENCING:
9th APRIL 2018
PRISON SCHOOL
FORMAT: Standard Ed. Blu-ray
(Ltd Collector's Ed. Blu-ray previously released.)
BBFC CERT.: 18
SRP: Standard Blu-ray – £34.99
Language: English, Japanese with English subtitles
From the studio behind Food Wars! and Shimoneta
Synopsis: When the prestigious all-girls Hachimitsu Private Academy becomes co-ed, five young men are the first males to attend. But the girls aren't so accepting of their new classmates. Despite their best attempts, Kiyoshi and his friends are met with cold shoulders from the girls. So what better way to deal with rejection than a little bit of peeping? When they chance a peak at the girls during bath time, their plan falls apart and they are caught by the Underground Student Council. Unwilling to hear any excuses, the USC enforces an absurd punishment imprisonment! For a month, the boys must live within the school's very own penal system while enduring long, hard, and grueling tasks. 
But the work is the least of their worries. 
With the sharp crack of a riding crop and the harsh discipline from a stiletto heel, it's going to take more than sheer will power to survive the next month especially when the ladies of the USC have their own secret agenda.
You can watch the trailer for this (originally published when our Collector's Ed. version was being released) below
ADDITIONAL NOTES
— Want to know more about this series? Red this piece at our blog HERE
---
SPECIAL SCREENINGS OF MAQUIA FEAT. DIRECTOR MARI OKADA Q&A SESSION THIS WEEK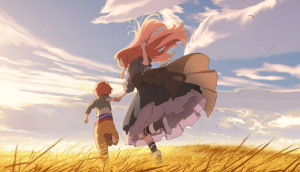 In case you missed it late last week, there are going to be two special screenings of Maquia: When the Promised Flower Blooms this month! They're special as the director of the film, Mari Okada will be in attendance to take part in a Q&A session!
First of all for anime fans in Ireland we're happy to say that the Irish Premiere of the film will be taking place at the Lighthouse Cinema in Dublin this coming Saturday (14th April) at 6pm as part the annual Japan Film Festival!
Then a few days later on Monday 16th April, we bring the film to England for the first time as there will be a special screening of the film at the Prince Charles Cinema in the heart of London at 6pm that evening.
Book your tickets for both events featuring a Q&A with director Mari Okada now:
TICKETS TO JFF SCREENING+Q&A IN DUBLIN
TICKETS TO PCC SCREENING+Q&A IN LONDON
---
NEW TITLE ANNOUNCEMENTS
In case you missed it last week (including one this past weekend) we announced three titles we've acquired home video rights for! That means we'll be bringing them to home video in the future.
The first was Lupin the 3rd: Part 5 which we're also simulcasting to the UK & Ireland through Crunchyroll each week when a new episode airs! Read our announcement HERE for more details.
The second was Tokyo Ghoul:re, the brand-new season in the Tokyo Ghoul franchise, which we're also simulcasting to the UK & Ireland each week when a new episode airs. Read our announcement HERE.
And finally, this past weekend we announced PERSONA5 the Animation! Read our announcement for this HERE. Though we don't hold the simulcasting rights to this title, fans in UK & Ireland are still able to watch each week on Crunchyroll! (Read our announcement for more details.)
---
And that concludes this post! Get hyped!!!!!!
Signing out~!
Jeremy