On the week of MCM London Comic Con it's time for our latest Newswire! It's going to be a very MCM focused newswire this week, but there are also update on the general running of things the next week, Durarara!! replacements and more.
NEWS/GENERAL UPDATES
~ Our new release this week the Standard Edition Blu-ray (that includes our reauthored discs) and DVD of Durarara!!. You can get full details about this set in a post of ours from a few weeks HERE.
~ Speaking of Durarara!! in case you didn't read it in our Newswire last week fulfilment for our Limited Edition Blu-ray replacement programme is ongoing. The latest update on this can be found below in the Replacement Update section.
~ This week is MCM London Comic Con, one of the biggest events we attend every year, and with that it means general running of things from us (both on the likes of social media and behind the scenes) will differ from normal running, so we wanted to make you aware of a few tidbits:
First of all, though in the grand scheme of things this shouldn't affect anything from your perspective, the entire Anime Limited team will be in attendance of MCM London Comic Con this week. As such by Thursday everyone will be in London and not in our home base of Glasgow.
If you're interested in placing an order at our web shop please note that due to the whole team being in London any orders placed for in-stock products between tomorrow (Thursday 20th) and Monday (25th May) will not be fulfilled until 26th May at the earliest. (One of our top priorities following MCM London after the weekend will be fulfilling orders placed during that time.)
We know that many of you won't be able to attend the MCM London Comic Con event, but we're going to be bringing the event to you via our website and social media channels so you can be part of the action! But that's not all as we'll be making sure that you will be the amongst the first to know about our exciting announcements (and any other news that may surface from us) over the weekend. So be sure to keep an eye on what we're posting over the weekend as it'll be worth it.
**UPDATED ACTIVITY Information**
ANIME LIMITED AT MCM LONDON COMIC CON MAY 2015
Follow Anime Limited on Facebook | Twitter | Instagram | Tumblr
Where to find us
The map of the convention itself has been made public and our friendly Anime Limited Panda Mascot decided they wanted to point where we are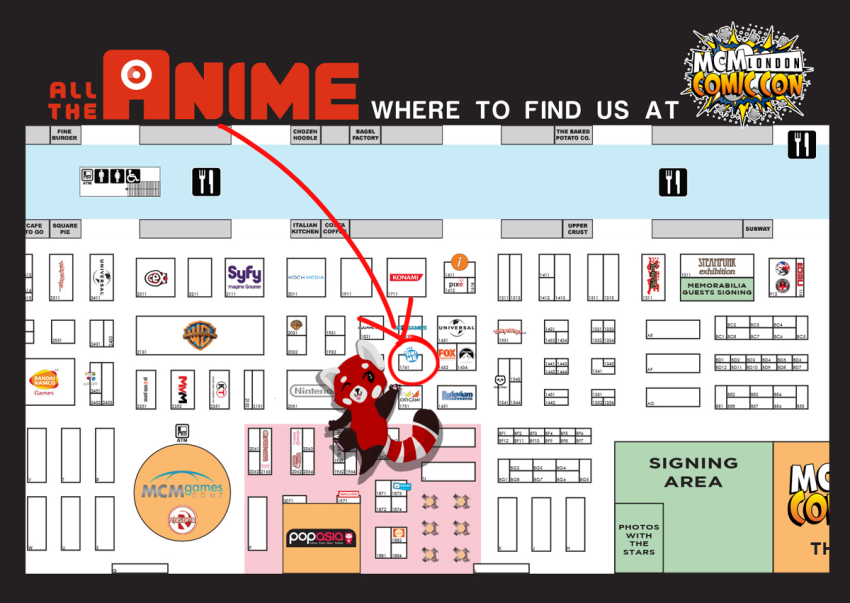 The Anime Limited F.A.Q relating to MCM London Comic Con – May 2015



Will you have some awesome deals at our booth? YES! Come along to find out what 😉
Will you take card payments? YES! Because let's face it, the cash machines will be probably be emptied before you know it.
Will you have announcements? YES! Check our website/social media channels at 9:30am and 12:30pm each day or come ask us after those times!
Will you have previews of Q3-Q4 titles packaging? YES! Come by our panels on Friday afternoon and Saturday morning to find out more!
Will you have exclusive items available at the Anime Limited booth (while stocks last?) YES! Read on below for more details
Will attendees be able to direct their at us rage over something? YES! But only to our resident 6′ 8″ giant of a Marketing Executive, Jeremy Graves. (And you may do this at your own peril 😉 )
Panels
Those of attending the event will be happy to hear that Anime Limited will be involved in multiple panels across the weekend of MCM London Comic Con.
ANIME LIMITED & VIEWSTER – MCM LONDON COMIC CON PANEL TIMES
Fri 22nd, Anime Limited Panel #1 – 4pm @ MCM Theatre Upper Platinum
Sat 23rd, Anime Limited Panel #2: Redux – 10:30am @ MCM Theatre Upper Platinum
Sat 23rd, Viewster Presents Anime Guest Of Honour, Hidetaka Tenjin – 1pm @ MCM Theatre B
Sun 24th, Anime Industry Q & A Panel – 1pm @ MCM Theatre B
You can find more details about these panels in the official MCM London Comic Con show guide HERE.
WHAT WILL ANIME LIMITED HAVE AVAILABLE?
As announced last week, Anime Limited will have a whole raft of exciting promotional exclusives for this year's MCM London Comic Con this weekend (May 22-24!) We have got freebies, promotional giveaways and gifts with purchase – all available on a first come, first served basis at the Anime Limited booth #1741.
So what have we got this year? What can you expect to see at MCM in May? A whole lot actually! We've got Kill la Kill, Space Dandy and various bits and bobs for fans – check out the details below.
Kill la Kill – Part 3 with Collector's Box
This May, we will have some early release copies of Kill la Kill Part 3 including the Collector's Box 2 weeks before the official retail date! That's right – MCM visitors will be able to complete their collection and get their hands on this gorgeous set early enough to be the envy of your pals – so pop along and grab your copy while supplies last.
We also have a very special MCM exclusive offer: we will be giving away some gorgeous Kill la Kill branded tote bags with purchase of any Kill la Kill DVD or Blu-ray. That's right! Whether it's Part 1 or Part 3, you're eligible for one of the KLK totes – that is, of course, while stocks last. And a word of warning, they are very limited in number so if you want your own MCM exclusive Limited Edition Kill la Kill tote bag, we suggest you get to the Anime Limited booth as early as possible.
Here's a glimpse of what the tote bags will look like. (Please note the image below is a preliminary picture and the final product itself may differ slightly. We'll be sure to post pictures of the tote bag later this week.)
Space Dandy Notebooks
Anime Limited will have even more MCM May exclusive giveaways – this time in the form of Limited Edition Space Dandy Notebooks! That's right – we will be giving away these beautiful notebooks as a gift with any purchase over £50. These pretty sweet notebooks will be available to customers of the Anime Limited booth over the weekend while supplies last – so, once again, get in early if you can!
Oooooh! Badges!
We've got pure hunners of badges to give away at our booth as well for lucky customers this year! There are a whole bunch of different designs representing a bunch of our titles. The Anime Limited red panda mascot may even make an appearance or two.
Postcards
As ever, we will have our traditional postcards to give visitors of Booth #1741! We love to give away postcards with beautiful artwork from some of our favourite shows – so please pop round and pick up a couple to add to your collection.
There will be other bits and bobs going on over the weekend as well so at the very least, make sure you swing by and say hello! We look forward to seeing you all there.
Oh and we should also note that we'll have 4 announcements to share with you all over the weekend. For those of you not attending the event, don't worry you'll be amongst the first to know what we're announcing. (To quote Blackadder, we have a cunning plan. A plan that will reveal itself over the coming week.)
REPLACEMENT UPDATE
~ As noted last week in the Newswire, the fulfilment of Durarara!! replacements has started. We are working as hard as we can to get them fulfilled as quickly as possible but with it being MCM London Comic Con that will slow down for at least the next week. We're still aiming to fulfil as many UK replacements as possible by our original target of end of May 2015.
~ We know a lot of you are eager to receive your Durarara!! replacement (and we really trying our hardest to get them to you as quickly as possible) but we have had literally hundreds of requests for replacement discs since we started taking applications, so we're sure you can appreciate it is taking time to get them fulfilled.
~ As mentioned last week, a confirmation email will be sent once applicants replacements have been sent to the email address you registered with. (Be sure to check your spam box as well – sometimes anything can end up in there and you don't even realise it.) Please note that international replacements likely won't be getting fulfilled until after the MCM London Comic Con event.
~ A reminder that those who purchased our Limited Edition Blu-ray set of Durarara!! can still apply for a replacement set of discs. Get the full details HERE. (If you're planning to apply for replacement discs please take the time to read all the details posted.)
UPCOMING EVENTS
Here's the list of upcoming events we'll be attending in some capacity.
MCM London Comic Con, 22nd-24th May
MCM Manchester Comic Con, 25th-26th July
MCM Ireland Comic Con (Dublin), 29th-30th August
NOM Con, 31st July-2nd August
KITACON, 31st July-2nd August
MCM Scotland Comic Con, 26th-27th September
Scotland Loves Anime – Glasgow, 9th-11th October
Scotland Loves Anime – Edinburgh, 12th-18th October
MCM London Comic Con, 23rd-25th October
MCM Birmingham Comic Con, 21st-22nd November
RELEASE CALENDAR
Here's the most up-to-date version of our release schedule. (We will of course continue to update this in every Newswire accordingly.)
April – June 2015
OUT NOW: Wings Of Honneamise (DVD, Collector's Edition DVD+Blu-ray combi)
OUT NOW: Durarara!! Complete Series [Standard Edition] (Blu-ray, DVD)
8th June: Kill la Kill Part 3 [Collector's Edition] (DVD, Blu-ray)
June (TBC): Tiger & Bunny – The Rising (Collector's Edition Blu-ray/DVD)
July onwards [COMING SOON*]
13th July: Space Dandy Season 2 [Collector's Edition] (DVD, Blu-ray)
13th July: Space Dandy Season 2 [Standard Edition] (Blu-ray only)
13th July: Space Dandy Complete Season 1 & 2 Set (DVD only)
July (TBC): 009 Re:Cyborg Collector's Edition (Blu-ray/DVD combi)
July (TBC): 009 Re:Cyborg Standard Edition (DVD)
July (TBC): Fate/kaleid liner Prisim Illya (Collector's Edition Blu-ray, DVD)
TBC: Nerima Daikon Brothers (DVD only)
TBC: Baccano Complete Series [Collector's Edition] (Blu-ray only)
TBC: Makoto Shinkai The Place Promised In Our Early Days / Voices Of A Distant Star Twin Pack (DVD, Blu-ray)
*Tentative date – not final.
If you have any questions on any of the above please feel post them in the comments below or via our Twitter and Facebook.
Signing out~!
Jeremy
Follow Anime Limited on Facebook | Twitter | Instagram | Tumblr | YouTube