It's time for your latest edition of the Anime Limited Newswire. This week our roundup of news brings you details on our upcoming releases of Tokyo Ghoul, Ping Ping The Animation, 009 Re:Cyborg and more. Read on below for details.
NEWS/GENERAL UPDATES
~ Our next releases is the film 009 Re:Cyborg on 14th September as a UK Limited Edition Blu-ray/DVD set that includes the film in both 3D and 2D on the Blu-ray disc. Also included is a DVD disc with the film along with a bonus DVD that includes some behind-the-scenes featurettes. If you haven't already you can check out the trailer for it at our YouTube channel HERE.
We'll be sharing an unboxing of the finished product with you later this week so be sure to keep an eye out for that along with some other cool things.
~ Speaking of 009 Re:Cyborg, it has come to our attention that some people may have received a notification of there being a delay of our release until October. Just confirm this is not the case and is very much on track for a 14th September release.
~ If you're looking to pre-order our release of Sword Art Online II: Part 1 Limited Edition Blu-ray/DVD (out 21st September) there are currently some great prices being offered by the likes of Amazon UK, and Zavvi to pre-order it. Be sure to take advantage of this pricing while you can as we don't control the prices that retailers ultimately charge for our titles.
~ If you haven't got your copy already don't forget that Space Dandy Season 2 is available to add to your collection now! We've had tremendous feedback on the finished product and we're delight to see how happy you are with it. If you're wanting to see a new preview for the show we recently released this clip below on our YouTube channel.
~ Looking ahead towards the end of the month, we'll be releasing Season 1 of Tokyo Ghoul on DVD and Limited Collector's Edition Blu-ray from 28th September. As we mentioned a few weeks ago it has been passed uncut and allocated a 15 certificate by the BBFC. With that in mind here is an updated visual of the Limited Collector's Edition Blu-ray for you.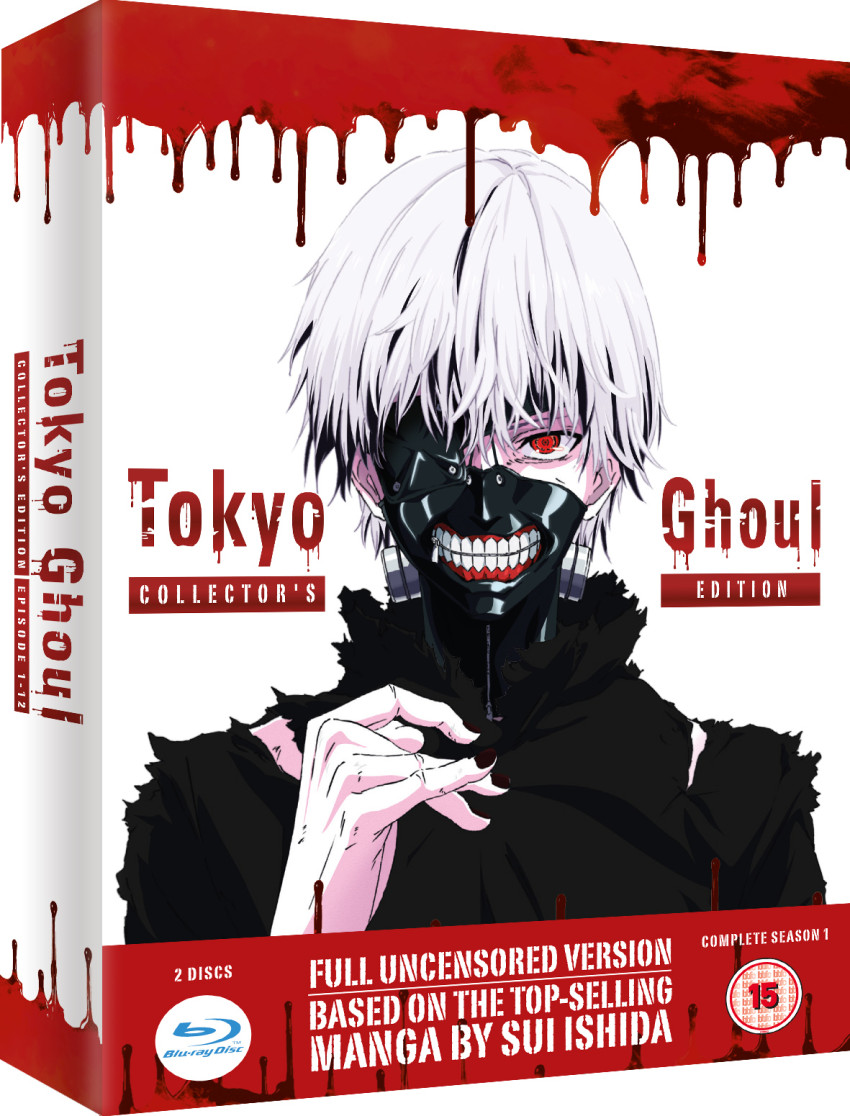 For those wondering, the red bar at the bottom is a separate card that will be packed inside the plastic wrap when released, so that is not part of the box design – that is still clean as you will have seen from past visuals we have shared.
~ Speaking of Tokyo Ghoul being uncut, in case you missed it earlier today we posted a piece HERE highlighting the differences between the original TV broadcast version and our upcoming uncut release of the series. You can expect more details on what you can expect with our Tokyo Ghoul Season 1 release over the next few weeks.
~This past week we were able to reveal the first visual of our upcoming release of Ping Ping The Animation Limited Edition Blu-ray/DVD set. You can pre-order your copy today from the likes of Amazon UK and Zavvi today.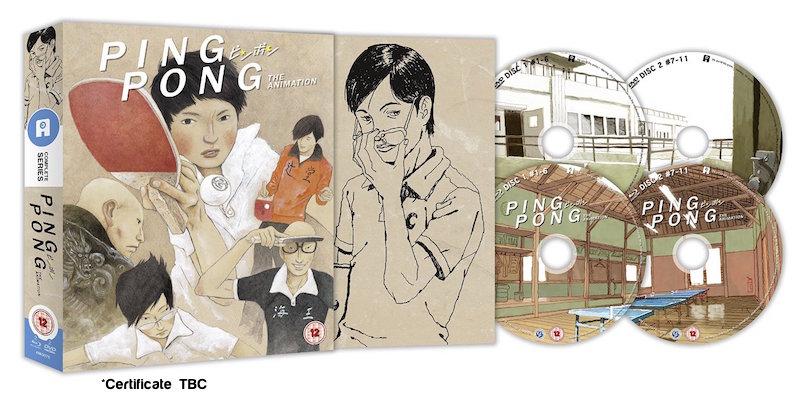 ~ We've had some great content here at our blog over the past few weeks. In case you missed them here is a summary:
~ For those of you planning to attend the Glasgow and/or Edinburgh weekenders of Scotland Loves Anime the lineups have been announced! The lineup includes the UK premiere of Miss Hokusai. To make the event even more special Director, Keiichi Hara will be attending the UK Premiere in Glasgow! You can get the details at the Scotland Loves Anime website HERE. You can watch the trailer for Miss Hokusai below.
~ Speaking of Miss Hokusai we thought you'd be interested to know that the film has been getting some great press coverage in France ahead of its theatrical run. Including some coverage in national newspapers and even on the French Vogue website.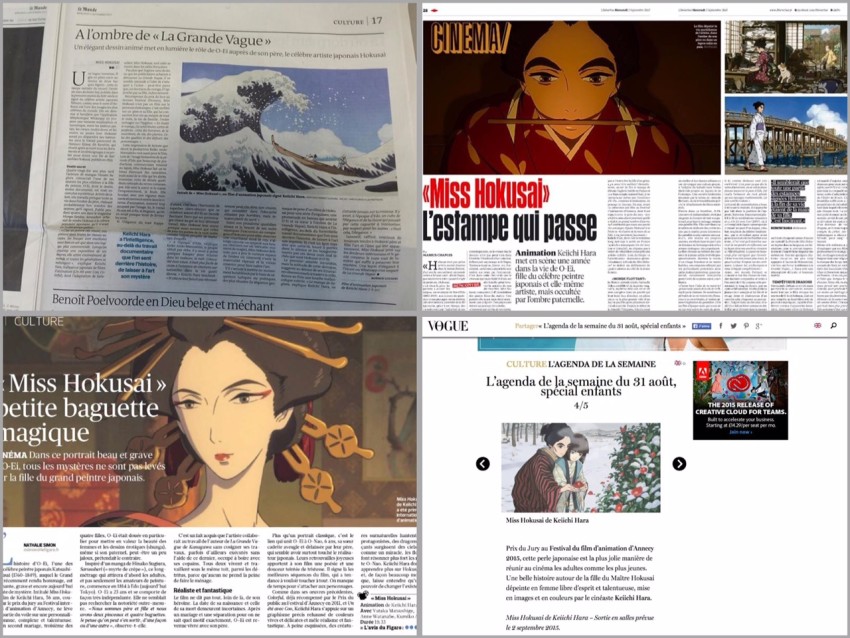 SIMULCAST UPDATE
Looking at our simulcast lineup for this season as a whole it stands at:
The Heroic Legend Of Arslan (continuing from last season)
Aoharu x Machinegun (aka Aoharu x Kikanjuu)
Castle Town Dandelion
GANGSTA.
Chaos Dragon
Blood Blockade Battlefront
Episode 21 of The Heroic Legend of Arslan is available to watch HERE.
Episode 9 of Aoharu x Machinegun is now live at Viewster. Watch it HERE.
Episode 9 of Castle Town Dandelion is available to watch HERE.
Episode 9 of GANGSTA. is available to watch HERE.
Episode 9 of Chaos Dragon are available now on Viewster HERE.
The first 11 episodes of Blood Blockade Battlefront are available to watch at Viewster HERE. The air date for the final episode has not been set yet.
REPLACEMENT UPDATE
Durarara!! Limited Edition
A big wave of replacements were sent earlier this week. We've managed to work through a big backlog of replacement requests but if you have yet to receive yours don't worry it will be on its way to you soon. (If you haven't received a confirmation by Wednesday 9th September or if you have questions or concerns about your replacement request please feel free to email Jeremy on Jeremy@AllTheAnime.com)
If you have yet to apply for replacement discs please follow all the guidelines HERE.
UPCOMING EVENTS
Here's the list of upcoming events we'll be attending. More specific information will be posted closer to the events themselves.
MCM Scotland Comic Con, 26th-27th September
Scotland Loves Anime – Glasgow, 9th-11th October
Scotland Loves Anime – Edinburgh, 12th-18th October
MCM London Comic Con, 23rd-25th October
MCM Birmingham Comic Con, 21st-22nd November
RELEASE CALENDAR
Here is the most up-to-date version of our release schedule.

OUT NOW: Space Dandy Season 2 [Collector's Edition] (DVD, Blu-ray)
OUT NOW: Space Dandy Complete Season 1 & 2 Set (DVD only)

14th September: 009 Re:Cyborg (Collector's Edition Blu-ray/DVD combi)

21st September: Sword Art Online II: Part 1 (Collector's Edition Blu-ray/DVD combi, DVD)

28th September: Tokyo Ghoul Season 1 (Collector's Edition Blu-ray, DVD)
28th September: Fate/kaleid liner Prisima Illya (Collector's Edition Blu-ray, DVD)*

OCTOBER – DECEMBER 2015
26th October: Ping Pong The Animation (Blu-ray, DVD)
26th October: Sword Art Online II: Part 2 (Collector's Edition Blu-ray+DVD combi, DVD)

2nd November: Beck: Mongolian Chop Squad – The Complete Collection (DVD)
16th November: Samurai Flamenco: Part 1 (Blu-ray **subtitle-only release**)
30th November: Fusé: Memoirs of a Huntress (Collector's Edition Blu-ray+DVD combi)
30th November: Mobile Suit Gundam: Part 1 of 2 [tentative title] (Blu-ray)*

[TBC November/December] Baccano! (Collector's Edition Blu-ray)*
[TBC December] Mobile Suit Gundam: Part 2 of 2 [tentative title] (Blu-ray)*
7th December: Full Metal Panic Ultimate Edition [Season 1 + Fumoffu + The Second Raid] (Blu-ray)
7th December: A Letter To Momo (Blu-ray, DVD)
14th December: Sword Art Online II: Part 3 (Collector's Edition Blu-ray+DVD combi, DVD)
14th December: Gankutsuou: The Count Of Monte Cristo (Blu-ray)
21st December: Gundam: Reconguista In G Part 1 (Blu-ray **subtitle-only release**)

*Tentative date

We should be able to confirm specific dates soon for those marked as tentative.

Signing out~!

Jeremy

Follow Anime Limited on Facebook | Twitter | Instagram | Tumblr | YouTube