Hot off the heels of MCM Glasgow Comic Con it's time for the latest edition of the Anime Limited Newswire. There's a fair amount of news to catchup on if you missed any from over the weekend in addition to lots of new notes we can share with you. Read on below for details.
NEWS/GENERAL UPDATES
~ First of all a big thank you to everyone who came out to MCM Scotland Comic Con and stopped by our booth and/or attended our panels over the weekend. It was great to speak to so many of you. In case you missed them over the weekend we made a few announcements. They were:
~ In an update to the news of the Gundam The Origin II World Premiere, ticket information will be coming soon but we want to reiterate that the MCM Loves Anime event taking place on Saturday 24th October is an entirely separate event to MCM London Comic Con. You will have to buy a ticket to MCM Loves Anime to gain entry into the event. Once again there will be more information about how to purchase tickets and such soon. By the end of the week all going well.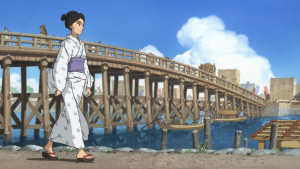 ~ Speaking of MCM London Comic Con, that is the next convention we will be at. You can expect details on our activity at the event across the weekend soon. However before is Scotland Loves Anime, that we (Anime Limited) are the official sponsor of this year.
The lineup is jammed packed and it includes the UK Premiere of our forthcoming title, Miss Hokusai, that will see director, Kechii Hara in attendance and will be taking part in a post-screening Q&A session too. You can get your tickets today HERE.
If you planning to attend the festival in either Glasgow or Edinburgh that includes the likes of the Attack on Titan films, Project Itoh's Empire Of Corpses and the new Ghost In The Shell movie to name a few. Click on the links below for details.
Tickets for Glasgow screenings can be found HERE
Tickets for Edinburgh screenings can be found HERE
~ Staying on Miss Hokusai, over the weekend we posted an interview with Director, Kechii Hara. In case you missed it you can read it HERE.
~ Our next release is the highly anticipated Tokyo Ghoul Blu-ray Collector's Edition. It's available from next week, 5th October. If you want to see what you can expect from this check out our full unboxing HERE. A reminder that the DVD version will be following on 28th October.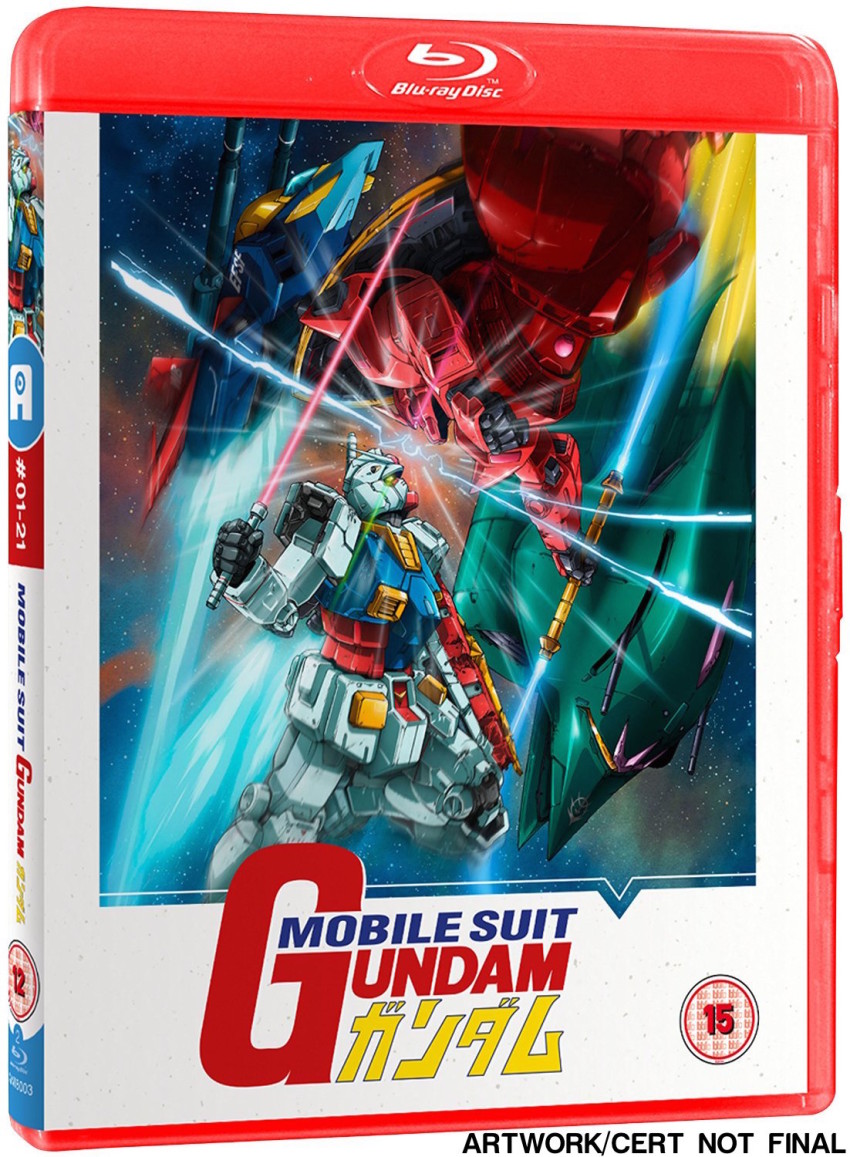 ~ Focusing on a title we know lots of you are excited about, Mobile Suit Gundam Part 1 of 2 on Blu-ray, we wanted to share with you a provisional image (pictured left), and we want to stress it's provisional and not final, of what the case that will house the two Blu-ray discs of Part 1 will look like. We're still waiting to completely sign off on this, but as you'll likely start to see this particular image appear on certain retailer sites (if you haven't already) so we wanted to bring it to your attention now.
We can also confirm that the sleeve will be a reversible cover too! We expect the extras to be clean opening and tending title sequences along with commercials for the original DVD release. (This is the same as in the US release.)
We'll be releasing Mobile Suit Gundam Part 1 on 30th November.
~ If you haven't got your copy already Sword Art Online II: Part 1 is available now on both DVD and Limited Collector's Edition Blu-ray/DVD. You can check out a full preview of our Limited Collector's Edition release HERE.
~ Speaking of Sword Art Online II, Part 2 on both DVD and Collector's Edition Blu-ray will now be getting released on 23rd November as things stand. We're hoping to have details of what you can expect from our release soon, so please stay tuned for that. The reason for the date change is because we're waiting for the authoring to be completed for this title.
~ In addition to this we also want to make people aware that Ping Pong will now be released in the first quarter of 2016. We're hoping to have more details that we can share with you soon about this. We are waiting to receive the video assets for this title and that is what has caused the delay.
~ We also wanted to give you some updates on a few of our other forthcoming releases. You'll be happy hear that both Baccano and Samurai Flamenco Part 1 are on track. Packaging designs have been signed off for both titles and the QC process for both is ongoing as I type this.
Focusing on Baccano specifically, here's a look at the final visual for our release:

This is slightly different to a visual we shared a while ago where there was going to be an o-card/slip cover around the rigid case, but admittedly we like the artwork so much that we decided we wanted that to be on display from the get go. So in similar style to what we've done with our Sword Art Online II: Part 1 and Kill la Kill Part 3 releases, there will be a plastic wrap around the box and the information stuck to the plastic wrap.
For those wondering, the extras on our Baccano release will be Clean Opening and Ending title sequences, Promotional Videos and the Japanese featurette "Baccano! – The Complete Guide".
When it comes to Samurai Flamenco Part 1 (pictured right), we want to throw out a quick reminder that this is a subtitle-only release. This is because there has been no English language dub produced for the series. Our release of Part 1 includes episodes 1-11 of the series and has clean opening and ending title sequences as on-disc extras. It will also come with a 20 page booklet.
~ If you were interested in getting hold of Mobile Suit Gundam Origin I: Blue-Eyed Casval Blu-ray Collector's Edition [Export Version] earlier this year but weren't able to when we were taking pre-orders, we're happy to report that we can now take orders for this once again through our web shop.
We have come to an arrangement with our friends at RightStuf in the USA as they have stock of this. So we're taking some off of their hands and making them available for the UK once again. As a note, it will cost £10 more as each will be shipped from the USA. if you're worried about possible customs charges, don't be as there still won't be any. More details at our web shop HERE.
~ Speaking of updates to our web shop, if you've been looking to try and get hold of a copy of our original Cowboy Bebop Part 1 Limited Edition Blu-ray release we've just had some retailer returns and have a few copies available to purchase! Stock is very limited for this so if you're looking to grab a copy this might be you best shot as it is now an out-of-print title and no more have been made since it was released. Get the details HERE.
SIMULCAST UPDATE
The current simulcast season has all but come to a close. As things stand, our simulcast lineup for the forthcoming season includes the returning Seraph Of The End: Vampire Reign and (as announced this past weekend) K: Return of Kings, but we can confirm there will be more to add that very soon. So please keep eye out for announcements as well as details of where you'll be able to watch K: Return of Kings.
Forthcoming Season lineup:
Seraph Of The End Vampire Reign (2nd Season) – Simulcasting at Viewster.com
K: Return of Kings – Simulcast details TBA
The final episode of Blood Blockade Battlefront – Simulcasting at Viewster.com
But wrapping the current season, our lineup was:
The Heroic Legend Of Arslan (continuing from previous season)
Aoharu x Machinegun (aka Aoharu x Kikanjuu)
Castle Town Dandelion
GANGSTA.
Chaos Dragon
Blood Blockade Battlefront
Episode 25 of The Heroic Legend of Arslan can be watched HERE.
Episode 12 (from last week) was the final episode of Aoharu x Machinegun. It can be watched HERE.
Episode 12 (from last week) was the final episode of Castle Town Dandelion. It can be watched HERE.
Episode 12 of GANGSTA. can be watched HERE.
Episode 12 of Chaos Dragon are available now on Viewster HERE.
The first 11 episodes of Blood Blockade Battlefront are available to watch at Viewster HERE. The air date for the final episode in Japan has been set as October 3rd. Viewster will be airing the final episode and it should be available shortly after the Japanese broadcast all going well.
REPLACEMENT UPDATE
Durarara!! Limited Edition
The latest round of confirmation messages were sent later this week / early next week. As we mentioned last week we were waiting for a new delivery of replacement discs. We have received this delivery and we're aiming to get the next round of replacement discs sent this week. If you've yet to apply for discs please follow the steps of filling out the survey AND emailing us your proof of purchase. (Simply doing one of the two steps is not enough.)
We ask that applicants awaiting for confirmation message please wait a little longer. With MCM Scotland Comic Con this past weekend we're working to catchup on this as quickly as we can. if you haven't received a confirmation message by Wednesday of next week (7th October) please email Jeremy on Jeremy@AllTheAnime.com
If you have questions or concerns about your replacement request please feel free to email Jeremy on Jeremy@AllTheAnime.com. If you have yet to apply for replacement discs please follow all the guidelines HERE.
Kill la Kill Part 1 [for units purchased at MCM London Comic Con in October 2014 only]
As mentioned on our latest podcast (HERE) we will shortly be launching a replacement scheme for Kill la Kill Part 1. This only applies to units purchased at MCM London Comic Con in October 2014. (Following the event the products general retail release was delayed and the error of the English dub being out of sync by 0.4 seconds during one of the episodes was corrected.)
We are planning to have details on how this replacement scheme will be handled within the next week or two. Please keep an eye out for this information.
UPCOMING EVENTS
Here's the list of upcoming events we'll be attending. More specific information will be posted closer to the events themselves.
Scotland Loves Anime – Glasgow, 9th-11th October
Scotland Loves Anime – Edinburgh, 12th-18th October
MCM London Comic Con, 23rd-25th October
MCM Birmingham Comic Con, 21st-22nd November
RELEASE CALENDAR
Here is the most up-to-date version of our release schedule.

OUT NOW: Space Dandy Season 2 [Collector's Edition] (DVD, Blu-ray)
OUT NOW: Space Dandy Complete Season 1 & 2 Set (DVD only)

OUT NOW: 009 Re:Cyborg (Collector's Edition Blu-ray/DVD combi)

OUT NOW Sword Art Online II: Part 1 (Collector's Edition Blu-ray/DVD combi, DVD)

OCTOBER – DECEMBER 2015

5th October: Tokyo Ghoul Season 1 (Limited Edition Blu-ray)
26th October: Tokyo Ghoul Season 1 (DVD)

2nd November: Beck: Mongolian Chop Squad – The Complete Collection (DVD)
2nd November: Fate/kaleid liner Prisima Illya (Collector's Edition Blu-ray, DVD)*
16th November: Samurai Flamenco: Part 1 (Blu-ray **subtitle-only release**)
23rd November: Sword Art Online II: Part 2 (Collector's Edition Blu-ray+DVD combi, DVD)*
30th November: Fusé: Memoirs of a Huntress (Collector's Edition Blu-ray+DVD combi)
30th November: Mobile Suit Gundam: Part 1 of 2 [tentative title] (Blu-ray)*

[TBC November/December] Baccano! (Collector's Edition Blu-ray)*
[TBC December] Mobile Suit Gundam: Part 2 of 2 [tentative title] (Blu-ray)*
7th December: Full Metal Panic Ultimate Edition [Season 1 + Fumoffu + The Second Raid] (Blu-ray)
7th December: A Letter To Momo (Blu-ray, DVD)
14th December: Sword Art Online II: Part 3 (Collector's Edition Blu-ray+DVD combi, DVD)
14th December: Gankutsuou: The Count Of Monte Cristo (Blu-ray)
21st December: Gundam: Reconguista In G Part 1 (Blu-ray **subtitle-only release**)

Q1 2016
January (TBC)*: Ping Pong The Animation (Blu-ray, DVD)

*Tentative date

We should be able to confirm specific dates soon for those marked as tentative.

Signing out~!

Jeremy

Follow Anime Limited on Facebook | Twitter | Instagram | Tumblr | YouTube