After a week off we're back with a double packed edition of our Newswire! Have a read on below for the latest updates direct from Anime Limited HQ.
GENERAL NEWS/NOTES
~ First of all we have two new releases this week. Full Metal Panic Ultimate Edition Blu-ray featuring all three seasons (Season 1, Fumoffu and The Second Raid) along with the Standard Edition DVD of Fate/kaleid liner Prisma Illya are both available to add to your collection now.
~ Looking ahead our next release will be on 21st December with the arrival of our Samurai Flamenco Part 1 Limited Collector's Edition Blu-ray. Here's a glimpse (left) of the finished product for you. We'll have a full unboxing and more details on what you can expect with our release later this week.
~ Following Samurai Flamenco we round off the year with Sword Art Online II: Part 2 on 28th December that includes the conclusion of the Phantom Bullet arc, episodes 8-14, as well as episode 14.5. This will be available as a Limited Collector's Edition Blu-ray, coming in a rigid case with a digpack to hold the discs and a book, to go along side part 1 inside the shiny box that came with Part 1, and as a standard DVD.
~ Looking ahead to January, we wanted to give you an update in relation to a film we're very excited to be bringing to the UK, Fuse – Memoirs of the Hunter Girl. (We've previously referred to this as Fuse – Memoirs of a Huntress, but from hereon it will be referred to as Fuse – Memoirs of a Hunter Girl.)
We're happy to confirm what you can expect from our Limited Edition Collector's Blu-ray/DVD set when it's released on 25th January.
The set will come packed in a rigid case (pictured top centre) that will hold a digipack (pictured right) containing both the Blu-ray and DVD discs. Also inside that is a 36 page art book. To go around the rigid case there will be a card sleeve, also known as an o-card (pictured far left.) We want to reiterate that this film is in Japanese with English subtitles only as there was no English language dub produced for the film.
~ In case you missed them we've made a few announcements since our last Newswire. First of all we are bringing Genius Party and Genius Party Beyond to the UK on both Blu-ray and DVD. You can read about his more HERE.
And yesterday we announced that we are bringing the series Buddy Complex to the UK on both Blu-ray and DVD. You can read our announcement for this HERE.
We'll say now, keep an eye on us as we may have more cool news to share with you during the week 😉
~ For those of you looking forward to our Blu-ray release of Gankutsuou: The Count of Monte Cristo, we have an update for you. The QC process on the Blu-ray has been completed so we are now moving ahead with the production of this. One detail we haven't announced yet, but we want to do so now, is that it's going to coming special steel box-style packaging and that there will also be a 16 page colour sketch book included.
This is our first steel box-style release and I must admit that we're delighted with the design and how it's turned out. If you've seen the series before you know how visually unique it is compared to other anime so we really wanted to take full advantage of that with this release. Please see the image below.
A detail that some of you may have noticed from the outset is that there is French text on the front of the box. This is completely intentional as the source material, The Count Of Monte Cristo, and this anime adaptation, Gankutsuou, is set in France. As we (Anime Limited) will also releasing this in France we decided we should take advantage of this and retain the French-style logo for our release. For those wondering there will be a card wrapped around the box with the English title and the content information.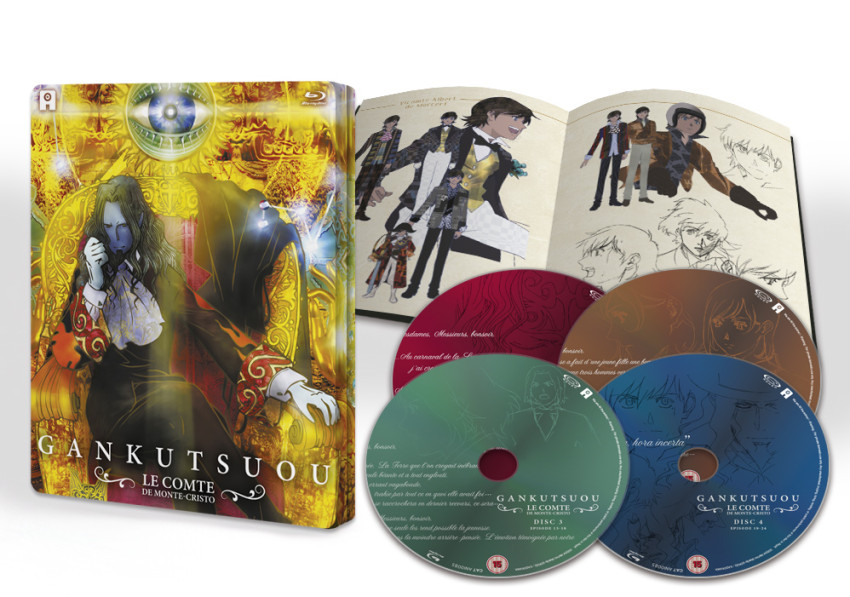 Our release will include all 24 episodes of the series with both the original Japanese audio with subtitles and the English language dub produced by BangZoom. On-disc extras will be the clean opening and closing title sequences. We should be able to confirm the final release date in January soon, the date retailers are currently listing is a tentative one, but in the interim you can pre-order your copy from the likes of Amazon UK, Zavvi and Base today.
SIMULCAST UPDATE
Here's our lineup of titles this season:
Seraph Of The End Vampire Reign (2nd Season) – Simulcasting at Viewster.com
K: Return of Kings – Simulcast at Viewster.com
Comet Lucifer – Simulcasting at Viewster.com
The final episode of Blood Blockade Battlefront – Simulcasting at Viewster.com
Seraph Of The End: Vampire Reign (2nd Season) episode 7 can be watched HERE.
Episode 10 of K: Return Of Kings can be watched HERE
Episode 10 of Comet Lucifer can be watched HERE
The final episode of Blood Blockade Battlefront is available to watch at Viewster HERE.
REPLACEMENT UPDATE
Durarara!! Limited Edition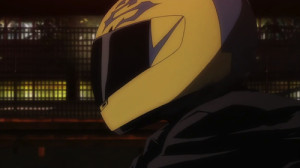 The next round of confirmation messages were sent last week. Anyone who has applied for replacement discs over the past week since then and has yet to have a response can expect one before 16th December at the latest.
As a note we are currently waiting for a new batch of discs to be delivered to our HQ. Once we have these the next wave will be getting sent. We appreciate people's patience with this.
If you've yet to apply for discs please follow the steps of filling out the survey AND emailing us your proof of purchase. (Simply doing one of the two steps is not enough.) We ask that applicants awaiting for confirmation message please wait a little longer. If you haven't received a confirmation message within to weeks of applying please email Jeremy on Jeremy@AllTheAnime.com – he'll get back to you as quickly as we can about this.
If you have questions or concerns about your replacement request please feel free to email Jeremy on Jeremy@AllTheAnime.com. If you have yet to apply for replacement discs please follow all the guidelines HERE.
Kill la Kill Part 1 [for units purchased at MCM London Comic Con in October 2014 only]
NOTE: This only applies to units purchased at MCM London Comic Con in October 2014. (Following the event the products general retail release was delayed and the error of the English dub being out of sync by 0.4 seconds during one of the episodes was corrected.)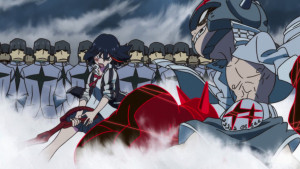 We are working to get these out as quickly as possible. The latest wave are being sent tomorrow (Wednesday 28th October) so if you haven't had yours already you can expect it any day now.
To apply for a replacement we ask that everyone who purchased this at MCM London Comic Con in October 2014 please do the following:
Send an email with the subject "KLK1 Replacement – MCM October 2014" to Jeremy@AllTheAnime.com
In this email please include:
– You full name (as it would be written on a parcel being posted to you)
– You full postal address
– a photo of your copy of Kill la Kill Part 1.
Due to all of Team Anime Limited being in London for MCM Comic Con from tomorrow through Monday, Jeremy will respond to requests for this, confirming that you replacement request has been logged in, by mid-next week at the latest. Either way you can expect your replacement to sent to you before the end of October.
NOTE: We appreciate that some people may have sent emails to other Anime Limited personnel regarding wanting a replacement, but due to the length of time that has passed we ask that everyone who will have previous enquired about a replacement please send a new message to Jeremy. We apologise for any inconvenience, but this is to ensure we can fulfil these as quickly as possible.
UPCOMING EVENTS
We have officially completed our 2015 events lineup! We're busy planning our 2016 event lineup and as soon as we can share information we'll be sure to do so.
RELEASE CALENDAR
With all of the above in mind, here is the most up-to-date version of our release schedule focusing on the remainder of 2015 and the first quarter of 2016.

OCTOBER – DECEMBER 2015

OUT NOW: Tokyo Ghoul Season 1 (Limited Edition Blu-ray, Standard Ed. Blu-ray, DVD)
OUT NOW: Fate/kaleid liner Prisima Illya (Collector's Edition Blu-ray, DVD)
OUT NOW: Baccano! (Limited Edition Blu-ray)
OUT NOW: Mobile Suit Gundam: Part 1 of 2 (Blu-ray)
OUT NOW: Full Metal Panic Ultimate Edition [Season 1 + Fumoffu + The Second Raid] (Blu-ray)
OUT NOW: Fate/kaleid liner Prisma Illya (Standard DVD)

21st December: Samurai Flamenco: Part 1 (Limited Collector's Ed. Blu-ray **subtitle-only release**)

28th December: Sword Art Online II: Part 2 (Limited Ed. Collector's Edition Blu-ray+DVD combi, DVD)

Q1 2016

11th January: Ping Pong (Collector's Edition Blu-ray+DVD set)

25th January: Fuse – Memoirs of the Hunter Girl (Limited Collector's Blu-ray+DVD set, Standard DVD) **Subtitle-only release**
25th January: Noein (Limited Collector's Edition Blu-ray)
25th January: Expelled From Paradise (Limited Collector's Edition Blu-ray+DVD set, Standard DVD)

[January, TBC]: Gankutsuou: The Count Of Monte Cristo (Blu-ray)*
[January, TBC]: Mobile Suit Gundam: Part 2 of 2 (Blu-ray)*

15th February: Durarara!! x2 – The First Arc: Shou [Episodes 1-12] (Limited Collector's Edition Blu-ray, Standard DVD)

22nd February: Letter To Momo (Limited Collector's Edition Blu-ray+DVD set, Standard DVD)

29th February: Selector Infected WIXOSS (Limited Collector's Edition Blu-ray, Standard DVD)
29th February: Tokyo ESP (Limited Collector's Edition Blu-ray, Standard DVD)*
29th February: Lord Marksman and Vanadis (Limited Collector's Edition Blu-ray, Standard DVD)*

14th March: Riddle – Story of Devil (Limited Collector's Edition Blu-ray, Standard DVD)*
14th March: Brothers Conflict – Complete Series Collection (Limited Collector's Edition Blu-ray, Standard DVD)*

31st March: Miss Hokusai (Limited Collector's Edition Blu-ray+DVD set, Standard Blu-ray, Standard DVD)

April (TBC): Terror In Resonance (Ultimate Edition Blu-ray+DVD, Standard DVD)*
[TBC] Gundam: Reconguista In G Part 1 (Blu-ray **subtitle-only release**)
[TBC]: Sword Art Online II: Part 3 (Collector's Edition Blu-ray+DVD combi, DVD)*

*Tentative date

We should be able to confirm specific dates soon for those marked as tentative.

Signing out~!

Jeremy