We're getting ever closer to the end of the end of the year and this is our last regularly scheduled edition of our Newswire for the year. Chance are there will be an update or two over the festive period but in general Team Anime Limited will be shutting up shop until the new year, so with that being said here's the latest updates direct from Anime Limited HQ.
General Notes / News
~ First of all this coming Monday sees the release of our Limited Collector's Edition Blu-ray of Samurai Flamenco Part 1. We posted a full unboxing of release yesterday giving you a full lowdown of what to expect HERE.
~ In case you haven't been checking our blog over the past week you have missed A LOT of news! We've made some big announcements concerning what you can expect from us in 2016. Here's a brief recap with a link to the appropriate announcement page:
~ Following on from last weeks Newswire where we gave you details on what to expect with our Gankutsuou: The Count of Monte Cristo Blu-ray release, today we can confirm that it will be released on 18th January 2016.
~ For those of you patiently waiting for news about our release of Mobile Suit Gundam Part 2 Blu-ray, today we have an update for you. Though the final date is still TBC at this time, but as things stand we can say it will likely be late January, you now see see the approved final design for the artwork of Part 2 (right). You can expect to see this appearing with online retailer listings soon. We will note that the BBFC rating is not confirmed yet, so the image being used is not final.
However, there's more to tell you about. Some of you eagle-eyed people may have noticed that if you put two Blu-ray cases inside the Limited Collector's Box that came with first 1000 units of Mobile Suit Gundam Part 1, there was some extra space in the box. Some of you questioned if this was a mistake on our part, and we assured you it wasn't as we had a cunning plan from the start which we are only now able to officially announce. Though in fairness, a lot of you figured this out on your own.
The first 1000 units of Mobile Suit Gundam Part 2 will come with a special 48 page collector's edition art booklet showcasing various art relating to the series. This is what will fit inside that gap we mentioned. The book will not be packed inside the amaray box, instead will be outside the box. The amaray and book will have a plastic wrap around them to keep them together.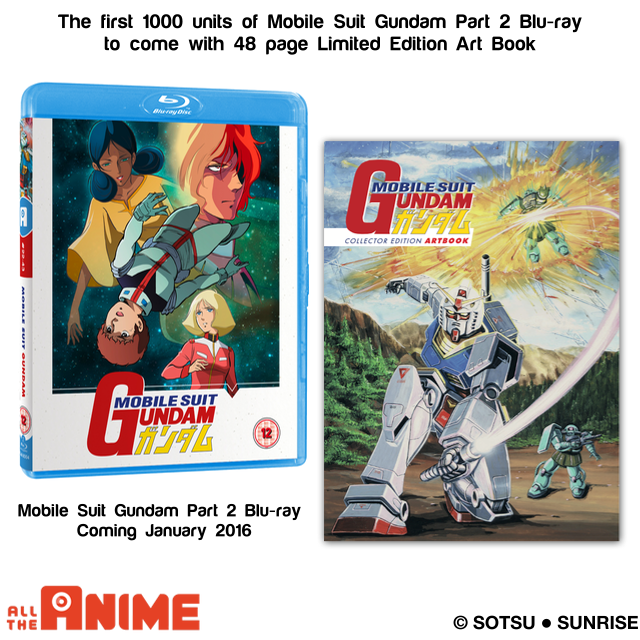 The booklet will be divided into three sections, Gallery, Characters and Mechas.
Now to put this out there from the outset, UK retailers have been taking pre-orders for Mobile Suit Gundam Part 2 for a while now and if you have already pre-ordered from one of those retailers you WILL receive this booklet. The booklet is not retailer exclusive, and as was the case with Mobile Suit Gundam Part 1 and the Limited Collector's box that came with that, Mobile Suit Gundam Part 2 that comes with the book is the only version that will be available on day of release.
We're also happy to confirm that Mobile Suit Gundam Part 2 is available to pre-order from our web shop HERE now.
~ For those of you wondering we are very much on track with our release of Sword Art Online II: Part 2. So much so that we're expecting we might be able to share a full unboxing of the final product later this week/early next week. Stay tuned for that.
~ Just to put an note about it here, the latest round of Durarara Ltd. Ed. disc replacements were sent last week. A confirmation message of this was sent to everyone included. As of Thursday last week we were completely up to date on application requests, so if you have applied since then we'll try and get discs out to you before Christmas but most likely it won't be until the new year now. (Please see Replacement Section below for details.)
~ Speaking of the replacement scheme we have a big update we want to make known. We first launched the replacement scheme to correct the errors present in the Limited Edition Blu-ray release of Durarara!! on 4th March this year. Following the completion of our re-authoring of the series and the first wave of discs fulfilled in May this year we are officially announcing today that this replacement scheme will be ending on Thursday 31st March 2016. Any applications received after that date will not be accepted. We are giving a 3 month warning on this to ensure everyone who has yet to apply has ample time to do so. By that cut off date the scheme will have been in place for just over one year and to date we have honoured every application request that has followed the guidelines set (see here).
A reminder that the re-authored discs are included by default in our Standard Edition Durarara!! Blu-ray release.
~ A final note as well in relation to our web shop that our fulfilment house will be closed between 23rd December – 4th January. You'll still be able to place orders during this time and payment will be taken, but your order will not be fulfilled until 5th January 2016 if placed during this time. The cut off for ordering in-stock products before we close up for the holidays is midday on 22nd December.
SIMULCAST UPDATE
Here's our lineup of titles this season:
Seraph Of The End Vampire Reign (2nd Season) – Simulcasting at Viewster.com
K: Return of Kings – Simulcast at Viewster.com
Comet Lucifer – Simulcasting at Viewster.com
The final episode of Blood Blockade Battlefront – Simulcasting at Viewster.com
Seraph Of The End: Vampire Reign (2nd Season) episode 10 can be watched HERE.
Episode 11 of K: Return Of Kings can be watched HERE
Episode 11 of Comet Lucifer can be watched HERE
The final episode of Blood Blockade Battlefront is available to watch at Viewster HERE.
REPLACEMENT UPDATE
Durarara!! Limited Edition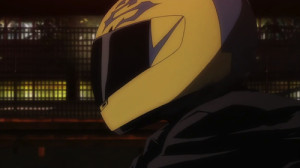 This replacement scheme closes on Thursday 31st March 2016.
The next round of confirmation messages were sent last week. Anyone who has applied for replacement discs over the past week since then can expect a response before the end of the week. However we will likely not be able to fulfil any replacement requests now until the new year. We appreciate people's patience with this.
If you've yet to apply for discs please follow the steps of filling out the survey AND emailing us your proof of purchase. (Simply doing one of the two steps is not enough.) We ask that applicants awaiting for confirmation message please wait a little longer. If you haven't received a confirmation message within to weeks of applying please email Jeremy on Jeremy@AllTheAnime.com – he'll get back to you as quickly as we can about this.
If you have questions or concerns about your replacement request please feel free to email Jeremy on Jeremy@AllTheAnime.com. If you have yet to apply for replacement discs please follow all the guidelines HERE.
Kill la Kill Part 1 [for units purchased at MCM London Comic Con in October 2014 only]
NOTE: This only applies to units purchased at MCM London Comic Con in October 2014. (Following the event the products general retail release was delayed and the error of the English dub being out of sync by 0.4 seconds during one of the episodes was corrected.)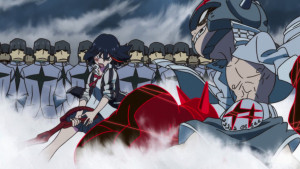 We are working to get these out as quickly as possible. The latest wave are being sent tomorrow (Wednesday 28th October) so if you haven't had yours already you can expect it any day now.
To apply for a replacement we ask that everyone who purchased this at MCM London Comic Con in October 2014 please do the following:
Send an email with the subject "KLK1 Replacement – MCM October 2014" to Jeremy@AllTheAnime.com
In this email please include:
– You full name (as it would be written on a parcel being posted to you)
– You full postal address
– a photo of your copy of Kill la Kill Part 1.
Due to all of Team Anime Limited being in London for MCM Comic Con from tomorrow through Monday, Jeremy will respond to requests for this, confirming that you replacement request has been logged in, by mid-next week at the latest. Either way you can expect your replacement to sent to you before the end of October.
NOTE: We appreciate that some people may have sent emails to other Anime Limited personnel regarding wanting a replacement, but due to the length of time that has passed we ask that everyone who will have previous enquired about a replacement please send a new message to Jeremy. We apologise for any inconvenience, but this is to ensure we can fulfil these as quickly as possible.
UPCOMING EVENTS
We have officially completed our 2015 events lineup! We're busy planning our 2016 event lineup and as soon as we can share information we'll be sure to do so.
RELEASE CALENDAR
With all of the above in mind, here is the most up-to-date version of our release schedule focusing on the remainder of 2015 and the first quarter of 2016.

OCTOBER – DECEMBER 2015

OUT NOW: Tokyo Ghoul Season 1 (Limited Edition Blu-ray, Standard Ed. Blu-ray, DVD)
OUT NOW: Fate/kaleid liner Prisima Illya (Collector's Edition Blu-ray, DVD)
OUT NOW: Baccano! (Limited Edition Blu-ray)
OUT NOW: Mobile Suit Gundam: Part 1 of 2 (Blu-ray)
OUT NOW: Full Metal Panic Ultimate Edition [Season 1 + Fumoffu + The Second Raid] (Blu-ray)
OUT NOW: Fate/kaleid liner Prisma Illya (Standard DVD)

21st December: Samurai Flamenco: Part 1 (Limited Collector's Ed. Blu-ray **subtitle-only release**)

28th December: Sword Art Online II: Part 2 (Limited Ed. Collector's Edition Blu-ray+DVD combi, DVD)

Q1 2016

11th January: Ping Pong (Collector's Edition Blu-ray+DVD set)

18th January: Gankutsuou: The Count Of Monte Cristo (Blu-ray)

25th January: Fuse – Memoirs of the Hunter Girl (Limited Collector's Blu-ray+DVD set, Standard DVD) **Subtitle-only release**
25th January: Noein (Limited Collector's Edition Blu-ray)
25th January: Expelled From Paradise (Limited Collector's Edition Blu-ray+DVD set, Standard DVD)

[January, TBC]: Mobile Suit Gundam: Part 2 of 2 (Blu-ray)*

15th February: Durarara!! x2 – The First Arc: Shou [Episodes 1-12] (Limited Collector's Edition Blu-ray, Standard DVD)

22nd February: Letter To Momo (Limited Collector's Edition Blu-ray+DVD set, Standard DVD)

29th February: Selector Infected WIXOSS (Limited Collector's Edition Blu-ray, Standard DVD)
29th February: Tokyo ESP (Limited Collector's Edition Blu-ray, Standard DVD)*
29th February: Lord Marksman and Vanadis (Limited Collector's Edition Blu-ray, Standard DVD)*

14th March: Riddle – Story of Devil (Limited Collector's Edition Blu-ray, Standard DVD)*
14th March: Brothers Conflict – Complete Series Collection (Limited Collector's Edition Blu-ray, Standard DVD)*

31st March: Miss Hokusai (Limited Collector's Edition Blu-ray+DVD set, Standard Blu-ray, Standard DVD)

April (TBC): Terror In Resonance (Ultimate Edition Blu-ray+DVD, Standard DVD)*
[TBC] Gundam: Reconguista In G Part 1 (Blu-ray **subtitle-only release**)
[TBC]: Sword Art Online II: Part 3 (Collector's Edition Blu-ray+DVD combi, DVD)*

*Tentative date

We should be able to confirm specific dates soon for those marked as tentative.

Signing out~!

Jeremy