Newswire #87 – 9th Sept. 2016
September 9, 2016 · 0 comments
It's time for your weekly Newswire! Later in the week than usual but packed with exciting details on the likes of Your Lie In April, The Case of Hana & Alice and Ouran High School Host Club! Read on below for details.
ALL THE ANIME / ANIME LIMITED UPDATES
~ First of all in case you missed it late last week we were delighted to announce that we have licensed the new film by Makoto Shinkai Your Name and we're bringing it to 78 cinemas across the UK and Ireland on the 24th of November! For all the details about the film as well as the complete list of cinemas and ticket information CLICK HERE and/or visit YourNameTheMovie.co.uk
~ A reminder that our next releases both arrive on the 19th of September as we bring you the Limited Collector's Edition Blu-ray set of Samurai Flamenco Part 2 and the complete collection of the series Beck: Mongolian Chop Squad on DVD. Expect an unboxing of each next week!
You can watch a trailer for Beck: Mongolian Chop Squad below.

A quick note, it has been brought to our attention that some retailers are listing Beck as being available next week. That is incorrect and the correct date is the 19th of September. We are working on contacting said retailers to get the dates amended so hopefully that will all be sorted relatively quickly. We should also note that Eden of the east is also being listed as the 12th of September, please note this is also incorrect. Please see the Newswire #85 from a few weeks ago for reference.
~ Following those we have a packed 26th of September for you! A day that sees the release of Project Itoh: The Empire of Corpses, Assassination Classroom Season 1 Part 2 and Free! -Eternal Summer-. You can find more details on each of these at our web shop HERE.
~ Looking ahead, if you were keeping an eye on our social media channels earlier this week you will have seen we announced details regarding our upcoming release of the classic series Ouran High School Host Club on Limited Collector's Edition Blu-ray. In case you haven't seen it, here's what it will look like:
As you can see, it comes packed in a rigid case with a digipack inside to hold the three Blu-ray discs. In addition to that it will also include two sticker sheets and a 32-page art booklet. This will be arriving in November, exact date to be confirmed in the coming weeks. You can get in early and pre-order your copy from the likes of Amazon UK, Zavvi, HMV Online and Anime-On-Line now.
~ Continuing the look ahead into November, we have details to share with you about our upcoming release of the film The Case of Hana & Alice. Today we can confirm it will be getting released as a Limited Collector's Edition Blu-ray/DVD set on the 14th of November. 
Our release will come packed in a rigid case, inside that will be a digipack to hold the two discs (1 x Blu-ray + 1 x DVD) plus 3 art cards and a 20-page booklet that features details on the making of this very unique film. You can see a visual for this below.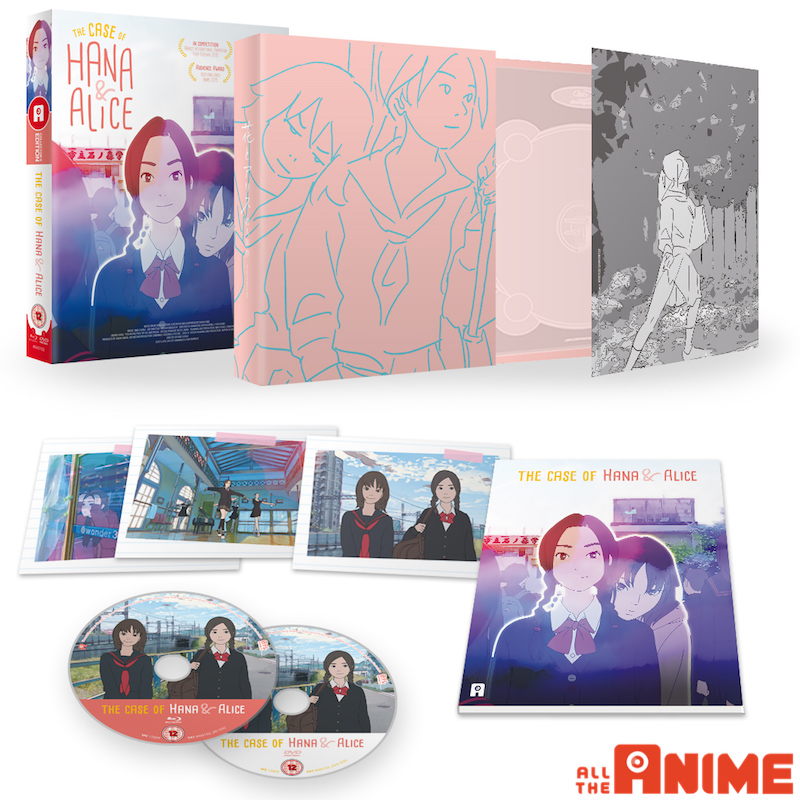 But that's not all, as there is quite the unique extra feature included on the disc that is sure to get many of you excited that we need to tell you about. Some of you may not know this, but Makoto Shinkai (Your Name, The Garden of Words, Voices of a Distant Star, The Place Promised in our Early Days) is a big fan of the film and was interviewed for over 25 minutes talking about The Case of Hana & Alice, and we've been able to include this in our release! It's very rare that you get to have a prolific director talking about work that's not his on an anime release, so we're delighted we're able to include this in our release!
You can pre-order your copy of The Case of Hana & Alice today from Amazon UK, Zavvi and Anime-On-Line.
~ We're happy to report we've cleared approvals on Your Lie In April Part 1 so today we can show you what to expect from our upcoming Blu-ray release!
As we've talked about before we're going to be releasing the series over two parts total. We wanted to maximise as much of the gorgeous art that was available to us as possible, so we're going to be including an Art Box with Part 1 that will enable you to store the entire series in there, once Part 2 is released obviously. Part 1 will be arriving on the 14th of November. When you receive Part 1 inside the Art Box you will find a rigid case with a digipack to store the two Blu-ray discs. Here's a visual giving you a glimpse of our release:
On the discs included with Part 1 will be episodes 1-11 in both English and Japanese with subtitles. On-disc extras are an audio commentary of the first episode along with the Clean Opening and Closing title sequences. Some retailers like Amazon, Base and Anime-On-Line have already got listings for this release on their sites, so you can pre-order your copy today ahead of its release on the 14th of November.
For those wondering, when it comes to Part 2 it, it will come packed in a rigid case and have a digipack to store the two Blu-ray discs. In addition to that there will be an art booklet included too, and that will fit inside along with Part 2. We'll bring you more details on Part 2 as soon as we can share them.
~ If you're going to MCM Scotland Comic Con in Glasgow at the end of the month, MCM have confirmed the Anime Guest of Honour will be Reo Kurosu who has worked on the likes of The Heroic Legend of Arslan, and is producer on the currently airing new Berserk series! He will be taking part in a panel (date/time TBA) during the event focusing on what goes into producing an anime. Should be a very interesting panel! We can also confirm he will be involved in signing sessions across the weekend, dates/times TBA. You can read more about Reo Kurosu at the MCM website HERE.
Of course it's also worth mentioning that we will also be at MCM Scotland Comic Con with more details forthcoming over the next few weeks. Stay tuned for further updates!
FUNIMATION TITLES UPDATE
~ Just a small update this week on the Funimation title front. It's news that we're currently aiming for a release of High School DxD season 3 by the the end of October, however, and this is a fairly big however on this occasion, this will be subject to BBFC certification. So for now until we've heard back on this we're just going to saying we're aiming for end of October. Stay tuned for further updates!
SCOTLAND LOVES ANIME FILM FESTIVAL UPDATE
The festival has announced its complete programme, and what a great selection of films they have on offer this year if we do say so ourselves! You can read about the programme in full at their website HERE, but we want to make mention that Girls und Panzer der Film and A Silent Voice (Koe no Katachi) will both be receiving their EU Premieres in Edinburgh. Your Name by Makoto Shinkai will be receiving its Scottish Premiere in Edinburgh. The UK Premieres of Kizumongatari Parts 1 & 2, Production I.G's Pigtails (in a screening that will also feature a Q&A with the director Yoshimi Itazu) and Momotaro, Sacred Sailors will all be taking place in Glasgow, while the UK Premiere of Accel World Infinite Burst (in a screening featuring a Q&A with the Producer of the Accel World TV series, Kohei Kawase) will be taking place in Edinburgh. There's even Kingsglaive: Final Fantasy XV being screened, receiving it's Scottish Premiere in Glasgow. And it's also worth noting that that's not even the complete line-up!
Visit the website of Scotland Loves Anime today for details on all the films being screened and for ticket information – Edinburgh screening tickets went on sale today.
UPCOMING EVENTS
Our next event will be at the end of September and then we move into the Scotland Loves Anime Film Festival.
24th/25th September – MCM Scotland Comic Con @ Glasgow
14th-16th October – Scotland Loves Anime @ Glasgow Film Theatre, Glasgow
17th-23rd October – Scotland Loves Anime @ Edinburgh Filmhouse, Edinbugh
28th-30th October – MCM London Comic Con @ Excel London
That's all for this Newswire. Stay tuned for more news as we can bring it to you!
Signing out~!
Jeremy