By Jonathan Clements.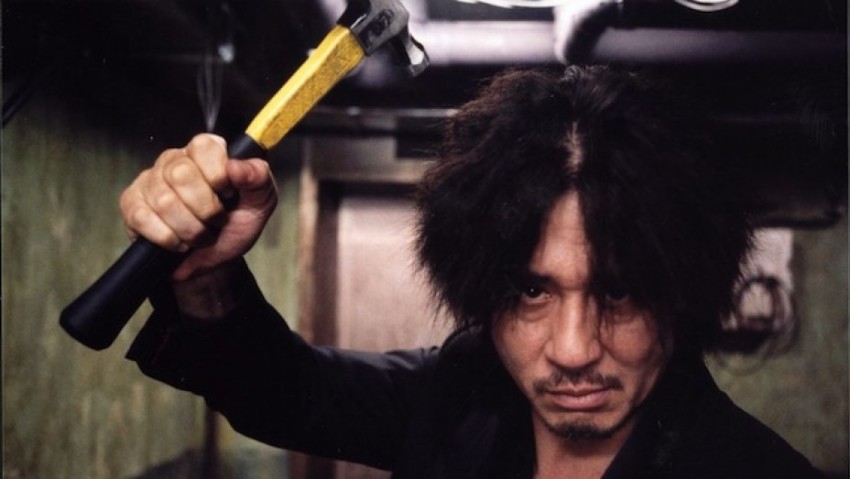 After a drunken night on the town in Seoul, Oh Dae-su (Choi Min-sik) just wants to get home and give his daughter her birthday present. But on the way … he simply disappears. In the ensuing 15 years, he is drugged, hypnotised and locked in a single room. He fails in an attempt to kill himself. When he is finally, inexplicably released, his only desire is to locate his captor, Evergreen. Evergreen, however offers him a deal – he has until 5th July to discover why this has all happened. If he gets it right, Evergreen will commit suicide. If he gets it wrong, he will kill every woman he has ever loved.
Western critics seemed flummoxed by Oldboy (2003). They saw influences in Angel Heart, in the works of Sophocles, in revenge tragedies like Titus Andronicus. God forbid that they might have investigated its original source material, a 1997 comic from Japan, drawn by a mah-jongg fan. The artist of the Oldboy manga, Nobuaki Minegishi, specialises in off-the-wall gangster tales, and, bizarrely, a long-running epic that retells the path to success in mah-jongg (think gin rummy with chunky plastic cards) as if it is a martial art. The eight-volume Oldboy manga was a relatively minor element of Minegishi's output, so minor in fact that that he was prepared to sell the film rights for a measly $10,000.
The bargain-priced rights for Oldboy ended up in Korea, hence the sudden relocation of the story's action from Tokyo to Seoul. The Korean movie business is flourishing, thanks in part to its local talent and its willingness to dive into co-productions, but also to an unforeseen effect of globalised electronics manufacture. If Korean companies are producing the cameras, kit and equipment for film-making, where do you think is the cheapest place it to buy it all? This is why English movies are still My Bollywood Gangster Wedding, and Koreans can afford CG ants crawling out of Oh Dae-su's skin, giant insects appearing on the subway, and super-cool opening credits that rotate with the relentless ticking of clockwork.
Director Park Chan-wook is an unrepentant fan of British gangster movies of the 1960s and 1970s, counting Get Carter among his all-time favourites. Outside Korea, his previously best-known work was Sympathy for Mr Vengeance, a tale of escalating, tit-for-tat atrocities between two driven psychos. In his homeland, his most popular movie was Joint Security Area (JSA), a superb detective drama set in the demilitarised zone between north and south Korea. One of its most iconic images, a dead body sprawled on the borderline between two feuding authorities, was the main inspiration for the Judge Dredd audio drama Solo (and I should know!) and, I suspect, the first season of acclaimed Scandi-Noir The Bridge. At the time, JSA did the biggest box office in Korean cinema history, but Oldboy was to wipe the floor with it, also outperforming Matrix Revolutions and Kill Bill.
Kill Bill's director Quentin Tarantino didn't seem to mind. That year he was head of the jury at the Cannes Film Festival, and fought hard to get Oldboy the prestigious Palme d'Or. His fellow jurors said they would rather cut their ears off, and handed the prize to Michael Moore instead, but Oldboy gained a respectable second place by snatching the Grand Prix du Jury. It also got a 15-minute standing ovation.
"I used to think that the Cannes dress code was ridiculous," director Park told Sight and Sound magazine, "until I saw all those people in black ties standing up and applauding. It felt ten times better than if they were wearing T-shirts."
Oldboy is rereleased in a limited theatrical 4K Blu-ray restoration by Arrow Films on 2nd August.