Pigtails and Other Shorts from Production I.G
February 8, 2019 · 0 comments
It's been a long time coming but we're nearly at the point for a unique release that's been in the works for a long time to be available to add to your collection. That being Pigtails and Other Short Films from Production I.G, a collection of short films from the world famous studio.
Today we're going to be telling you all about what to expect from our upcoming AllTheAnime.com Exclusive Collector's Edition set – which is due to start shipping in just a few weeks time during the week commencing 25th February.
(At time of publishing) we've also got a special offer on being able to pre-order this set! Scroll on below for the details.
There's a lot to unpack here, so sit back, relax and read on below for details.
---
ABOUT
PIGTAILS AND OTHER SHORT STORIES FROM PRODUCTION I.G
The world famous Production I.G have been involved in some of the biggest, unique and ambitious anime to ever grace a cinema or television screen including Ghost in the Shell, B: The Beginning, Eden of the East and Giovanni's Island, but they've also produced some perhaps lesser known works that give an equally unique viewing experience. This collection of short films brings together 5 works in particular for the first time to the United Kingdom.
— Pigtails is the directorial debut of up-and-coming animator Yoshimi Itazu (Miss Hokusai, Paprika, Denno Coil).
Based on the Osamu Tezuka Cultural Prize-winning comic book Mitsuami no Kami-sama by Machiko Kyo, and visually inspired by Derek Jarman's garden in Dungeness -an oasis of life and beauty growing in front of a nuclear power station- the film metaphorically depicts the conflicting and unspeakable feelings that engulfed the author in the aftermath of the earthquake, tsunami and nuclear disaster of 2011, and faithfully recreates the contrast between Kyo's naïve-looking designs and the story's extreme and thought-provoking twist.
— Kick-Heart is a creative effort by award-winning Japanese animator Masaaki Yuasa (Lu Over the Wall, Night is Short, Walk on Girl), produced by an international team of professionals under the umbrella of Production I.G, and financed through the Kick Starter crowd-founding system.
Synopsis: Kick-Heart is a love story between Romeo, a successful pro-wrestler, and Juliet, a nun who lives a secret double-life as a female pro-wrestler. Romeo's secret is that he enjoys taking a beating in the ring, while Juliet feels invigorated when facing her opponents as a wrestler. When the two meet in the ring, the fireworks fly. Their story is set in the colourful backdrop of the professional wrestling world. Will Juliet reveal her true identity to the one she loves? Will Romeo be able to share his secret to the world?
— Li'l Spider Girl (aka: Wasurenagumo) is one of the four segments from the 2012 Anime Mirai ("the future of animation"), a collective project created by four Japanese animation studios selected by the Japan Animation Creators Association (JAniCA) under the patronage of Japan's Agency for Cultural Affairs for the purpose of training young animators on-the-job. Anime Mirai debuted theatrically on March 24th, 2012.
Synopsis: Everything started from an old book telling the story of an expert yin-yang master who defeated a giant spider in ancient times. Antique book dealer Amane Suzuri, who is trying to sell the book in order to pay the rent, would have never imagined that after reading this story to Mizuki, the building owner's young nephew, he could find himself face-to-face with a scared, twenty-centimeter-tall, eight-legged baby arachnid girl. And she's the sweetest thing in the world… or not?
— Created as part of the Young Animators Fostering Project in 2010, Drawer Hobs marked the directorial debut of Kazuchika Kise (who would go onto to be the chief director of Ghost in the Shell Arise and it's sequel film,) has worked on various anime as an animator, including being animation director on your name., Blood: The Last Vampire and Evangelion: 1.11 You Are (Not) Alone. The project saw all key animators being staff with less than five years experience, and also saw people who had worked on the likes of Angel Beats, Ghost in the Shell, Oblivion Island and Jin-Roh heavily involved as well.
Synopsis: Noeru is a young woman with an uninteresting job who lives alone in an ageing apartment in a big city. One day, without notice, her mother sends her an old and bulky chest of drawers. Not exactly the most welcome piece of furniture for Noeru's small room!
That night, as Noeru comes back from work, she finds a chubby little boy sitting on the floor and peacefully munching a pack of rice crackers. The next morning, she wakes up at the delicious smell of breakfast waiting for her on the table… but she does not recall of having cooked any! And isn't the kitchen all clean and tidy instead of the usual mess? And aren't there two weird kids in her room now?
Noeru has just met the drawer hobs… but who are they, and why on earth are they in her apartment, anyway?
— The masterminds behind the outrageous anime Dead Leaves, Hiroyuki Imaishi and Imaitoonz, have teamed up once again in 2005 to create Oval x Over, pronounced Oval Over, a promotional animation for the Bridgestone Indy Japan 300 Mile race. Composed of three 3-minute shorts, it is an experiment to portray Indy car racing with animation and music. The narrative style itself is a straight, over-the-top parody of the sports anime classics of the '70s, and cleverly mixes a professional-style live commentary of the race with flashbacks regarding the three main characters' past, with both dramatic and hilarious results. The animation staff also created the music video for the official song Over Top, performed by legendary singer Maki Oguro.
Synopsis: Burn is eager to defeat the champion, Earth, to overcome some past trauma. The glamorous Gravis is also after the championship. And there is Earth, the champion himself, who is waiting to face a challenger capable of defeating him.
Each pilot skillfully exploits a variety of difficult driving techniques, and they run neck and neck in this car-action-filled animation. In fact, the three racers' destiny is bound by an accident occurred five years before…
---
WHAT'S PLANNED FOR THIS RELEASE?
As we mentioned earlier, this will be available as an AllTheAnime.com Exclusive Ltd Collector's Edition Blu-ray/DVD set with shipping of orders due to commence from week commencing 25th February! We've been able to include some fantastic extra material in this release which you can read about below –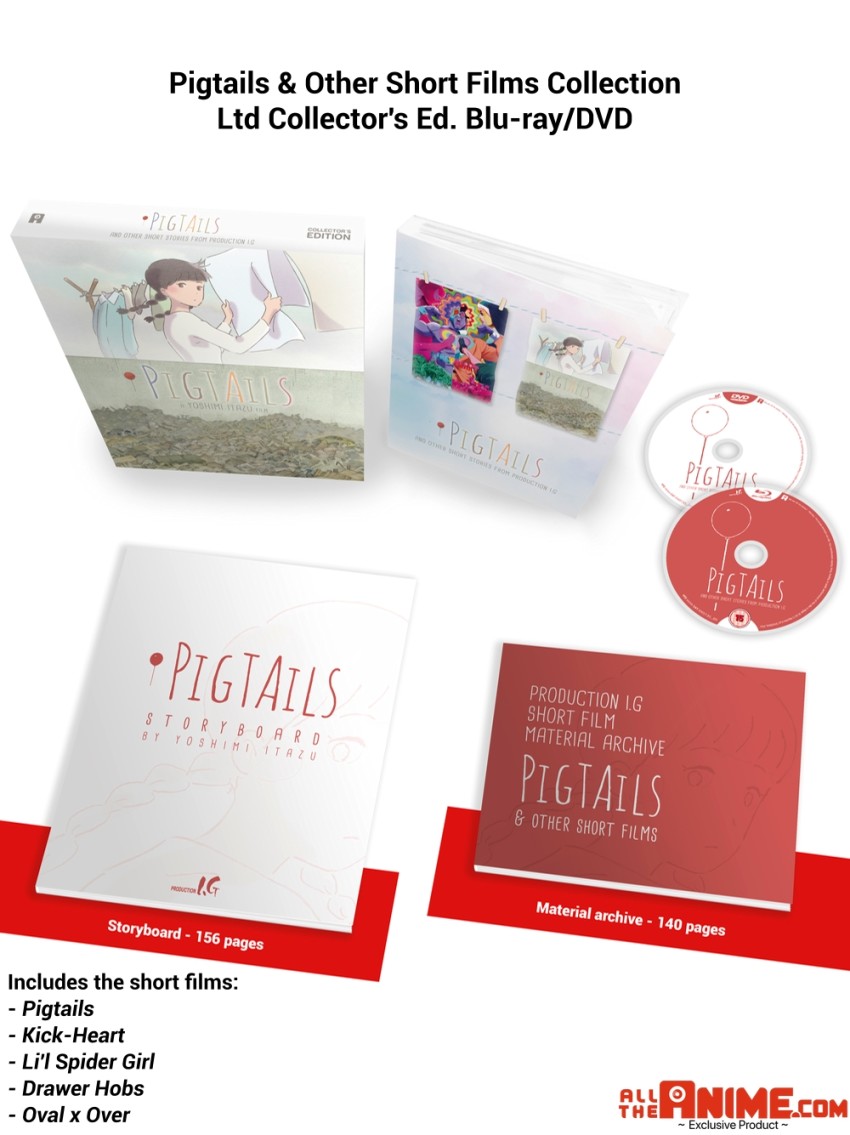 First of all, as some of you may be wondering, this Collector's Edition set is the same height as our traditional Collector's Edition sets. It'll come packed in a rigid case and inside that you will find a digipack containing both the Blu-ray and DVD discs. In addition to that are two books!
On the disc themselves you'll find each short film (as noted above). Each film is in Japanese with English subtitles only. (No English dub has been created for any of these.) You'll also find some promotional videos for some of the shorts as extras too.
As I mentioned, there are two books included. First of all we have a 156-page Pigtails Storyboard book! This is something we're absolutely delighted that can be include as it's contains the whole story board of the film with comments from director Yoshimi Itazu translated into English! It's a truly unique companion to a short film that adds an even deeper level of depth and understanding about the overall production of this short film when you factor in the information that's included in the other book. Speaking of which…
The second book included in this set is 140-page Material Archive Book! This book is divided into 6 sections, five of them on each short film included in this release. The sections and contents of each being –
Section 1: Pigtails

Messages from the original author and producer of Pigtails
An essay going into depth about not only the production of the film, but also the Fukushima disaster in 2011, of which that and the aftermath were the inspiration for this story.
Staff, Cast and Character Profiles
Background Art

Section 2: KickHeart

An overview about the short
A profile about director Masaaki Yuasa
Character Art
Background Art
Kickstarter Art

Section 3: Li'l Spider Girl

An overview of the film
A profile of director Toshihisa Kaiya
Character Art

Section 4: Drawer Hobs

An overview of the short
A profile on director Kazuchika Kise
Character Art

Section 5: Oval x Over

An overview of the film
A profile of director Hiroyuki Imaishi
Character Art

And there's also some information on Production I.G to conclude the book as well.
All of this over the 140 pages!
---
WHERE CAN I ORDER THIS?
As we've mentioned a few times, this Ltd Collector's Edition set is available exclusively from our AllTheAnime.com online store. And we're happy to announced that following an offer that originally was a special one-day offer as part of sales during December last year, we're giving people the opportunity to pre-order this set for a special price until Thursday 14th February! Visit the link below for details.
We also want to make a note that we appreciate this Collector's Edition set may not be for everyone, so we can confirm a standard Blu-ray/DVD combi will be getting released on 25th March 2019.
---
And that concludes this preview of our AllTheAnime.com Exclusive Collector's Edition set of Pigtails and Other Short Stories from Production I.G. We hope you're looking forward to adding this unique collection of short films to your collection!
Signing out~!
Jeremy