Pigtails and Others
October 26, 2020 · 0 comments
By Andrew Osmond.
The collection of anime called Pigtails and Other I.G Shorts encompasses anime going in bold new directions, as well as established directors – namely Masaaki Yuasa and Hiroyuki Imaishi – flaunting their signature styles.
Of the five films, "Pigtails" certainly departs into new territory. It starts like a cosy family cartoon, the kind the BBC might show on Christmas Day, but it ends up somewhere dark and melancholy. It's set on a vast beach, drawn in pale picture-book pastels. The flatness is only broken by a little house, the kind hurled by cyclones in Wizard of Oz. Here a young girl, pretty but not cutesy, lives kind of alone. She never speaks, but a constant commentary is provided by the talking objects in her house, from clothes-pegs to toothbrushes. Like the film, their conversations are funny at the start, then very sad.
The film may remind you of Hans Christian Andersen, or the downbeat picture-books by Raymond Briggs (The Snowman). The dark turn recalls a British-set novel by a Japanese author, and also the Buddhist-inflected fantasy Night on the Galactic Railroad by Kenji Miyazawa. The shock conclusion may seem very foreign to a British perspective, but Pigtails was made as an emotional response to the horror of March 2011, when thousands of Japanese people were swept away by the sea. Pigtails makes sense as the reflections of someone trying to process death on that scale.
The manga's author, Machiko Kyo, said that after the disaster, she began to wonder what kindness is. The author speculates, "Perhaps a truly selfless act of kindness demands total relinquishment of our own human nature."
At Scotland Loves Anime in 2016, I interviewed director Yoshimi Itazu, who adapted the film from Kyo's manga. Itazu's credits stretch from Miss Hokusai (character designer and supervising animator) to Denno Coil (supervising animator), as well as several Satoshi Kon projects. Since making Pigtails, he's directed the series Welcome to the Ballroom.
I asked Itazu why he made the film, and if it was intimidating to portray the tragedy of Tohoku. "I think Pigtails is the personal take of Machiko Kyo on the disaster." Itazu said. "But for me, it was more about the characters' feelings. In particular, it is the objects that are emphasised and that really interested me. It wasn't my intention to make Pigtails all about the disaster. I was interested in the way of telling the story."
One surprising fact is that manga author Kyo was partly inspired by a British garden – specifically a garden created by British artist and film director Derek Jarman. Jarman's garden was made on a shingle shore, close to Dungeness nuclear power station in Kent. It also figures in Jarman's 1990 art film The Garden. Kyo says the "Pigtails" manga grew from random images: a barren seacoast, a power station. "It all looked so similar to that film, The Garden. At first glance, nothing more than a wasteland whipped by sea winds. But at a closer look, an oasis of life, painstakingly nurtured by the hands of its gardener."
The same garden was used as reference in the anime. "There's a collection of photographs of Jarman's garden," said Itazu. "I used the colours of the buildings and the plants in the garden as a reference."
At nearly half an hour, "Pigtails" is the longest film in this collection. "Kick-Heart" is half as long, a raucous adult romp by maverick director Masaaki Yuasa. It has rival wrestlers, male and female, and jokes about masochism, poo and soul-lifting orgasms. It's also full of bodies in frantic cartoon collisions, with much of the hand-drawn joy of Yuasa's classic Mind Game. 
"Kick-Heart" is notable for being made possible by Kickstarter. As of writing, the crowdfunding page for "Kick-Heart" remains online, setting out the project's rationale. According to the text, "During the mid-1980s and 1990s, Japanese animation directors, such as Mamoru Oshii, pioneered a new era of animation." Oshii is credited on the "Kick Heart" team as Project Consultant.
"Recently in Japan," continues the Kickstarter pitch, "it's been very difficult for the next generation of innovators to create more artistically driven projects, mainly because of the economic situation in Japan. Most of the focus has been put on creating projects that carry less risk, such as remakes of old animation projects or well-known established properties. So we had an idea: What if we use Kickstarter to connect the fans across the globe who want to see cutting-edge animation with highly-skilled animation directors?"
At this time, Yuasa was far less known than he is now, with only a limited number of foreign fans knowing his work, mainly Mind Game and Tatami Galaxy. It was enough. The film surpassed its $150,000 goal by $50,000, raised by more than three thousand backers.
The third film in the Pigtails collection is the silly-macabre "Li'l Spider Girl." The titular spider-limbed li'l girl emerges from an old book, and a schoolgirl suspects that it's a li'l devil. The spectacular finale has a disintegrating temple, a giant monster and a punchline to remember.
The film was originally made as part of Anime Mirai, a programme of shorts by young animators. The director was Toshihisa Kaiya, who'd been an animator on Mind Game and Jin-roh. He's a fan of the actor Junji Inagawa, famous in Japan for telling ghost stories.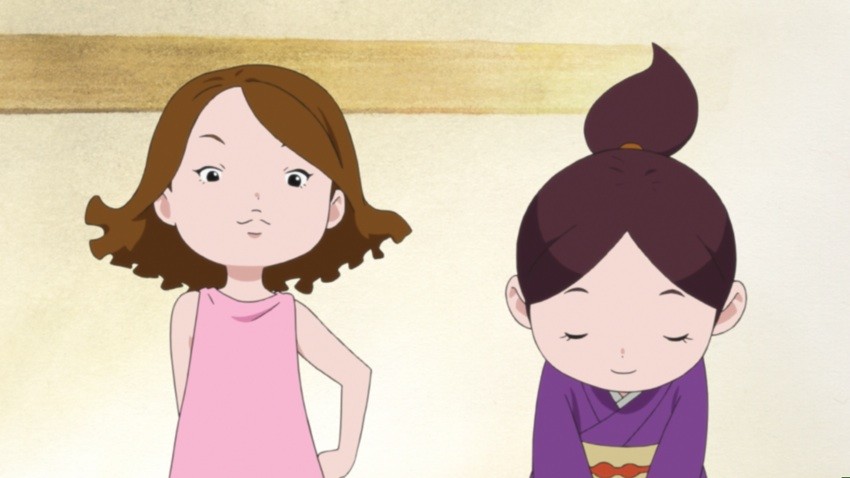 The fourth film in the collection is "Drawer Hobs." It's the only film which might be described as straightforwardly sweet, a fantasy life-slice about magic strangers emerging from a chest of drawers to help a tired call-centre worker. The film's pastel style isn't far from "Pigtails."
Like "Li'l Spider Girl," "Drawer Hobs" was made for what would become the Anime Mirai programme, though it was called Project A at the time. The director was Kazuchika Kise, an esteemed industry veteran, who supervised animation on Ghost in the Shell (the original), End of Evangelion and later Your Name.
The last film in the collection is "Oval x Over," a film-ette about racing drivers made by Hiroyuki Imaishi, director of Gurren Lagann, Kill la Kill and Promare. But the film predates all of them; Imaishi made it back in 2005. As you might guess, it was for a racing event – Bridgestone Indy Japan 300 Mile in Roppongi Hills – and it spoofs retro racing anime. The commentary in the film is by Daiichiro Hirakawa, a real sports commentator.
Andrew Osmond is the author of 100 Animated Feature Films. Pigtails and other shorts by Production I.G is screening as part of this year's Scotland Loves Anime.