By Andrew Osmond.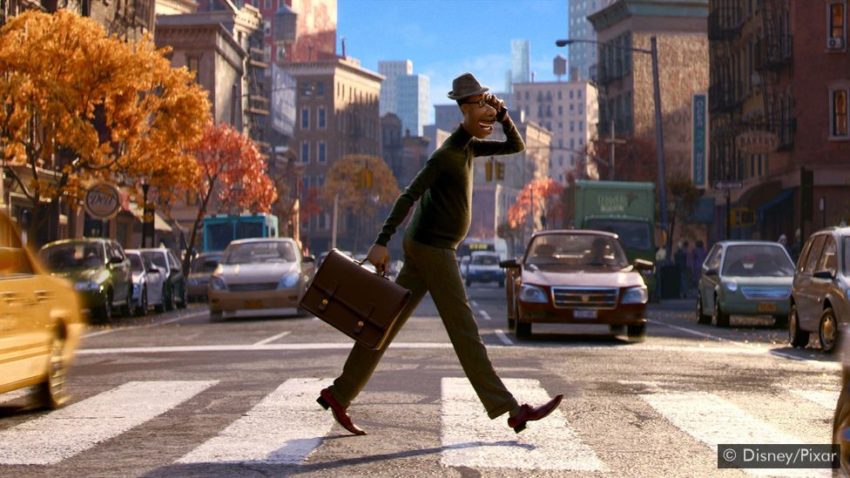 Happy Christmas, Pixar fans! The studio's new CG animation Soul debuts today on the Disney+ platform. It's an afterlife fantasy, in which Joe, a New York jazz pianist takes a tumble down a manhole and ends up as a disembodied, well, soul en route to the Great Beyond. But our ghostly hero is convinced that it's not his time yet, and rushes into a series of wild adventures, both in our world and those beyond.
Soul is a full-fledged, 'proper' Pixar film which had been due to open in cinemas globally last summer, until… you know. Along with Disney's live-action Mulan, it's one of the highest-profile Hollywood releases to go straight to streaming due to Covid, which may have long-term consequences for movies in the years ahead. But that's not why we're talking about it today.
Pixar often ventures onto territory that anime has already explored. I've previously cast an "anime eye" over two other Pixar films, Inside Out (directed by Peter Docter, who also made Soul) and last spring's Onward. Like them, Soul has parallels with a range of anime titles. For one thing, there's a scene early on where Soul depicts its hero Joe immersed in a musical performance, and his spirit seems to travel to another dimension. It's very like the way that the performances are shown in the series Your Lie in April.
Then there's the way Soul's story sloshes between a fantasy realm and a real, familiar city – in Soul's case, New York. That was also the approach in Mamoru Hosoda's film The Boy and the Beast, set in Tokyo. Both films have some similar ideas in their respective last acts, though worked out in different ways.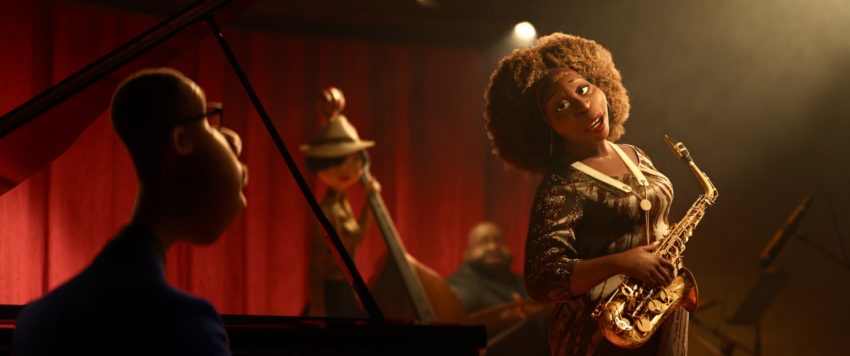 (Moderate SPOILER for the next paragraph.) Another of the twists in Soul involves a particularly oddball "bodyswap" – or at least a half-swap, as one character gets another's body, while the other character ends up somewhere else. But Soul doesn't really feel like Your Name until later, where there's a story development with swapped memories.
However, I'd like to focus on Soul as a film about life, death, and the meaning and value of our existence. They're all heavy subjects, and they've all been raised in past anime. Of course, they're raised in other places too. Pixar itself previously did an afterlife story, 2017's Coco. However, that was from the viewpoint of a boy who wasn't dead, visiting the afterlife, which makes it more of a Spirited Away adventure.
Soul's premise – a man who insists he's not ready for the afterlife – smacks of a live-action fantasy classic, the 1946 British film A Matter of Life and Death (trailer), with David Niven as a dashing fighter pilot. There was a lower-key treatment of the hereafter in Japan's live-action After Life, released in 1998 (trailer). Its director was the then little-known Hirokazu Kore-eda, who'd go on to Our Little Sister, Shoplifters and many more.
In anime, treatments of the afterlife go from the solemn to the raucous. Generally speaking, though, they're not obvious Christmas Day entertainment like Soul, so think twice about putting them on for the family. That's especially true of Mind Game, Masaaki Yuasa's early masterpiece from 2004. Like Joe in Soul, the recently-killed hero Nishii flees the afterlife, a realm that's hilarious and terrifying. An aspiring manga artist, Nishii goes on adventures as wild as Joe's to learn the value and potential of life. There are yakuza, Nishii's school sweetheart and the belly of a whale. Drawn with some of the craziest graphics to grace anime, the film's a blast… though its sex and violence takes it out of Pixar's demographic.
A far more solemn afterlife story is widely known in Japan. Indeed, kids are taught it at school. In Kenji Miyazawa's Night on the Galactic Railroad, a young boy called Giovanni boards a magical train that travels into space… and, it's revealed, to the borders of life and death. Miyazawa's visions include a man who catches herons on the sands of the Milky Way; a giant cross rising like a tree from a heavenly river; and at the climax, a pitch-black hole in the sky, which fills one character with terror, another with joy.
The story was adapted as a wonderful, mystical anime film in 1985 (trailer), with most of its characters drawn as cats. The original story is a likely inspiration for the famous "train over the sea" sequence in Spirited Away. Miyazawa's story is also beloved by two young boys in the war drama Giovanni's Island, who must face their own matters of life and death at a very young age. I wrote more on Railroad and Giovanni's Island here.
More recently, afterlife scenarios have become a staple of a particular kind of anime. I'm talking about the series that send characters from Earth (usually Japan) to have adventures in fantasy worlds. Often the heroes have to die on Earth first in order to get there (shades of the book The Last Battle by C.S. Lewis). Vision of Escaflowne, for example, has a character who's plainly a resurrected Isaac Newton, trying to build a perfect world by using "attracting" emotions – in other words, psychic gravity. In That Time I Was Reincarnated as a Slime, the hero's resurrected as, indeed, a slime, the lowest-level monster in Japan's Dragon Quest game series. Predictably, his afterlife adventures play like a videogame, as he levels up his strength and abilities to become the strongest slime in the multiverse.
Some of these anime play death for laughs. In the comedy KonoSuba, the protagonist dies with even less dignity than Joe in Soul. Oher shows are less flip. In Slime's first episode, the hero is horrifically stabbed while protecting his friend from a maniac on the street… even if his last human thought is a plea for someone to erase his computer's hard drive.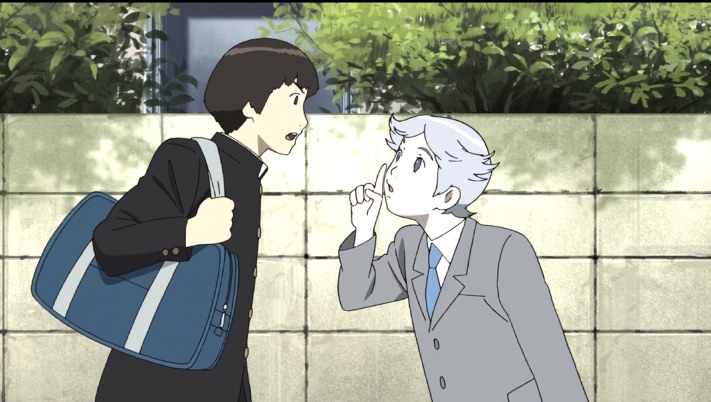 A twist on these fantasy-world scenarios was offered in the 2010 film Colorful (pictures, not to be confused with a smutty comedy anime of the same name). An anonymous soul arrives at a shadowed station, recalling Galactic Railroad. But then the soul is sent straight back to Earth, arriving in the body of a very troubled schoolboy, whose life proves more confusing to navigate than most fantasy worlds. Colorful was directed by Keiichi Hara, who also gave us Miss Hokusai, Birthday Wonderland and Summer Days With Coo.
Before Colorful, a different approach was taken by the fan-beloved series Haibane Renmei from 2002. Almost as mysterious as Railroad, it's set in a genteel European-style town, a backwater where an RPG hero might sleep between fights. A group of human youngsters are reborn as "Haibane," with angel wings on their backs. At first, the anime is a charming slice-of-afterlife without battles or villains. But then the drama darkens, and the characters move into woods and winter. Even in the afterlife, they must suffer, risk and sacrifice for the people they love.
Another series which leant hard into the afterlife scenario was the 2010 anime Angel Beats! In it, youngsters wake up at a mysterious school in the afterlife, which might be controlled by God Himself. Written by Jun Maeda, one of the main writers on the Clannad game, the series is a rollercoaster, rivalling Mind Game for craziness while wringing out the tears.
Coincidentally or not, the more recent Re: Zero feels very close to Angel Beats! Strictly speaking, Re: Zero isn't an afterlife series – its hero Subaru is whisked to a fantasy world without having to die in our one. But once he's in the fantasy world, he gets killed fast, again and again. Each time, he loops back to a "save" point, as if in a videogame. But that doesn't stop him being shocked and traumatised by each demise. After a while, he might as well be in Hell; he sees endless horrors, repeated and re-permutated, while his failings and sins trap him in the infernal loop. And then…
Well, we won't give away the details. But there's one memorable episode, where he's at his lowest, swimming in self-hate, when a person who's pretty much an angel takes his hand and lifts him up. After what he's been through to that point, it's an immensely powerful moment of redemption and grace, beyond all the fan flamewars about the scene. (A love triangle is involved). In effect, Subaru is raised up from his seemingly endless death, to begin in the world anew, from zero. Compared to that, Joe's quest in Soul is playing on the easy level.
Beyond anime about the afterlife, there are anime about life andits meaning. A landmark is Studio Gainax's The Wings of Honneamise, and especially its extraordinary last minutes. In them, the film explodes into a tremendous tapestry of human existence, from stone-age caves to modernity, driven by war but perhaps not defined by it. The vastness of the vision is comparable to 2001, but with more hope and humanity.
Intriguingly, in the original Japanese Honneamise, the sequence is preceded by an overtly religious speech by one character, who prays to God to guide humans out of their sinful history. In the American dub, this becomes a more secular speech in Star Trek/Lennon mode, about a world without more borders. There's a comparable coda in Mind Game, another headspinning vision of life in the round. It's worth watching both sequences together; they make fascinating complements.
One more great anime "statement" on life was made in Satoshi Kon's Millennium Actress, due on 4K Blu-ray in January. (Some spoilers follow.) Except that it's too mischievous to be called a statement. Like Honneamise, the film turns on an unforgettable last scene. Like Honneamise, it has a character on a spaceship, gazing out at the great beyond, before she delivers a poised line about how she's lived her life (and it's not "I did it my way.") What she says is a riddle; it can be taken in many different ways, both obvious and subtle. But would you expect the meaning of life to be anything else?
Pixar's Soul is now streaming on Disney+.