By Andrew Osmond
To shed light on Plastic Memories, it's worth remembering a comment by Yasuhiro Yoshiura, who directed the android anime Time of Eve (and the gravity-defying Patema Inverted). "In the UK and US, robots are robots and they are completely different from human beings. There's also a kind of Frankenstein complex where they are a kind of monster, standing against human beings. In Japan, robots are treated like humans; in some cases, the robots want to be human."
Yoshiura's comments are generalised – there are plenty of robots who want to be human in British and American SF – but they're supported by Plastic Memories. Although the show often has a light tone, its subject is anything but light; the Japanese publicity bills it as "a story of meetings and partings." It imagines a world where robots live with people, even as members of human families, but with very limited life-spans; they 'die' after nine years. The show imagines a team of professionals whose job is to supervise the androids' passing, and collect their bodies for disposal.
The main characters are a human youth, Tsukasa, who's just joining the Terminal Service Department, and his co-worker Isla, a petite girl android with whom Tsukasa is smitten at once. The white-haired Isla looks like Angel in Angel Beats, although she loses her composure more often; we learn androids have similar needs to humans, including toilet breaks!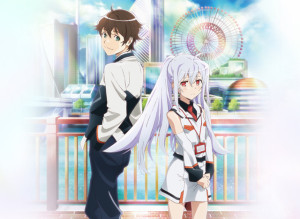 Ilsa is voiced in Japanese by Sora Amamiya, who's voiced another non-human, Tora in Tokyo Ghoul and the Martian (but human) princess Asseylum in Aldnoah.zero. But the big name in the credits is the creator and writer, Naotaka Hayashi. He's famed in fandom for writing the scenarios for the 5pb games Chaos;Head, Robotics;Notes and primarily Steins;Gate, all adapted as anime. Plastic Memories is animated by Douga Kubo, not a famous outfit, but with a huge number of credits going back at least to the 1980s.
Coincidentally, Plastic Memories began just as Ridley Scott's classic Blade Runner was reissued in British cinemas. In a sense they both have the same premise, but their development is galaxies apart. Blade Runner also has limited-lifespan androids (the Replicants) and protagonists who dispose of them. The difference is that the disposal in Blade Runner is brutal, with Replicants fighting savagely for their existence and craving more life. So far, Plastic Memories is entirely non-violent; the expiring androids may grieve for having to part from their human 'families,' but there's no sign of anger, no rage against the light's dying. Interestingly though, both Blade Runner and Plastic Memories focus on memory as a motif; let's see if anyone in the anime talks of 'tears in rain'.
At the start, there's no suggestion that Plastic Memories' androids (called Giftias) could be our enemies. Rather they are friends, families and – it's strongly suggested – our teachers on the subject of mortality. The idea of androids as therapists to humans also turned up in the recent anime HAL, where a robot helped a human through grief. HAL's director Ryotaro Makihara connected this idea to trends in society. "We do have pet therapy… You get your thoughts together by talking to a pet, a cat or dog. Japanese people will also go to graves, and put themselves at peace that way. Robots could simply replace that."
A tricky question is how much Plastic Memories reflects a Japanese take on mortality, on the acceptance of death. It's irresistible to drop the phrase mono no aware, a Japanese aesthetic based on the wistful beauty of transience, embodied in cherry blossoms and fireflies. Plastic Memories may also remind viewers of the scenario in the Japanese author Kazuo Ishiguro's Never Let Me Go, which was filmed a few years back. Set in an alternative Britain, this story involves not androids but clones, who are born to donate their organs to 'natural' humans and seem accepting of their fates.
However, Ishiguro's clones live separate lives from the humans they will die for, unlike the androids in Plastic Memories. Moreover, the clones' deaths aren't natural; rather, they're slaughtered for a human over-class and don't even think of saying no. It remains to be seen whether the Giftias' limited lives in Plastic Memories are imposed by the laws of nature and science, or by cynical corporate decree, but the Japanese synopsis suggests the former.
Several reviewers of Plastic Memories predicted Isla would turn out to be near the end of her lifespan, with a crushing emotional fallout for Tsukasa. If you want to speculate, though, an alternative possibility is that Tsukasa might be struck down with a life-shortening condition, putting the human on a level with the android. Another alternative is that Tsukasa, unknown to himself, is actually a… but no, that one's been done. [A big revelation in part 2 confirms… well, you'll have to see.]
Andrew Osmond is the author of 100 Animated Feature Films. Plastic Memories is released in the UK by Anime Limited.