Podcast – 10th July 2019
July 10, 2019 · 0 comments
ALL THE ANIME PODCAST – 10th July 2019
"YOU ARE (NOT) YOUTH ANYMORE"
[RECORDED ON 9TH JULY 2019]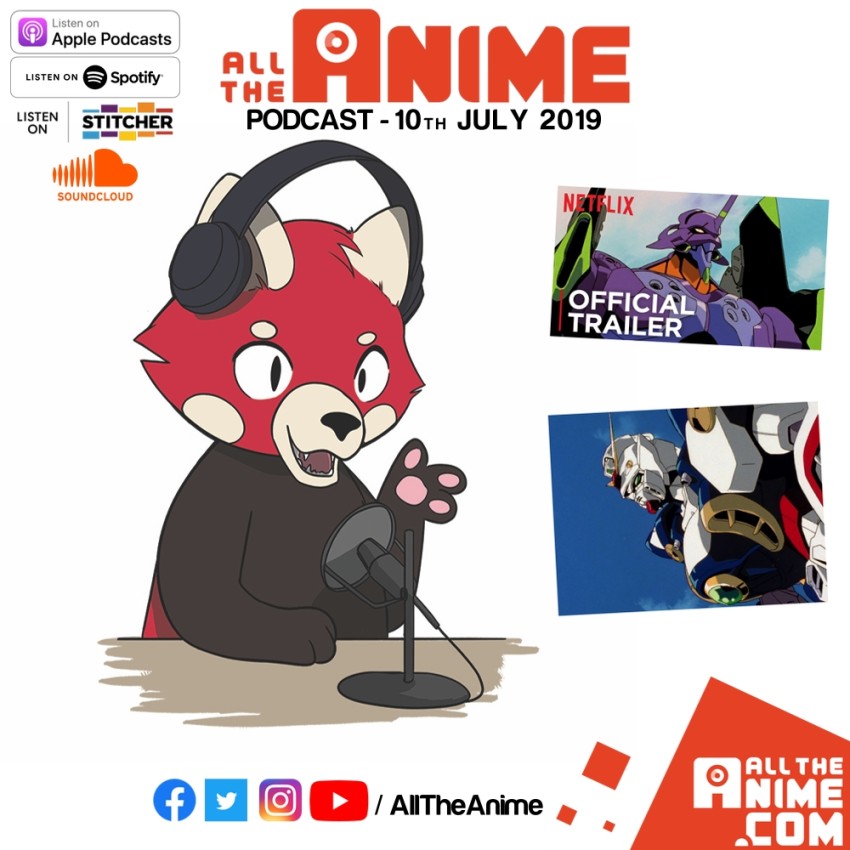 It's been a while… about a year since we last recorded a podcast (excluding the Scotland Loves Anime 2018 special) but we're finally back with a new podcast! It's something we've had on the docket for a while, and time has finally allowed us to get the ball rolling on that with a loose feeling episode covering a variety of topics.
Join Jeremy Graves and Andy Hanley as they talk about a few new releases including the Oscar nominated Mirai, Welcome to the Ballroom: Part 1 and Sword Art Online Alternative: Gun Gale Online – Part 1, then it's all about our Summer of Gundam as we bring you up to speed on what you can expect from us in the way of releases from the world of Gundam including the film Char's Counter Attack, and Gundam Wing!
Then, given it's very much a talking point in general at the moment, we wanted to get in on the conversation when it comes to Neon Genesis Evangelion now being available to watch on Netflix. This is the point where fellow All The Anime team members Kat Hall and Keith Copping get in the robot with us to discuss rewatching the series, likes and dislikes about the new English dub, thoughts on watching the show as an adult compared to when we were *cough* younger and how that impacts the overall perception of the series, reactions of people experiencing it for the first time and more!
Then, keeping on the Evangelion train, Keith was in Paris at Japan Expo this past weekend and got to see the 10-minute preview of the upcoming fourth film in the Rebuild of Evangleion Project with a bunch of rabid French fans. We get thoughts on this 10-minute Evangelion 0706 preview, the reaction of the fans in the building and more!
Note about the Evangelion discussion on this podcast: We do our best to keep it as spoiler free as possible, but inevitably this doesn't happen. So SPOILER WARNING when it comes to all the Evangelion discussion on this podcast for both the series and 0706 10 minute preview.
NOTE: As always please note this podcast may contain strong language and any views expressed by individuals in this podcast do not reflect those of Anime Limited.

(To download the podcast as an mp3, click on the arrow pointing down in the top right corner of the player above.)
There is also a Soundcloud app available on both iTunes and Google Play, so you download and listen to our podcast through there as well.
Time codes for this episode
02:50 – Welcome to the Ballroom
08:05 – Sword Art Online Alternative: Gun Gale Online
11:38 – Mirai
14:35 – The TF Nation event's "The Gundam Wing" plans
18:59 – Upcoming Gundam releases including Char's Counter Attack and Gundam Wing
28:15 – Neon Genesis Evangelion discussion
46:56 – Evangelion 3.0+1.0 "0706" discussion
59:50 – [END]
SHOW NOTES
Mirai UK Exclusive trailer (watch below)
Until the next episode (whenever that is.)
Signing out~!
Jeremy