Promised Neverland
November 11, 2020 · 0 comments
By Andrew Osmond.
One of the many mysteries in Promised Neverland, based on a bestselling Shonen Jump manga nearer Death Note than Naruto, is the enigmatic title. It might be a Peter Pan reference; after the first episode, you could understand the child characters not wanting to become grown-ups. Or you may see "Neverland" as referring to the idyllic, Edenic childhood existence that's established in the show's opening… before the horror begins.
We start in an orphanage – the happiest, most delightful orphanage you could imagine. The kids don't just live together, they're bonded like one happy, laughing, loving family. There are nearly forty youngsters, ranging from babies up to "seniors" of ten or eleven years old. The orphanage is no grim grey building from a dark children's tale, but a lovely gabled mansion surrounded by forest. In kid-lit terms, it's like all those idealised boarding schools from Enid Blyton to Harry Potter. And initially, there's just one adult, a smiling, huggy lady whom the kids all call "Mom".
The orphanage has no TVs, computers or smartphones. The children spend much of their days chasing each other through the woods. This could be a century ago, except the calendar on the wall says 2045 and the children do use touchscreens in their regular tests, as the orphanage doubles as a school. There are a few more funny details. The kids are warned to not to go beyond set boundaries – marked by ridiculously low barriers – and indeed they've never communicated with the outside world. They wave tearful goodbyes each time a kid leaves the orphanage, ready to start a new life outside… yet none of those leavers has ever sent them a letter saying where they are now. One more thing: the orphanage kids all have large numbers on their necks, looking like tattoos.
Much of the story is told from the viewpoint of two of the oldest, smartest children. Redhead Emma has a tomboy personality and a boundless compassion for her "siblings." Norman is a quiet, white-haired boy who's exceptionally clever and particularly fond of Emma. And… to say any more will involve spoiling the show's first big moment, so if you want to go in as untainted as Emma and Norman, then read no further.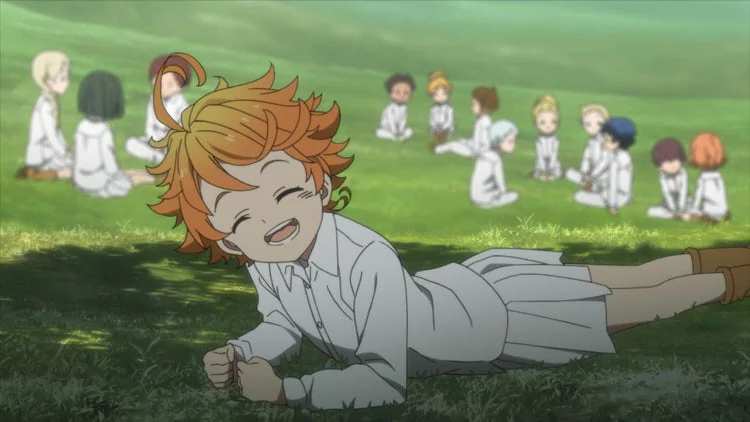 Their world crashes in one night when the latest child departs the orphanage, chaperoned by the watchful Mom. Emma and Norman realise the girl in question forgot her favourite stuffed toy. Breaking the rules, they race down to the orphanage gatehouse to return it. They find a creepy, cavernous building; a truck… and in the truck, their friend's body, withered, with a red flower growing from her torso.
The nightmare only deepens. The children see monsters, demons, towering and claw-handed, with jaws large enough to swallow a shark. They see their friend's body poured into a jar, hear the monsters praise the merchandise, see them drool over her tasty flesh. But by the far the worst thing is that Mom is with these monsters, talking with them, taking their orders. So Norman and Emma realise the adult they've loved and trusted for their whole lives is the worst monster of all.
When it comes to stories, nightmare fuel is rocket fuel. With its insane ghastly premise and the attendant emotional stakes, Neverland plunges us into its situation like few other shows. Can Norman and Emma hide their knowledge from Mom? Can they escape the orphanage, their beautiful home which is now a place of terror? Is there any way they can save not just themselves, but the other kids, still blissfully unaware? Is Mom the only familiar face hiding unspeakable secrets? Who can be trusted? And even if the children do "escape," what awaits them outside?
Like Death Note, this is a show about characters trying to make plans, to out-think their enemies and perhaps their friends too. There are also shades of Attack on Titan. This is a horror story rooted in fairy tales, when the imaginary monsters in the dark are grinning facts, their jaws gaping to take you in. And even in the early episodes, the twist we've described isn't the only one-eighty-degree plot reversal.
True, Promised Neverland isn't grim/dark like Titan. Even after the first episode's shattering shock, there are bright moments of levity between the kids, while even the villains have a funny side. Newly suspicious, Mom brings in another adult to the orphanage, a manic child-chasing maid. She's like a Disney panto villain gone psycho, snatching up giggling tots with scene-chewing glee. It adds to the feeling that this is a specifically children's nightmare, even as the fundamental situation remains terrifying. Just imagine it. You're a child, the monsters are real, the adults are helping them, and you're in their power. You thought The Matrix was a paranoid nightmare? Who needs a Matrix, when you have an orphanage?
Running in Shonen Jump from August 2016 to June 2020, the Promised Neverland manga was written by Kaiu Shirai and drawn by Posuka Demizu. The ongoing anime version is made by CloverWorks, formerly part of A-1 Pictures. Its director is Mamoru Kanbe, who once helmed the very hardcore horror series Elfen Lied. Lead writer Toshiya Ono held the same post on Blue Exorcist: Kyoto Saga, Gatchaman Crowds and Land of the Lustrous. Emma is voiced by Sumire Morishoshi; a decade ago, she voiced little Nina in Fullmetal Alchmist: Brotherhood. Now there's a character who shouldn't have trusted grown-ups…
By the way, Promised Neverland's set-up might remind you of Never Let Me Go, the 2005 novel by the Japan-born, British-based author Kazuo Ishiguro (The Remains of the Day). That also starts with a benign-seeming school which hold a shocking secret about its children's futures… though Ishiguro's characters don't see the secret as shocking, and the story proceeds very differently from Promised Neverland. The novel was filmed in 2010 with Carey Mulligan, Keira Knightley and Andrew Garfield.
Promised Neverland will be released in the UK by Anime Limited.