By Andrew Osmond.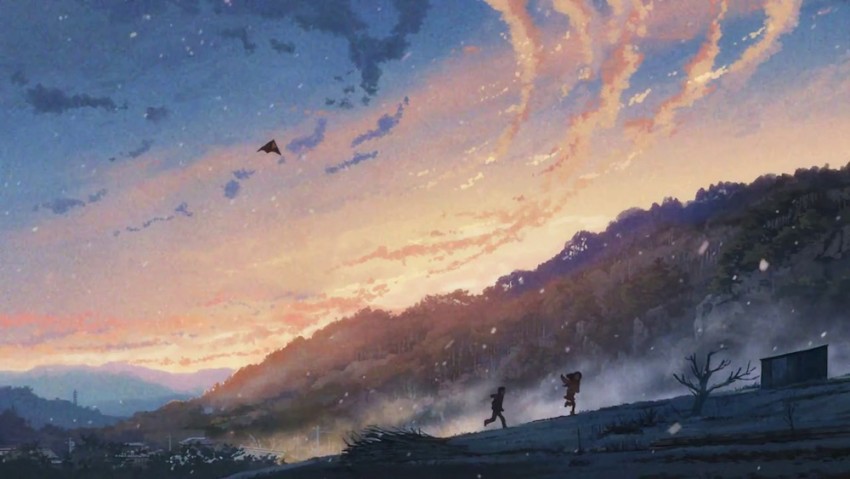 Makoto Shinkai's visual style is a commercial in its own right, maybe the most lucrative brand in anime today. So it's fitting that Shinkai's work has been bound up with advertising for more than a decade. Think of the lightning editing in Shinkai's films, allowing for super-compressed story points, absolutely ideal for an advert slot of 15 or 30 seconds. Shinkai himself has directed numerous animated commercials, including one that by his own account contained the seed of Your Name. His films have been extensively promoted in commercials, and have spawned "Shinkai-esque" ads beyond his own studio. Then there are arguments about the advertising within Shinkai's blockbuster films, but we'll get to them later.
One of the earliest commercials which Shinkai made – which already uses the established Shinkai style – was this one above (alternative link). It was made to advertise a newspaper in Shinkai's home town of Komi in Nagano. Depicting a girl cycling after her father's very local train – which would remind viewers of local trains all over Japan – it's an "instant emotion" moment. Actually, the train in the advert is rather special; it's the KiHa E200, using brand new hybrid diesel/battery technology. You know about Shinkai and trainspotting…
Fans of vintage anime might justly wonder if the advert was inspired by a seminal TV moment. In the first episode of Isao Takahata's 1976 series 3,000 Miles in Search of Mother, there's a heartrending scene where the little-boy hero chases frantically after a ship that's carrying his mum away. Technically, though, the ad's combo of character animation and a dynamic "3D" effect (when the girl is framed against the rice-field that's moving in parallax below her) seems to anticipate a celebrated moment in Kyoto Animation's 2015 series Sound! Euphonium… though that's probably just coincidence.
The advert was released in 2007, the same year as Shinkai's 5 Centimeters per Second. Actually, 5 Centimeters' distribution was so limited that it wasn't even shown in Nagano cinemas; the best volunteers could muster was a screening in a community centre, and not even in Komi. Remember, Shinkai was known by fans and professionals in 2007, but not by the mainstream; Your Name and blockbusterdom wouldn't come till 2016. But well before that, Shinkai was getting more advertising gigs; companies recognised how well his "look" fitted the medium.
In the above compilation, the adverts are out of order (if the link is down, you should be able to see the ads here.) They're all part of an ongoing campaign, made in partnership with the Taisei Corporation, which is involved with construction and civil engineering around the world. Notably, one of the ads in the compilation – 50 seconds in, showing a man involved in building Qatar's Doha Airport – wasn't directed by Shinkai, but rather by Ushio Tazawa, who was character designer and animation director on The Place Promised in Our Early Days. The ad lacks the level of shiny gloss that we associate with Shinkai now, though some viewers may prefer it for that.
The other Taisei ads, however, were directed by Shinkai. The first (2011) is the one at the start of the compilation, showing a standard-seeming Shinkai schoolgirl, though she grows up into a non-stereotypical profession, leading construction on the Bosphorus Strait Tunnel in Turkey. The ad folds Place Promised's wistfulness about our early days into an optimistic promise that we can move fruitfully forward – with, of course, the help of the Taisei Corporation. This message, of building on nostalgia, runs through the advertising campaign, which also capitalises fully on CoMix Wave's scintillating backgrounds to beautify any corner of the world. (If Shinkai can make Shinjuku look pretty…)
Shinkai's second Taisei advert (2013) is at 1-50 in the compilation, showing a man working on the first freeway in Sri Lanka. (It's also subtitled here, with especially heavy overtones of Place Promised.) Shinkai's third Taisei advert (2014), at 1-20 in the compilation, returns to parent-child bonds. A son is inspired by his dad, a builder, and comes to work on the No Bai airport in Hanoi, Vietnam.
Since his breakout with Your Name, Shinkai has continued making Taisei ads, including a 2018 episode where the protagonist (a woman) helps extend Sri Lanka's Mass Rapid Transit system. The ad is based around a phone text, like much of Shinkai's oeuvre, and it became a joke meme in Japan. The director's most recent commercial was only this year (2020); its protagonist is in Yangon, Myanmar, working on a new hospital. Childhood memory is still the motif, with a single sakura blossom taking the hero back to his own early days.
However, while Shinkai's adverts for Taisei may represent his longest campaign, another of his ads in the 2010s was more important…
In 2014, Shinkai scripted and storyboarded an advertising campaign  called "Cross Road" (alternative link), commissioned by the correspondence education service Z-Kai. In this two-minute epic, two unrelated teens, a girl and boy, are striving to get into college, their paths eventually converging. The mini-film feels unnervingly like a version of Your Name without body-swaps; it even had the same character designer, Masayoshi Tanaka. And remember, Shinkai made this before he made Your Name. "Cross Road" also anticipates an element of Weathering With You, as the girl (Miho) lives on a small Japanese island, even as she longs for Tokyo. Incidentally, if you think the accompanying song sounds familiar, it's a rearrangement of the Irish standard 'Oh Danny Boy," with Japanese lyrics co-written by Shinkai himself.

Shinkai himself described the "Cross Road" project as one of the starting points for Your Name, and the ad was shown in some cinemas before that film. It was also shown during the Your Name's first airing on broadcast TV in 2018. The ad's name is doubly appropriate, given that it may be the single most important crossover between Shinkai's ads and his film work.
Meanwhile, other ads have been made by Shinkai's collaborators in the director's style. In 2017, CoMix Wave made an ad promoting Canadian tourism which was widely assumed to be by Shinkai. The director himself had to Tweet that the ad was made by another director, Hisayuki Tabata.
Another CoMix Wave ad, called "Mottainai" (alternative link) was made for NHK to inspire Japanese youngsters. The title means "waste," applying both to material waste and wasteful action. It was directed by Yoshitoshi Shinomiya, who'd created the promotional art for Garden of Words, and was involved in the extraordinary sake-induced flashback sequence in Your Name. Like that flashback, the ad extended the house style visually – still very Shinkai-esque, but with more of a watercolour overlay. The background art was by Polish artist Mateusz Urbanowicz (interview), who blogs about it here.
Of course, all these ads are only small part of Japan's animated advertising, which goes all the way back to the 1950s, as explored in Jonathan Clements' book Anime: A History. (Animated advertising was also massively important in Britain, as the career of Richard Williams attests.) Some more recent examples of anime advertising are given at the bottom of this article. But the Shinkai style already seems to be influencing ads by other studios. I've written a whole article on how a striking Cup Noodle Advert feels like Ghibli refracted through Shinkai, even if Shinkai had nothing to do with it.
But let's move on, to advertising within Shinkai's films. One criticism that's been made of his latest blockbuster, Weathering With You, is that it can feel like an orgy of product placement. The comeback: the film is set in central Tokyo, which is an orgy of product placement. Shinkai claimed he wanted to make the audience feel it was the real city, without resorting to spoof brand names like MgRonalds and Moogle. Spoof names don't need copyright clearance; that's why you often see them in anime.
Shinkai says, for example, that he wanted the scene in Weathering where Hodaka eats a succulent (!) McDonalds burger, and spent much time negotiating with the chain, getting permission to use the real logo. Yes, Hodaka is shown eating a tasty burger in a blockbuster film, but McD was worried by the fact that he's got a loaded gun with him.
I'm not aware of any McDonalds advertising tie-ins with Weathering – if you know of any, please comment below. However, the film did have a great many corporate tie-ins, involving brands such as Nissin Cup Noodle (seen while the characters crash in a hotel, as pinpointed in the ad), Suntory Mineral Water (which also had commercials tied in with Your Name), Google, Misawa Home, Toei Transportation, the job search website Baitoru, and more. As of writing, there's a compilation of Weathering tie-in commercials here. Some feature newly-made animation, presumably done to order by CoMix Wave.
Among the tie-commercials, the best is the pair made for the Japanese conglomerate SoftBank (alternate link). The first of these ads makes a funny meta-joke about product placement, and challenges viewers to find a Weathering cameo by SoftBank's trademark white Hokkaido dog. This advert, incidentally, is part of a famous series, "The White Family"; much of it is compiled here and here. Quentin Tarantino made an amusing appearance in one episode (here), while Tommy Lee Jones is a regular supporting presence. The height of madness, though, was Bruce Willis's appearance in a recent episode, claiming to be the cartoon cat Doraemon (here).
SoftBank's second Weathering advert sets up its own conundrum. It shows Weathering's leads Hodaka and Hina watching Shinkai's film Your Name… despite the fact that Your Name's lead characters apparently meet Hodaka in Weathering. Among other things, this lends quasi-canon credence to the view that Weathering and Your Name are set in different timelines, albeit timelines where people have counterparts who look identical. (Another question raised by the ad; when animated characters watch an animated film, do they see it as animation or live-action?)
Let's finish by rounding up some other anime ads, to put Shinkai's ones into context. In Japan, the cinema screenings of Weathering were accompanied by this extended commercial called "Soba e" (alternate link). The tale of an umbrella who turns into a girl (because anime), the ad had character designs by Ayako Hata, who was assistant director and animation director on Mamoru Hosoda's Mirai. The ad was made by Studio Orange (Beastars), for the Marui retail group. The group had previously made its own beautiful series of animated ads featuring a struggling businesswoman and an enigmatic cat, helmed by Ryotaro Makihara, director of Hal.
Another distinguished series of recent commercials was made by Studio Colorido (Penguin Highway, A Whisker Away), in collaboration with Robot Communications. Made for the Marukome miso soup company, they're masterfully heartwarming slice-of-life stories which don't feel cramped at 90 seconds each, and which can be seen here. (This one will offend some viewers, but is still sweetly told.) Colorido also promoted literal McJobs in ads for the fast food chain, voiced by members of AKB48. The second ad is especially interesting, openly presenting McDonalds as a stepping-stone to work elsewhere. Meanwhile, Studio 4°C trod similar turf to Shinkai's "Cross Road," advertising a high school correspondence course (from 0-35 here).
In more Shinkai-esque vein, there are the dazzling Nissin Cup Noodles "Hungry Days" ads mentioned above, giving alternate takes on Kiki, Heidi and Sazae-san. More recently, the series served up a high school One Piece. Then there are outstanding individual adverts promoting everything from Tokyo Disneyland to Mercedes Benz (a six-minute action epic by Production I.G and Giovanni's Island director Mizuho Nishikubo), plus eccentricities like Evangelion's Gendou touting shaving razors.
Lastly, given all that's been said about the Shinkai brand, it's worth looking at the commercials made by Ghibli. Whereas Shinkai's and Comix Wave's ads aggressively push a house style that's instantly recognisable, Ghibli's ads are far more diverse, only resembling the studio's film work in a few cases. In other words, you probably wouldn't recognise many as Ghibli products. The contrast between this bespoke craftmanship and Shinkai's, well, commercialism is obvious, and Shinkai's critics may use it as evidence of why he'll never be the next Miyazaki. But without his career in ads, Shinkai might never have been Shinkai either, today's chart-topping blockbuster king.
Andrew Osmond is the author of the newly reprinted BFI Film Classic on Hayao Miyazaki's Spirited Away.