Sweet Bean
October 27, 2016 · 0 comments
Jeremy Clarke on a low-key movie about takeaway food and suburban life.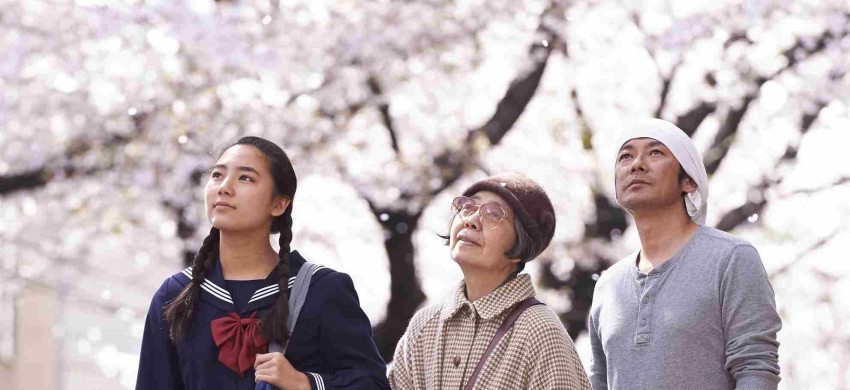 Early morning. A man (Masatoshi Nagase) tramps heavily up fire-escape steps to look at the view from his rooftop, then down again and along the street. He goes through a little door into a small restaurant kitchen where he dons a chef's hat and apron to prepare food. Elsewhere in the urban sprawl, an old lady (Kirin Kiki) gazes at the cherry blossoms on the trees.
The chef carefully pours just the right amounts of pancake mixture onto a hotplate to make dorayaki – two small, burger bun sized pancakes with a filling of sweet bean paste in the middle. The old lady peers in. She saw the sign for part time work and wants to know if the post is still vacant. When she admits she's in her mid-seventies he becomes quite keen to get rid of her and offers an outrageously low hourly rate. She proposes to work for half that and introduces herself as Tokue. His name is Sentaro. He makes excuses as to why it won't work. "Thanks," she says, "I'll come again," and disappears. Thus begins director Naomi Kawase's Sweet Bean, a bittersweet tale of suburban life across the generations, based on a novel by Durian Sukegawa, who starred in Kawase's earlier Hanezu.
It's a deliberately slow piece set in a picturesque suburbia where the noise of passing trains that no-one ever boards interrupts the peace and quiet at regular intervals. Swathes of cherry blossoms are visible whenever the narrative ventures outside, and much is made of the preparation of food. Where movies such as Denmark's Babette's Feast and Taiwan's Eat Drink Man Woman present mouth-watering meals to the eyes, Sweet Bean opts to show the preparation process of just one element of dorayaki: the bean paste. Tokue, it transpires, has been making this for 50 years, and leaves Sentaro a mysterious paper package which he later tastes and finds to be rather better than his usual efforts.
Before long, Sentaro confesses that he's never got the hang of making bean paste. It either gets burned or comes out too thick, so he buys it in ready-made. The horrified Tokue resolves to start making it herself, bossing around the boss as she lectures him about the need to rinse the beans, the way to run off the froth, and the two hours of faffing it takes to cook them to the right level of sweetness. As the camera lingers on the food in preparation the viewer's taste buds drool. The preparation makes it look mouth-watering. But there are also questions. Why is a man who claims "not to have a sweet tooth" wasting his time running a sweet shop? And why is Tokue leading such an isolated life?
The reason is a shock to Sentaro and to his business, setting off a chain of events that unearth various unexpected truths about the characters, and suddenly expands this small, gentle film into the world of social commentary, exposing one of the scandals of modern Japan. The ubiquitous cherry blossoms appear to stand for an otherworldly optimism. Kawase's odd use of imagery may not resonate that strongly with Western viewers, yet it chimes with her singular vision. Sukegawa wrote the character of Tokue with Kirin Kiri in mind. Like the writer Sukegawa, Kiri had been in the cast of Hanezu and her intelligence on the set had impressed the director. Watching the completed film it's impossible to imagine Tokue played by a different actress. Kiri embodies the character so perfectly that the screen lights up whenever she appears.
Sweet Bean is out on both Dual Format BluRay/DVD and VoD courtesy of Eureka Video.