by Jeremy Clarke.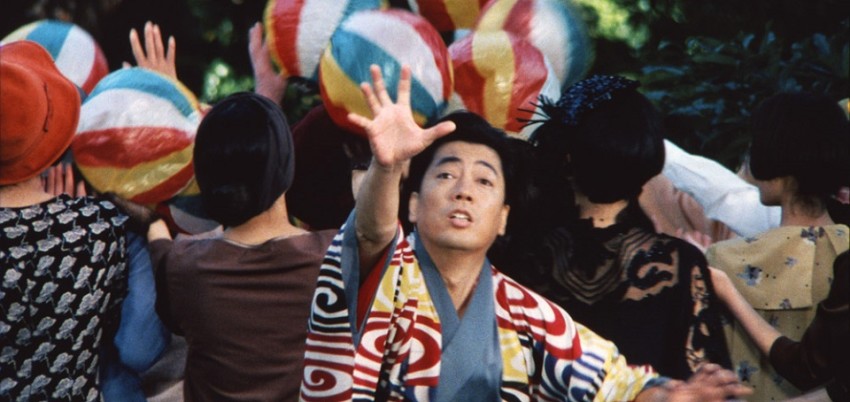 Japan's Taisho era runs from the period 1912-1926 when the Taisho Emperor held power. He was preceded by the Meiji Emperor in the Meiji era 1867-1912 and followed by the Showa Emperor a.k.a. Emperor Hirohito in the Showa era 1926-1989. We are now living in Emperor Akihito's Heisei era, ever since 1989. The Meiji era corresponds roughly to Britain's Victorian era and the Taisho to its Edwardian.
The Taisho has also been called Japan's Jazz Age. Following the modernising of the Meiji it was characterised by the phrase 'ero-guro-nonsensu' — eroticism, grotesquerie, nonsense. Tokyo spawned its own café society, literacy was on the up and men and women achieved more political and personal freedom than ever before. The period also took in such momentous events as siding with the Allies in WW1, the Great Kanto Earthquake of 1923 and the vote being given to all males over twenty-five in 1925. This was a time of tumultuous change.
Fast forward to the new Blu-ray release of three films set in this period by cult director Seijun Suzuki, best known for Nikkatsu gangster exploitation fare Tokyo Drifter (1966) and Branded To Kill (1967). He died earlier this year and Jasper Sharp's obituary provides a helpful overview. Sharp also contributed to the booklet which accompanies the discs' first pressing.
Taisho allowed Suzuki to blossom. When the first film Zigeunerweisen (1980) appeared, Japanese cinema had seen nothing like it. A unique presentation via a pop-up tent cinema on the roof of a Tokyo department store only added to its appeal as a dreamlike art movie, defying easy comprehension and open to more than one interpretation.
Immediate box office success allowed producer Genjiro Arato to fund Suzuki's companion piece Kagero-Za (1981) redeploying his pop-up tent exhibition strategy. While these two films were created in one prolonged burst of activity, a decade would follow before Suzuki's third Taisho film, Yumeji (1991).
Zigeunerweisen's title refers to a gramophone record recorded by Pablo De Sarate, which plays over the opening titles. A discussion ensues between two unseen, male listeners as the one hearing the recording for the first time notices someone speaking over the music. That's Sarate, explains the other, but no-one's ever been able to work out what he actually says.
They are old colleagues from the Military Academy. Aochi (Nikkatsu director Toshiya Fujita) is a German literature professor while Nakasago (Yoshio Harada) has abandoned academia to wander round the country alone. Aochi calls on him in his absence and embarks on a passionate affair with his friend's unattended, high-born wife Sono (Naoko Otani). The same actress also plays the identical-looking geisha O-Ine with whom Nakasago becomes involved. Nakasago likewise becomes entangled with Aochi's wife Shuko (Michiyo Okusu), pursuing her around the rooms and corridors of the Aochi residence in one particularly memorable sequence. Three blind travelling singers/musicians (one played by a young Kirin Kiki) turn up intermittently like a demented chorus.
Kagero-Za which translates roughly as 'Heat-Haze Theatre' starts off with an encounter between the playwright Matsuzaki (Yusaku Matsuda) and the enigmatic Shinako (Michiyo Okusu again) on a stairway who claims to be visiting a friend in hospital. She produces a bladder cherry from her mouth telling him it represents her soul. Shinako is determined to die and take her lover with her. But he barely knows her and isn't convinced. Her husband (Katsuo Nakamura) prowls around with a shotgun to suggest the impending, national lurch towards militarism. Matsuzaki meets the anarchist Wada (Yoshio Harada, Zigeunerweisen's wanderer) who shows him a series of covertly erotic china dolls which reveal pornographic secrets when viewed from below.
The finale involves a children's theatre which collapses in a descent of red lanterns recalling the bladder cherry, hundreds of which fruit Shinako releases to the water's surface of a giant bathtub. The film is set in 1926 and seems to have the end of Taisho written all over it with its sense of collapses and endings.
To complement a professor and a playwright, the third entry Yumeji centres around a painter. Yumeji (the foppish Kenji Sawada) reaches for a distant and unattainable woman floating before a tree, her back to him. He dreams of a duel with Wakiya (Yoshio Harada again) and wakes as their latter fires at him. He womanises and paints the women with whom he's obsessed. These include TB sufferer Hikono (Masumi Miyazaki) who he attempts to persuade to elope with him, the willing Oyo (Reina Hirota) and Wakiya's widow Tomoyo (Tomoko Mariya). Wakiya himself appears in much of the film, presumably as a ghost since he was apparently killed early on. There's also a manhunt in progress for a murderer known as Oni (Demon) Matsu (director Kazuhiko Hasegawa).
None of the three films are easily grasped, but reveal themselves more and more on subsequent viewings. Suzuki got into trouble at Nikkatsu because of his refusal to keep his films within the company's rigorous commercial programming demands. His three Taisho films were made without any such constraints and allowed his extraordinary visual sensibilities free rein. Given the short lived liberal society of the Taisho period, this seems particularly apt.
The Taisho Trilogy is released on Dual Format Blu-ray and DVD by Arrow.