By Anthony Thomas
I can still remember the first time I saw UNISON SQUARE GARDEN live – they made me miss lunch. It was Rock in Japan festival, a three-day extravaganza that took place in a 470-acre public park about an hour-and-a-half north-east of Tokyo. There were six stages, over 150 acts, and unlike Japan's more famous festivals such as Fuji Rock or Summer Sonic, there wasn't a single foreign band on the line-up. It's a great place to go for fans of Japanese music, who don't particularly want to see Mumford and Sons or the likes of Muse, again.
There was a gap between Kyary Pamyu Pamyu and ONE OK ROCK on the main stage, the perfect time to tear myself away and sample some much-needed festival grub. From the get-go, the line-up had been great but relentless. There was [Champagne] at 10:30, OKAMOTO'S from 11:05, followed by stage hopping to catch a bit of Coldrain, PUFFY and BiS before Kyary began. No time for food, no time for beer, until now. Except, I didn't end up with either.
On a stage directly behind the JD bar, the crowd were going wild. Taking a look to see what the fuss was about, I noticed a shaggy-haired bass player bouncing around on stage as if possessed by a spirit on a sugar rush. It was mesmerising to watch, the contrast between his performance, and the audience, who were more concerned with following every word of the soft lyrics. It turned out the band was UNISON SQUARE GARDEN, and they were in the middle of performing their big hit of the moment, Linear Blue wo Kikinagara, a track made popular as the ending theme to Tiger & Bunny the Movie: The Beginning. You can see a sample of the bassist going crazy in the video to the single behind this link.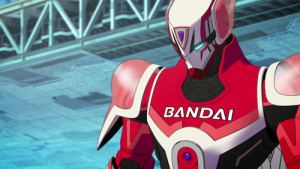 The audience knew every word. I later found out that the song reached number eight in Japan's Oricon singles chart, and topped Billboard's Hot Animation chart – I didn't even know there was an animation chart! It turned out that UNISON SQUARE GARDEN have a tight relationship with Tiger & Bunny. Before Linear Blue became their biggest selling single, Orion wo Nazoru was, and that too had a link to the anime – it was its first opening theme!
At the time of writing, the band's latest single to be released, Harmonized Finale, has the boys back in Tiger & Bunny, this time supplying the slightly calmer ending theme for the second movie The Rising – though there's not nearly enough erratic bass flinging in the song's video this time round.
As far as most people in the UK are concerned though, that first opener will likely be the newest UNISON SQUARE GARDEN song they've heard, so enjoy it – but definitely have a sandwich first.
UNISON SQUARE GARDEN's music is available now from iTunes. The first opening from Tiger & Bunny, Orion wo Nazoru is also available to download as a digital EP.