To the Abandoned Sacred Beasts
November 13, 2023 · 0 comments
By Andrew Osmond.
War wracks you with terrible transformations, and turns you into a monster. To the Abandoned Sacred Beasts takes place in an alternate America, renamed Patria, and begins in the fire of its civil war. In this world, the Southerners are winning, their firepower reducing the enemy to bloody meat (it's plain from the start that Beasts will be gory). A lone Northern survivor, trapped in a trench, covers his head in terror. Then he's astonished to see a group of people in white uniforms stride across the battlefield towards the Southerners, and then swell and transform into monsters; dragons, werewolves, snake-headed demons and more.
It's the moment of glory for this test army unit, the Incarnates. Shame it won't last long. They're human soldiers who were injected with… something by a woman scientist, Elaine, though not everyone can become an Incarnate; some mysterious personal quality is needed, too. At first the Incarnates work terribly well, smashing and tearing through the Southern forces and ending the war inside the first episode. But, of course, there's a snag. The more the Incarnates turn into monsters, the harder it is for them to turn back, and the greater the toll it takes on their minds. Eventually the soldiers' human reason gives way to savagery and bloodlust and RAWRRR!!!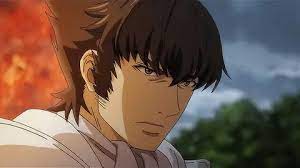 Sacred Beasts brings up a question that's been raised in other anime, especially in Attack on Titan. If you've watched the latter series, you may have found yourself wondering,can the people who pilot Titans really be howling, snarling monsters and rational combat strategists at one and the same time? Sacred Beasts says you can't keep that balance, though vestiges of humanity linger on poignantly, even after the soldiers go wild. For example, one of the maddened Incarnate soldiers retains his desire to help his old mother. So, he slaughters merchants and travelers and brings back their bloodied moneybags, like a proud cat dropping dead birds over his mum's doormat.
The serieslays out its emotional stakes very well in the first two tragic episodes. Part 1 introduces Hank Henriette, the Captain of the Incarnate Unit in the civil war. We also meet Cain Madhouse, his closest friend – yes, anyone who knows their Old Testament will read that line a certain way, but we're not giving anything away. Hank cares for his men, and he's in love with Elaine Bluelake, the scientist. The Incarnate squad volunteered for this dangerous treatment, but Elaine still agonises over her actions as the men start succumbing to their monstrous sides. After an exciting, tragic face-off between the characters, a shattered Hank is left alone, committed to hunting down the members of his squad, and looking them in the eye as he takes his friends down.
The second episode introduces Nancy Schaal Bancroft, daughter of one of Hank's squad members, who bravely waved her father off to war. He actually came back home again, but things went very badly, and Nancy blames Hank for that. She pursues Hank across the country, carrying a gun she barely knows how to use. But then she sees Hank in action, and realises he's not just a heartless killer. So, they become travelling companions, as Hank continues to track the surviving members of the Incarnate Unit, and deeper plots rumble in the background.
The MAPPA studio's producer Manabu Otsuka told the Animate Times: "The first thing that interested me was [Nancy] Schaal's journey with Hank, an enemy of the family, which appealed to me as a road movie. That's why I wanted to focus on the relationship between the two of them. Also, I like foreign dramas, and I am also interested in stories about returning soldiers. I've never experienced war, so I can't understand the essence of it, but I've seen a lot of movies like that, so I thought I'd like to try various approaches when making it into an anime."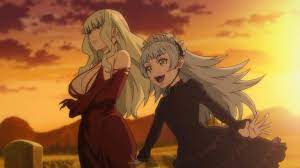 Sacred Beasts began as a manga series by "Maybe", the catch-all name for a duo of creators who themselves also use pseudonyms – Maybe is the artist, but LinLin, whoever that may be, is the writer. Active for many years within the fanzine circle Armoured Ginkakuji, the pair had their professional debut in 2005 in Comic Yumeya. By the following year, they were serialising Matsugaoka Angel in the newly published Comic Retsu magazine, and working on adult video games for railSoft. Their Twilight Maiden x Amnesia ran for several years, and was itself adapted into an anime series. The creators, however, have remained relatively tight-lipped about their story's adaptation into animated form, limiting their comments to a gleeful celebration on the anime's website.
"I'm wondering, is it really true!?" wrote the artist. "The character design is so cool and the cast is full of wonderful people, so I think it will be an anime with many highlights. Please look forward to it! I'm really looking forward to it too!!"
Sacred Beasts combines monstrous fighting with moral ambiguity and two leads with strong motivations. MAPPA studio has done more spectacular work since, but the scenery is pleasing, with some of the action taking place in Wild West frontier towns. A taciturn man and his young girl companion seeking monsters in Western towns… Feel those Vampire Hunter D vibes!Both Hank and Nancy look good on screen, as do the other character designs, although the outfit of Liza, a female support character – and Liza could dowith some support – is ludicrous, so silly that it's tough to take things seriously when she's on screen. In the words of retro-icon Kenneth Williams, "Take them away!"
"I talked with the director, Shishido and the lead writer Shigeru Murakoshi," comments Otsuka, "and we decided to run through an entire cours [season] without creating a specific story arc. Naturally, there would be a lot of battle scenes, and there would be guest characters in each episode. We have to carefully depict the drama for Hank's subordinates. I knew we would face some challenges ever since I read the original work, but I thought it would be really good once we overcame them. Shishido-san is also all fired up, so the content of the first episode is amazing. I think it's pretty good! It's never negative, always positive, because it's a manifestation of the desire to challenge everyone to make it better."
The third episode is especially interesting for featuring an Incarnate soldier who just can't accept the war is over, so he keeps on fighting imaginary enemies. This refers to the famous cases of Japanese soldiers on remote Pacific islands who thought they were still fighting World War II, long after it ended in the outside world. But it's also a good fable about fear, with the poor monster building a fortress bigger and bigger and bigger,in a doomed bid to match his soul-eating paranoia.
The anime version is directed by Jun Shishido, who'd helmed a very different anime set against a backdrop of war in 2011. That was an underrated romantic film, The Princess and the Pilot, for the Madhouse studio. Its approach to worldbuilding was similar to the one that Sacred Beasts would take, imagining parallel-world versions of foreign countries. Princess and the Pilot was set in an alt-Europe that still revolves around royalty, but there are super-planes and heat-seeking missiles. Shishido's later MAPPA credits include storyboarding much of Yuri!!!! On Ice, before he became Chief Episode Director of Attack on Titan when MAPPA took over the show with its protracted "Final Season." Its mix of gritty warfare and giant monsters is far closer to Sacred Beasts than to Princess and the Pilot.
In Sacred Beasts' cast, the hero Hank is voiced in Japanese by Katsuyuki Konishi, who you may know as Kamina in Gurren Lagann, the jocular mecha warrior and "big brother" character who makes a manly impact in that series' early episodes.
"I listened to the original creator's ideas, and decided on stellar casting in my head," says Otsuka. "But since there are so many characters, especially guest stars, I guess I was able to rely on actors with a high level of skill in order to add a bit of individuality. And Katsuyuki Konishi, who plays Hank, actually seemed to have read the original manga so I think it's a blessing to work with someone who loves the work." And indeed, the updates on Anime News Network in June 2019 sometimes seemed flooded with sudden scoops about big-name voice actors, showing up in cameo roles among Hank's posse.
Meanwhile, among the leads, Nancy is voiced by Ai Kakuma, who recently played Mystia, the established woman film star in Pompo the Cinephile; you may also know Kakuma as Makomo in Demon Slayer. Cain is voiced by Yuichi Nakamura, who's now prominent in MAPPA's Jujustu Kaisen as the superpowered teacher Satoru; he's also the suave Shigure (the "dog" character) in the recent adaptation of Fruits Basket. Among the supporting cast, the scientist Elaine is voiced by Mamiko Noto, who was Mavis in Fairy Tale and Kotomi in Clannad.
Everything is held together by the musical soundtrack from composer Yoshihiro Ike, who spent much of the production flitting backwards and forwards between Tokyo and Los Angeles, where he was also supervising the Saint Seiya reboot. A jazz musician by preference, Ike fell into working for anime later in his career, as he related to Crunchyroll:
"When I was younger, I would play in sessions. And I would do like one-person performances, where I played the bass. I used to do mainly jazz. That was my niche, and my background. And so I came to LA just to play and I'd do performances. From a young age I really loved film scores. And after I've been working and performing as a jazz bassist, I then switched over to actually composing, but the actual impetus for that was that I met a director who suggested to me that I should actually write and compose the score for a film. And that was when my career as a composer really started. That was about in 1996… when I was about 34. Maybe."
The film in question was a two-hour instalment in the Ring cycle of horror stories, but Ike notes that he owes much of his later career highs to the working relationship he has established in the anime world, particularly with MAPPA's Manabu Otsuka.
"From this relationship I have with MAPPA I've been able to fulfill one dream after another!" he said. "And that's all thanks to Otsuka-san, the CEO of MAPPA. And our relationship really goes beyond; it's an incredibly strong bond of trust that goes beyond just a normal relationship between a producer and a director and composer. I'm always impressed by his power to bring people together and the power to bring the team at MAPPA together to create these worlds and these works. Whatever I can do to add to that, to support that, I would like to do it. I feel obliged to do this."
For Sacred Beasts, Ike goes all out-out with a full orchestra, but also instrumentation evocative of the faux 19th-century setting that inspires the show – particularly trumpets introduced to the sound mix like buglers on a battlefield. It's as if a Western crashed into a Civil War movie… which was invaded by monsters… so pretty much sums up the show.
Sacred Beasts, wrote Anime News Network's Theron Martin, "…is a tale about the reality of the soldier—the sacrifices they must make to assure that battles are won and the dear cost that those victories can levy on the soldiers even long after the war is over. Psychological suffering following experience in warfare is now a well-recognized phenomenon; some can never truly leave the battlefield behind. Some injuries suffered in warfare can also define a lifetime. This series takes this idea literally, in the sense that transformed bodies cannot be fully reverted…" Repeatedly in the show, the story confronts the viewer with a fantastical, grotesque allegory of such poisonous traumas, set in a world all too like our own… apart from the fantastical monsters, of course.
Andrew Osmond is the author of 100 Animated Feature Films. To The Abandoned Sacred Beasts is released in the UK by Anime Limited.