The time has nearly arrived! We're at the up to third Persona 3 film out of the 4! (And the fourth one isn't that far away either, but more on that to come.) Today we're delighted to bring you an unboxing of our Ltd Collector's Edition Blu-ray+DVD set of Persona 3 Movie #3: Falling Down, available from this coming Monday (22nd May).
A quick reminder before telling you about our release that you can order this right now from Amazon UK, Zavvi, Base.com, Anime-On-Line and even our own web shop.
ABOUT PERSONA 3: MOVIE #3 FALLING DOWN
Synopsis: "I kind of understand it now. You're afraid of losing something, aren't you?"
The season is now autumn. The days of battling the Shadows for Makoto Yuki and the members of the Specialized Extracurricular Execution Squad were nearing their end.
Determined to bring an end to the Dark Hour, Makoto and his team engage in countless life-or-death battles. As they continue to fight, some members face the death of their beloved friends and family, while some come to realize what they must fight for and others struggle to make sense out of all the bloodshed.
Then one day, Makoto encounters the mysterious transfer student, Ryoji Mochizuki. The wheels of fate begin turning as they reach the dawn of a new day…
And so begins a new battle to find their connections to one another."
Check out the trailer for the film below.
---
WHAT'S INSIDE? WHAT'S ON THE DISCS?
Following on from our release of the Movie 1 and Movie 2, this comes packed in a rigid case and inside you'll find a digipack to house both the Blu-ray and DVD discs. Also inside is a 40 page booklet that includes character profiles, Art Settings from art boards and key animation, cast comments and the next Special Persona 3 Movie Edition of 'Tartarus Theatre' 4 panel comic.
Both the Blu-ray and DVD discs include the third Persona 3 film, Falling Down. A reminder that all of the Persona 3 movies are in Japanese with English subtitles – as no English language dub for the films have been produced.
---
WHAT DOES THE FINISHED PRODUCT LOOK LIKE?
Below you'll find images of the finished product. You can click on them to enlarge them too if you want.
And that concludes our unboxing of Persona 3: Movie #3 Falling Down. We hope you're looking forward to adding this to your collection and it's also worth noting that our release of Movie #4 Winter of Rebirth arrives in just a few weeks on 5th June! Expect to see an unboxing for that soon.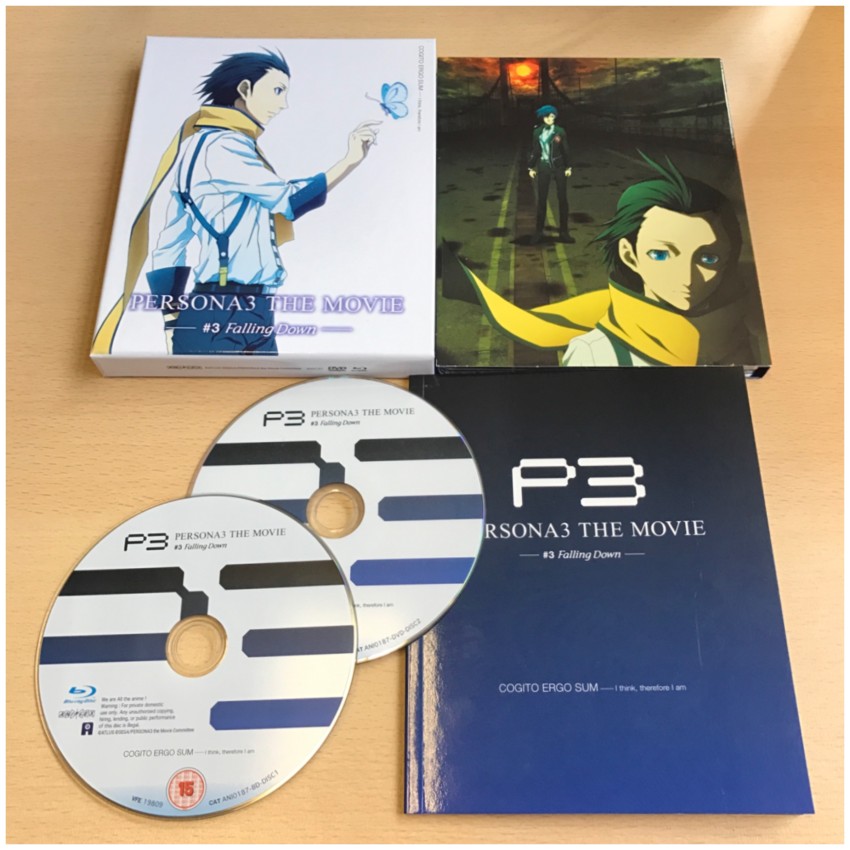 Signing out~!
Jeremy