Vampire Hunter D: Bloodlust Home Video Release Details
May 2, 2018 · 2 comments
Hi everyone! In recent weeks, we've been revealing our home video release plans for a number of big titles coming your way soon, from Sword Art Online the Movie: Ordinal Scale through to Re:Zero -Starting Life in Another World-, and from Fairy Tail: Dragon Cry to Rokka -Braves of the Six Flowers-.
Today, we're offering up your first chance to take a look at our plans for another big title that's coming to the UK on Monday, 28th May 2018, that being Vampire Hunter D: Bloodlust, the cult classic 2000 film produced by MADHOUSE (Redline, Perfect Blue) and directed by none other than Yoshiaki Kawajiri (Ninja Scroll, Cyber City Oedo 808).
Needless to say, we're giving the movie our usual Limited Collector's Edition Blu-ray/DVD treatment, alongside Standard DVD and Blu-ray editions which will follow shortly after – read on for all of the D-tails!
---
ABOUT VAMPIRE HUNTER D: BLOODLUST
Synopsis: "The enigmatic Vampire Hunter – known only as D – has been hired to track down Meier Link, a notoriously powerful vampire who has abducted a human woman named Charlotte Elbourne. D's orders are strict – find Charlotte, at any cost.
For the first time D faces serious competition. The Markus Brothers, a family of Vampire Hunters, have been hired for the same bounty. D must intercept Meier and conquer hostile forces on all sides in a deadly race against time.
Despised by Vampires for his profession and by Humans for the blood in his veins, D relentlessly pursues his prey, little expecting where his journey will ultimately take him, as long-buried secrets resurface once more."
You can watch a trailer for the film – provided by our friends at Discotek – below:
---
WHAT'S PLANNED FOR OUR COLLECTOR's EDITION?
As mentioned previously, Vampire Hunter D: Bloodlust is coming to the UK as a Limited Collector's Edition Blu-ray/DVD combo set. This particular edition of the film will initially be exclusive to our own AllTheAnime.com web shop, so we'll be your first port of call if you want to pick up the movie in this form.
It's also worth noting that Standard Edition DVD and Blu-ray releases of the film will follow over the next few months (with exacts dates to be announced soon) – these editions will be released trade-wide and so will be available from all of the usual retailers in due course.
Now, with that said and done, let's return our focus to this Collector's Edition and lift the lid on what this package will contain.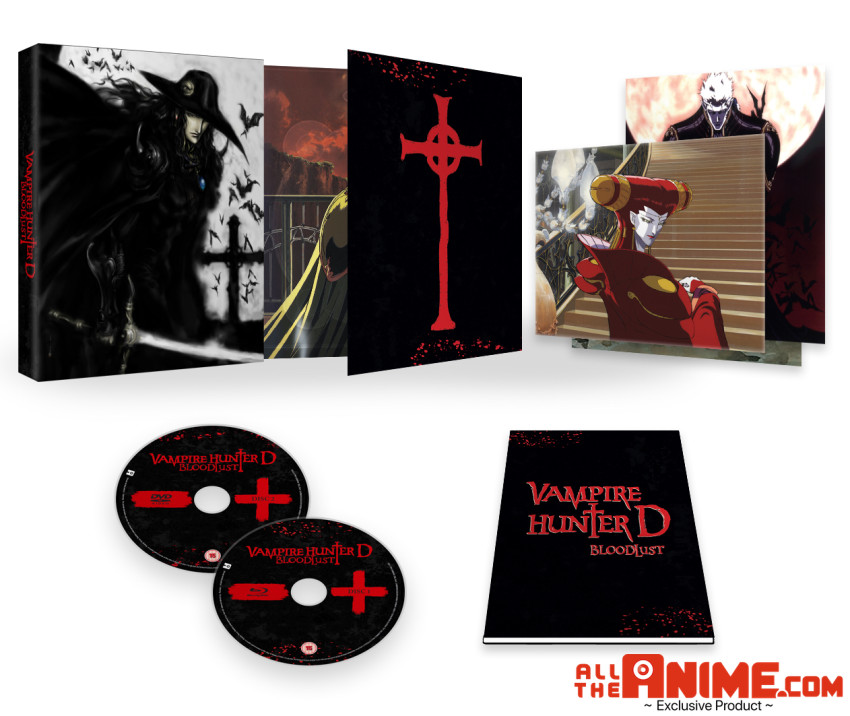 Our release comes enclosed in a rigid box sporting the iconic promotional image for the film, while beneath the paper onsert at the rear you'll find another image of everyone's favourite vampire hunter.
Inside, you'll find a suitably crucifix-adorned digipak, which contains the film on both Blu-ray and DVD as well as some further artwork beneath those two discs. Both the DVD and Blu-ray contain the film itself with a choice of English 5.1 and English stereo audio options – as the film was actually created for the western market, and as per other western releases elsewhere, English is the primary language for the film and thus also the sole audio option available here. Both formats additionally offer up optional Hard of Hearing subtitles for the film. Beyond the film itself, you'll find a wealth of trailers on the discs, created for the US, Japanese and Korean releases of the film, alongside a behind the scenes featurette, storyboards and an art gallery.
That isn't all however – this Collector's Edition also contains a trio of art cards featuring striking images from the film itself, as well as a sixteen-page booklet featuring an article about Vampire Hunter D: Bloodlust crafted by Andrew Osmond.
So there you have it – hopefully we've created a Collector's Edition of the film that you'll lust after as a new addition to your collection come May the 28th!
---
WHERE CAN I ORDER THIS?
As noted, our Limited Collector's Edition of Vampire Hunter D: Bloodlust will initially be exclusive to our AllTheAnime.com web shop – you can find and pre-order the film now (yes, right now) at a price of just £19.99 using the link below!
Pre-order Vampire Hunter D: Bloodlust at AllTheAnime.com
---
That's all we have for you in this blog post – what more is there to say other than head on over to our shop at the link above and pre-order your copy now! Meanwhile, if you're heading to the MCM London Comic Con later this month, we'll also have stock available for you there if you'd prefer to pick up a copy in person.
We still have home video release plans for more forthcoming titles to reveal for you over the weeks to come, so as always keep on checking back for all of the latest, hottest news.
Until next time, take care!
~Andy H
2 comments
Pieter

May 6, 2018 5:13 pm

Are you guys using the video from discotekmedia?

jeremy

May 8, 2018 11:11 am

Yes we are :) ^JG