Wolf's Rain – ULTIMATE EDITION
February 12, 2018 · 4 comments
We love being able to bring something special with our releases, and none more so than when we're able to pull out all the stops for an Ultimate Edition release. We know a lot of you have been wondering what to expect from us next when it come to an Ultimate Edition release. Today we're delighted to bring you details on the next member of the Ultimate Edition family: Wolf's Rain.
Before we get to the nitty gritty on what's going to be included with our release, here's quick introduction to the series –
ABOUT WOLF'S RAIN
From Studio Bones, the studio that brought you Fullmetal Alchemist and Fullmetal Alchemist Brotherhood, Sword of the Stranger, Blood Blockade Battlefront, and Eureka Seven.
Directed by Tensai Okamura (The Seven Deadly Sins, Darker Than Black, Blue Exorcist)
Synopsis: "Paradise-a legend, a myth, and a hopeless dream in a world that has become a wasteland. It is not meant for everyone, only the wolves thought to be extinct yet still roam the lands. When the Flower Maiden awakens, the path to the end will open.
Kiba, a lone white wolf, wanders into a poverty stricken city on a quest. The scent of Lunar Flowers and the will to find Paradise is all he has. Along the way, he runs into other outcast wolves: Tsume, Hige, and Toboe, each with their own story and troubles. Fate bringing them together, and together they seek out the Flower Maiden, Cheza, and their way to Paradise. But, doing so is no simple matter.
Up against a world that fears them and a man with mysterious abilities, their journey is overrun with challenges and worse-sacrifices. With limited time, they must fight to protect Cheza against everyone who seeks her and discover the hidden path to their destiny. This group of broken souls will form a pack and take their journey to the doors of Paradise. But is it worth the end of the world?"
Check out the trailer below for the series –

---
WHAT'S IN THE ULTIMATE EDITION?
As we've developed the concept of out Ultimate Edition releases over the years, we've taken lots of feedback on board and combined that with our own thoughts to help mould them into what they are today! Our most recent Ultimate Edition release, Eureka Seven (at time of writing), was a great amalgamation of all that feedback and has helped shaped the future direction of what our Wolf's Rain release will be ultimately (no pun intended) be and contain.
First of all, here's a visual showing you the complete contents, and then we'll get to specifics underneath that –
Contents of the Wolf's Rain's Ultimate Edition:
Much like our Eureka Seven Ultimate Edition release, the entire contents of this will come packed in a bespoke mailing box so the contents can be packaged and stored safely.
There will be a rigid case that will house a digipack containing four Blu-ray discs and 9 art cards.
On the four Blu-ray discs themselves you'll find the complete series of Wolf's Rain – this being 26 episodes plus the 4 OVA episodes that conclude the story. All the episodes will have both English and Japanese (with English subtitles) audio options.
On the fourth disc specifically there will also be some additional content as well. That being –

Two Japanese cast interviews (featuring comments from

(Mamoru Miyano (voice of Kiba), Kenta Miyake (voice of Tsume), Hiroki Shimowada (voice of Toboe), Akio Suyama (voice of Hige)

, 

Unshou Ishizuka (voice of Quent Yaiden), Takaya Kuroda (voice of Darcia), Kaho Koda (voice Cher Degré), Mitsuru Miyamoto (voice of Hubb Lebowski), Arisa Ogasawara (voice of Cheza))

A Japanese staff interview with comments from

Masahiko Minami (Producer), Kazuhiro Wakabayashi and (Sound Director)

Plus Japanese promotional material including the Pilot Film, two Promo Films and television promotional videos.
There's even the textless version of the opening song "stray" and two textless versions of the closing song "gravity".

The 9 Art cards will showcase some of the beautiful art created for the series. (You can get a better look at those in another visual below.)
You'll also get three, yes three, A3 posters that will be rolled up in their own tube to ensure safe transit with the other contents. (Again, referring back to our Eureka Seven Ultimate Edition as an example.) The three images themselves that will be present on the poster showcase some of the gorgeous art created for the series. One will be portrait whereas the other two designs will be landscape. (See visual above for a preview of those.)
And is if that wasn't enough you'll also get a 100 page art book that has been specially curated for our release! If you've been following our releases in general, let alone Ultimate Edition releases, you know we try to take advantage of every single piece of art we have at our disposal and this book is no exception! The book itself will be split into four sections total: Characters, Concept Artwork, Settings and The Art of Wolf's Rain.
Here's a closer look at the rigid case, digipack, discs and art cards for you –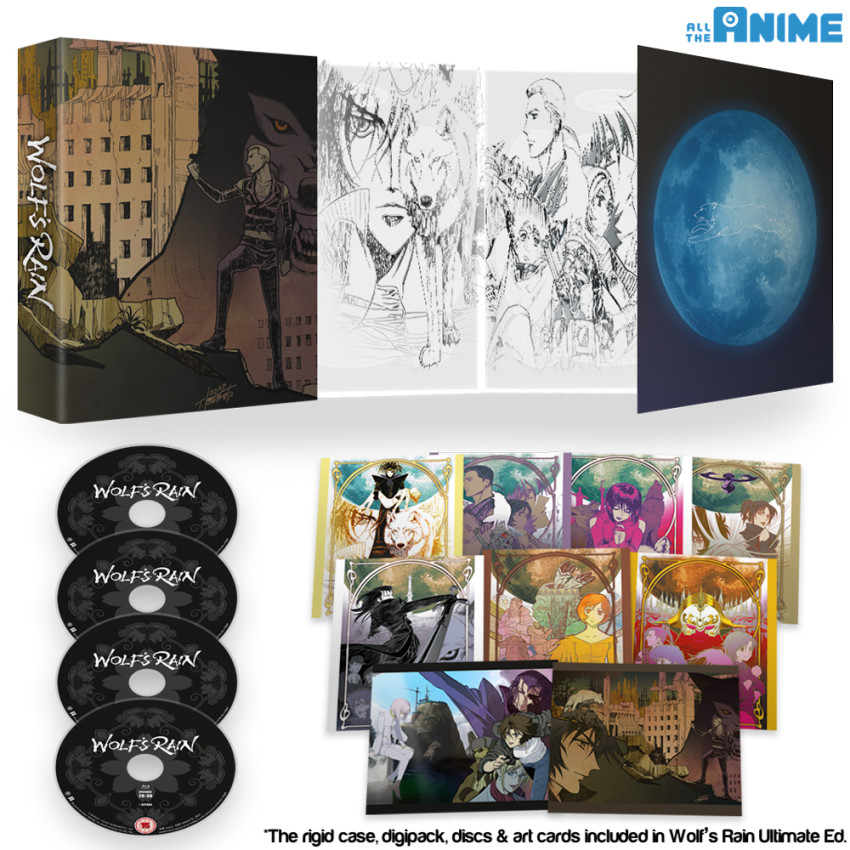 ---
HOW MUCH IS IT?
WHERE CAN I BUY THE ULTIMATE EDITION?
As we mentioned, there are 1000 units of this Ultimate Edition being produced. This release is not exclusive to any one retailer. But you can expect to be able to order it from the likes of Amazon, Zavvi, Base, HMV, Anime-On-Line and of course, our own AllTheAnime.com web shop.
The suggested retail price for this will be £149.99, but as has been seen in the past with previous Ultimate Edition releases the price that will ultimately (no pun intended) be charged by retailers (including us at alltheanime.com) will be cheaper.
You can pre-order this now from the following retailers –
[NOTE: At time of writing Amazon UK is the only retailer taking orders for this, but more will follow and this list will be updated accordingly 🙂 ]
Though the release date isn't until 28th May 2018, we can confirm today we will be taking pre-orders for this set at AllTheAnime.com from Friday 2nd March 2018. And you never know, we might have a special offer to coincide with that too 😉
View listing at AllTheAnime.com
---
FAQ on Wolf's Rain Ultimate Edition
–What's the release date?
28th May 2018
–Is this exclusive to any one retailer?
No, but it's worth noting that there are only 1000 units total being produced.
–Are you releasing a standard edition Blu-ray or DVD or the series?
We will be releasing the series on standard edition Blu-ray, yes.
As for a DVD release; it's something we're looking into but have no announcements to make at this time. Obviously if/when there is news we'll make it known.
–Are you still going to be releasing a Collector's edition version Blu-ray, as was previously announced?
We are not, no. This is because when we realised how much material was available for us to utilise and we because we want to make this release the best it can be, we decided to release an Ultimate Edition in place of a Collector's Edition version.
–What region code are the discs?
All of our release are intended for UK & Ireland only, so the Blu-ray discs are coded for Region B.
–What kind of audio is the English and Japanese language option in?
English 5.1 & Japanese 2.0.
–Given the age of the show, is the footage in widescreen?
No. As the series was made before 16:9 was the norm, all footage of the series itself is in 4:3. Meaning there will be black borders at the side of the screen to retain the original aspect ratio. You can sample what we mean by this in the trailer earlier in this post (above)
–Is this series in Native HD?
Simply put, no. This series was created before television series being animated in HD was the norm. So the series has been upscaled (also known as an "HD Remaster") to 1080p. For anyone interested we are utilising the disc master created by Funimation.
[FAQ UPDATE: 19TH FEB 2018. Added question about Collector's Edition version – appears fourth in the list above.]
---
And that about wraps this preview of our Wolf's Rain Ultimate Edition Blu-ray release! We hope you're excited for it. Let us know what you think!
Signing out~!
Jeremy
4 comments
msgeek

February 12, 2018 9:43 pm

Will you ship pre-orders before MCM or could MCM be the earliest possible time to obtain this?

jeremy

February 16, 2018 3:23 pm

When it comes to pre-orders from our web shop in general, all pre-orders will be shipped as close to release date as possible once stock is available. Hope this helps. ^JG

Suzu

February 13, 2018 7:27 am

Will the standard edition Blu-ray include all 26 episodes and 4 OVAs?

jeremy

February 16, 2018 3:23 pm

Yes it will! ^JG