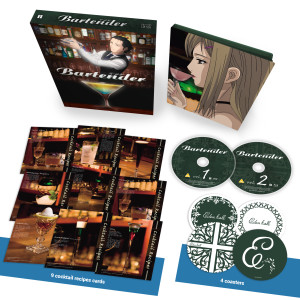 It's a series that more than likely a lot of you reading this won't be familiar with as it's never really had an official English friendly release/presence of any kind before, but we're bringing the series, Bartender to Blu-ray here in the UK as well as the USA!
That's right! We can confirm this will be getting released in the USA as well as here in the UK as Collector's edition Blu-ray set and today we're to tell you all about that ahead of its release on January 18th 2021.
That being said, for UK customers if you want to jump straight to ordering it from our AllTheAnime online as we've launched pre-orders for this today – as we have some limited advance copies available to pre-order now –  visit the link below.
UK: Order at All The Anime Shop
Grab a drink and come on a journey with us to Eden Hall, the setting of Bartender.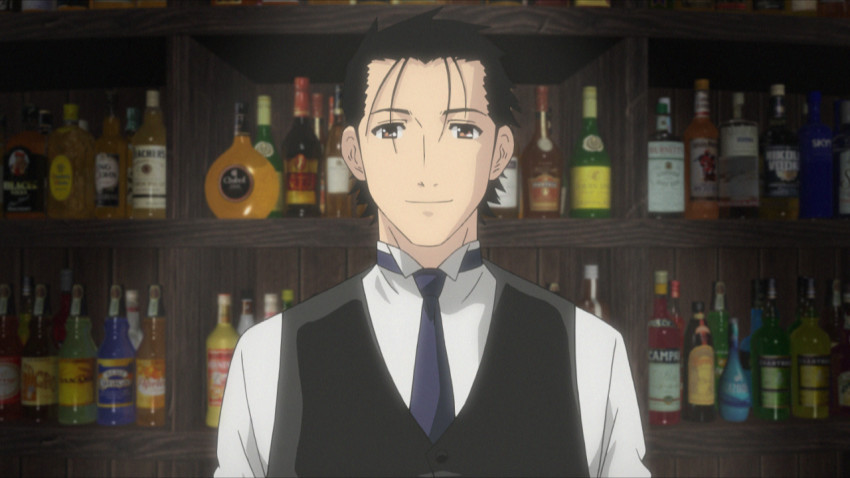 WHAT'S PLANNED FOR THIS RELEASE?
Product: Bartender
Format: Blu-ray Collector's Edition
UK Release date: 18th January 2021 | USA Release date: 19th January 2021
UK pre-order launch: 5pm on Friday 4th September @ AllTheAnime.com
UK Availability: Trade wide. (Some advance copies are available through the AllTheAnime.com online shop initially; will be available to pre-order through other retailers in the coming weeks.)
USA Availability: Trade wide.
Cat. No. ANI0488
SRP*: Collector's – £59.99
*Suggested retail price is the maximum price a retailer could charge for the product. However, once retailers factor in their own discounts, the regular price will be cheaper. 
DID YOU KNOW: This will be the first time Bartender will be getting an English friendly home video release anywhere in the world! So using all the materials available to us we have gone in a slightly different direction from you might expect in a Collector's Edition release from us.
The product will come packed in a rigid case (pictured right) and inside that you'll find an illustrated digipack to hold the two Blu-ray discs.
Inside the rigid case you'll find 9 cocktail recipe cards; as cocktails being made is a recurring theme in the series. In fact, the 9 recipes on these cards are drinks that are actually made in the show! So if you wanted to join in the fun as you're watching the show, you actually could!
And of course with any drink, you'd usually put your glass on a coaster. So we've covered that eventuality as well by including four Eden Hall (the name of the bar in the series) branded coasters – these were designed and created especially for our release, so these are very much exclusive to this Collector's Edition set.
On the two Blu-ray discs themselves you'll be getting the entire 11 episode series (in Japanese with English subtitles only – no English language audio has ever been produced for the series) along with textless versions of the Opening and Closing titles sequences as on-disc extras.
With all of that in mind, here's a look at the entire set –
---
WHERE CAN I ORDER THIS IN THE UK?
You can expect to start seeing listing with retailers (such as Amazon) to appear in the coming weeks.
But we do have a limited amount of advance copies available to pre-order from today (4th September) at our AllTheAnime online shop.
~ All The Anime Online Shop Special Offer ~
Until Friday 4th September 2020 until Thursday 10th September 2020 pre-order the Bartender Blu-ray Collector's Edition set for £34.99
(SRP: £59.99)
---
USA RELEASE INFORMATION
This same Collector's Edition Blu-ray set will be getting released in the USA trade wide, with distribution being handled by our partners Shout Factory.
The release date in the USA for this is 19th January 2021.
It'll be the exact same Collector's Edition release that will be getting released in the US. So everything noted above is what will be in the US release too.
We encourage you to keep an eye on both our (AllTheAnime) and Shout Factory's channels for more information being able to pre-order this from retailers in the USA as it become available.
---
ABOUT
BARTENDER
Synopsis: Buried deep within the back streets of Japan's Ginza district is a small, intimate bar named Eden Hall. Pay it a visit and you'll find yourself served by Ryu Sasakura, a bartending prodigy who legend has it can mix the best cocktails anybody has ever tasted, and who always knows the ideal cocktail for any patron.
However, Eden Hall isn't the kind of establishment that just anyone can wander into – instead, it plays home exclusively to those whose lives are plagued with problems and find themselves searching for solace and guidance. Once you find your way to the bar, Ryu's expertise will find the perfect cocktail to soothe your soul, and provide exactly what you need to console and assist you.
Take a trip to Eden Hall, meet its varied patrons, and listen to their troubles while you sit back and relax. But remember: drink – and watch – responsibly.
Director: Masaaki Watanabe (Bakumatsu; series director on Kado: The Right Answer; episode director on Code Geass: Akito the Exiled eps 3-5)
Studio: Palm Studio (Genshiken; Tetsujin 28; A Tree of Palme; Demonbane)
Broadcast year: 2006
You can watch a preview clip from the series below –

---
And that concludes what you need to know about our release of Bartender! It's not often we get release something with a bit vintage to it, so to speak, that many people won't have seen before. So we're very excited to see what you all think of the series.
Signing out~!
Jeremy