Books: Pencil Wars
August 21, 2018 · 2 comments
By Motoko Tamamuro.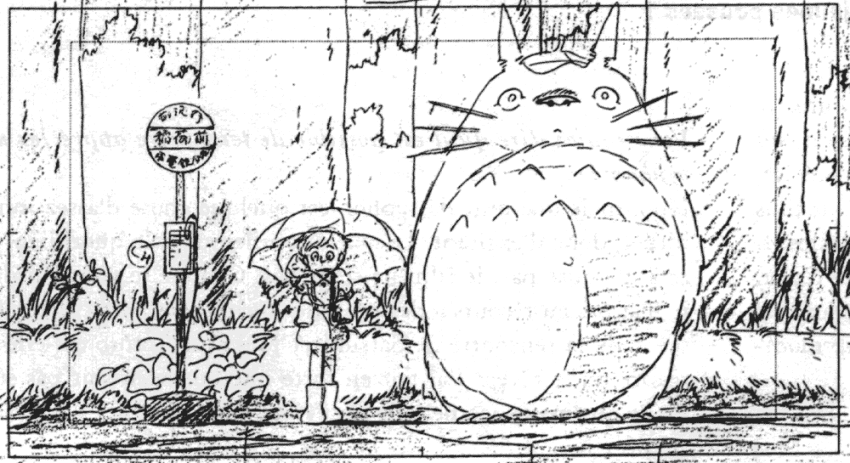 "I could not marry because of Hayao Miyazaki." That is the provocative opening sentence picked out for Hitomi Tateno for her column in Neppu, Studio Ghibli's in-house magazine. As ever, producer Toshio Suzuki was behind the scenes, suggesting things that would make the impact of her 27-year career memoir substantially punchier. But already, Tateno had other ideas.
"I think," she replied, "it should rather be: 'I could not marry because of Hayao Miyazaki and Toshio Suzuki.'" The results were eventually published in book form, in Japanese only, as Pencil War Chronicles: The Studio Ghibli Nobody Knew (Enpitsu Senki: Dare mo Shiranakatta Studio Ghibli).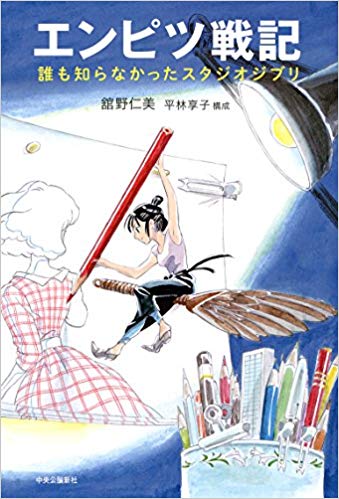 Tateno's name is not well known outside animation circles, although a sharp-eyed viewer will be able to spot it in almost every one of the studio's works. Now a tutor at a Tokyo technical college, she formerly was one of the crucial staff members who kept the animation rolling to the studio's notoriously high levels of quality. Inspired to become an animator by seeing Miyazaki's Future Boy Conan (1978), she enrolled at an art school and found work with one of Japan's many subcontracting firms. Although the studio Filmation would eventually shove a slogan onto its programming that proclaimed it was made in America by Americans, Tateno became one of its not-so-shadowy secrets, working for subcontractor Tokyo Movie Shinsha on the company's New Adventures of Zorro (1981). Inspired by the sight of an in-betweener at work, and the realisation that such talents could make or break a show, she badgered the animation supervisor Yasuo Otsuka to hire her at his own outfit, Telecom Animation Film.
Industry trends at the time usually allowed that a talented enough in-betweener could be promoted to key animator within three months. Not so at Telecom, where the picky Miyazaki and Takahata insisted on a two-year probation. Although this crushed Tateno's dreams of working as an animator, she drifted into animation checking, determined to serve the art by improving the quality of the frames that came between the key images. By raising the standard of in-betweening, she hoped to raise the working conditions of the artists, so that nobody would suffer the harsh treatments she endured as a subcontractor.
Although Miyazaki and Takahata soon left Telecom for other things, she would eventually follow them. It was they who had invented the role of assistant animation checker on the earlier Heidi (1975), and they who would lure her back into their circle to perform that function on My Neighbour Totoro (1988). Tateno gradually took over the role of assigning sequences to in-betweeners, and managing the whole workflow, and, eventually, training new recruits. She observes, with all the loneliness of a manager, that one of the main parts of her job was telling people off, leading people to find her unapproachable. She would eventually earn the respect of the Ghibli directors and staff, but suggests a third reading of her attention-grabbing opening line. It wasn't Miyazaki's fault or Suzuki's, but effectively she married Studio Ghibli.
Tateno writes that the hardest part of animation checking was tracing. Japanese animators had used Xerox cameras to copy drawings onto cels since the 1960s, but were perpetually troubled by the inability of the cameras to pick up lines that were not strong or thick enough. She would take offending frames back to the animator to rework, but if that still didn't work, the task fell to her. In later years, digitisation replaced Xerox cameras with scanners, but the problem persisted. Miyazaki, in part, was to blame, with constant demands for thick warm lines with a nuanced strength, forcing animation checkers to find a point of compromise where the lines were uniform enough for scanning, but still as warm and expressive as the director required.
She has fascinating insights into Miyazaki, a man with whom she worked closely. She recalls him chiding his animators for using photos and videos as reference, instead ordering them to routinely observe, study and memorise nature, humanity and all creation. No pressure. One day, she witnesses Miyazaki reprimanding a wild bird for not flying properly, and understands that naturalism is literally not good enough for him. He has an idealised image in his mind, and expects his animators to reproduce it in his films.
She also describes Miyazaki as a natural-born vampire, who sucks up talent from young artists. Suzuki once said that Miyazaki has the unique talent of being able to turn someone else's energy into his own, an idea alluded to by Evangelion's Hideaki Anno when he cryptically observed: "For Miya-san, all the staff are his slippers." In a good master-apprentice relationship, she thinks, the young artists should have been able to suck on the master's blood in return, although many people could not manage it, leaving the mood at Ghibli enervated and frustrated. But Tateno observed a perfect mentoring relationship at the very top, as the younger Miyazaki regards Takahata as his master and rival, but absorbs his art of directing while responding to his demanding requests.
Although there are some interesting facts in Tateno's book, it nevertheless left me a little frustrated, as if it promises the crunch of a rice cracker, but turns out to be soft and fluffy on the inside. The afterword by editor Ryoko Hirabayashi explains why – with Miyazaki advising her to take out the harder-hitting comments, and Suzuki persuading her to mitigate her more acid observations with a pretence of balance. In other words, she has soft-pedalled to such a degree that Tateno admits that even her self-portrayal comes across as a little too nice. The real Tateno is apparently much spicier, but unfortunately she does not appear in her own book.
Motoko Tamamuro blogs about British architecture and interior design for Japanese readers at English Antique House. Pencil War Chronicles: the Studio Ghibli that Nobody Knew is published in Japanese by Chuo Koron-sha.
2 comments
Kerry

August 27, 2018 10:23 am

Is there an English translation of this book? My 14 year old resident artist would love it!

Jonathan Clements

August 27, 2018 10:31 am

As the article says, "Japanese only." But if enough people express an interest, who knows...?