Crazy Thunder Road
June 10, 2022 · 0 comments
by Jeremy Clarke.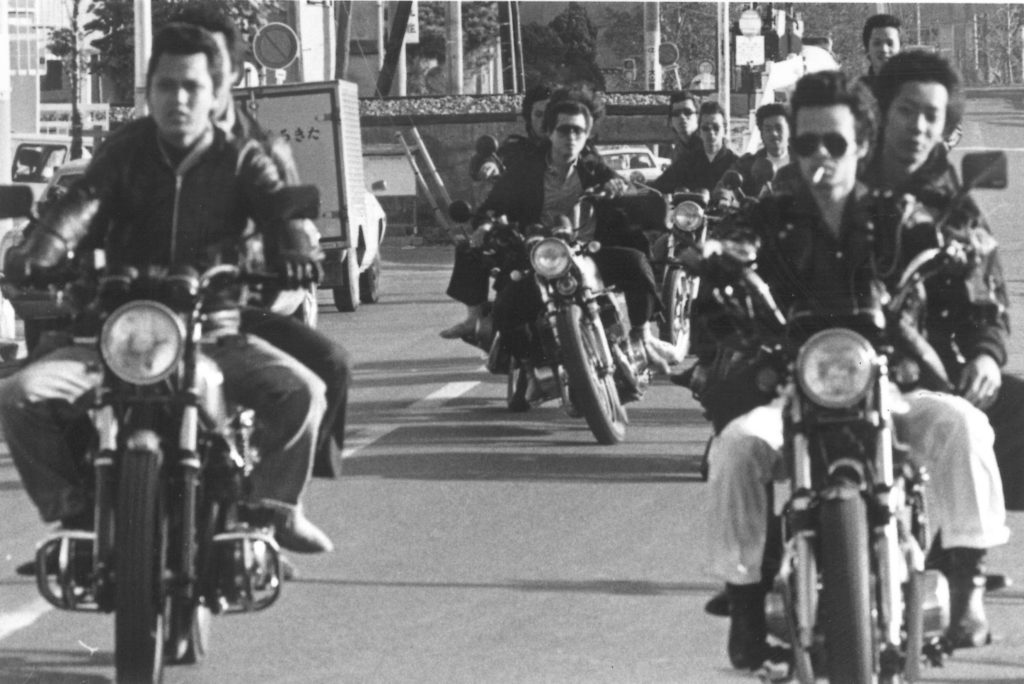 Following on from Arrow's superb BD of Sogo Ishii's Burst City (1982) comes Third Window's equally impressive BD release of its predecessor in the Ishii canon Crazy Thunder Road (1980). This was his Nihon University student graduation project, his first to be shot on 16mm rather than Super 8, which somehow got picked up for distribution by major Japanese Studio Toei which led to their giving him a budget for Burst City. Tom Mes, who as with Burst City supplies a commentary for the film, describes Crazy Thunder Road as "one of the Holy Grails of Japanese film releases if not the Holy Grail."
When Toei presented Ishii with what seemed like astronomical funding for Burst City, it led him to overreach himself. In retrospect, he considers Burst City unfinished. He arguably attempted less with the microbudget, self-financed Crazy Thunder Road yet there's a sense that on the earlier film he completely achieved his more modest aims. It's far more coherent; you can follow who's who.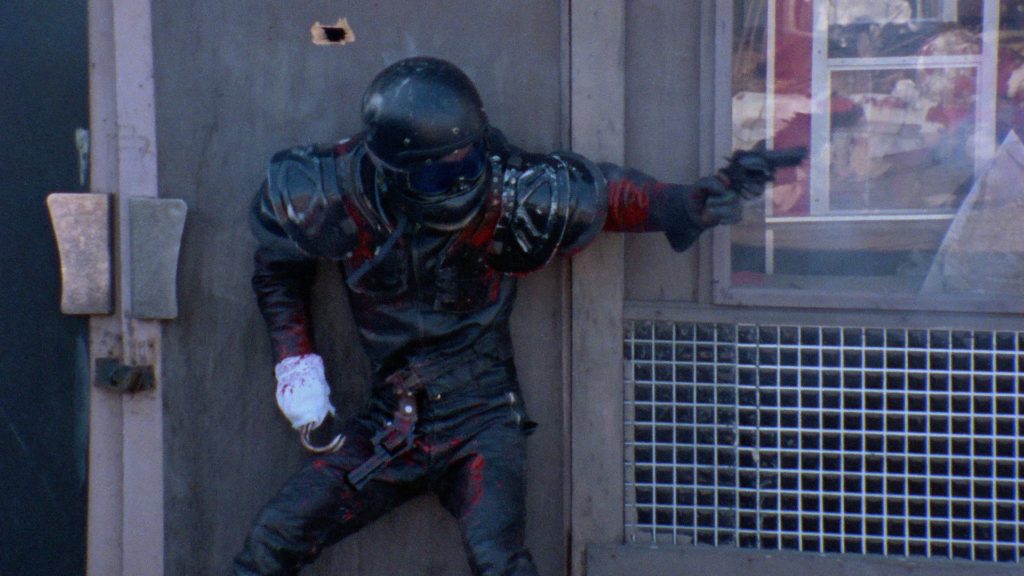 Renegade biker Jin (Tatsuo Yamada) splits off from the Maboroshi (or Phantom) gang when he thinks gang leader Ken (Koji Nanjo) has gone soft after falling for a barmaid. The gang was originally set up by Takeshi (Nenji Kobayashi) who has now moved on and joined an ultra-nationalist, right-wing paramilitary group (not the army, for which the casual, Western observer might mistake it at first glance). Seeing Jin and pals heading down a destructive path, he encourages them to join up and train themselves to defend the country, but Jin reverts to his old behaviour. You're expecting it to end badly for him, and without giving specific spoilers away, in a way it does, but at the end (1) he rides off safely, albeit quite injured after a climactic fight, and (2) there are closing images of volcanic ash erupting into the air, like a portent of doom as though everything isn't going to be okay after all. This latter image also crops up very early on as the other half of a bookend device to match the ending.
Ishii has a lot of fun putting all this together in radical and inventive ways. Before Jin first encounters Takeshi, he and his loyal cohorts are in a room where the camera spins round the group lining the walls, slowly at first then faster and faster until the dizzying image is nothing but a blur. The director really seems to enjoy messing around with the camera, for instance shooting footage at different film speeds to produce edgy and arresting results. His first 16mm project is also Ishii's first collaboration with regular cinematographer Norimichi Kasamatsu whose work is far more frenzied and insane on Burst City two years later, although in Crazy Thunder Road you can feel him laying the groundwork. (Kasamatsu's impressive career also encompasses Tokyo Rampage aka Pornostar and Blue Spring for director Toshiaki Toyoda in 1998 and 2001 respectively and Villain for Lee Sang-il in 2010.) A quasi-abstract concrete labyrinth is used as the location for a sequence wherein gang members pursue the fleeing Jin and his friends, enabling images to be shot through futuristic looking rows of concrete frames to great effect.
In a near 40-minute interview on the disc, director Ishii talks about a pent-up rage bouncing around himself, something for which making films became an outlet. He also discusses how the punk ethos of 1976 onwards in the UK translated to Japan as a widespread feeling among his generation that something was about to explode. Toei's release of Crazy Thunder Road in Japanese cinemas resonated with that feeling to produce a massive hit.
A half-hour video essay by Jasper Sharp helpfully sets the film in the wider context of the Jishu Eiga (Autonomous Film) or amateur film movement in Japan. In the late seventies / early eighties, the traditional points of entry into Japanese film production had to all intents and purposes ceased to exist as the Studios were in what looked like terminal decline and had stopped hiring new blood. In line with the punk rock ethos, in this situation the only way to become a film director was to go out and do it yourself on your own terms. Armed with Super 8mm cameras and considerable enthusiasm, fledgling filmmakers went out and shot their own films for no money.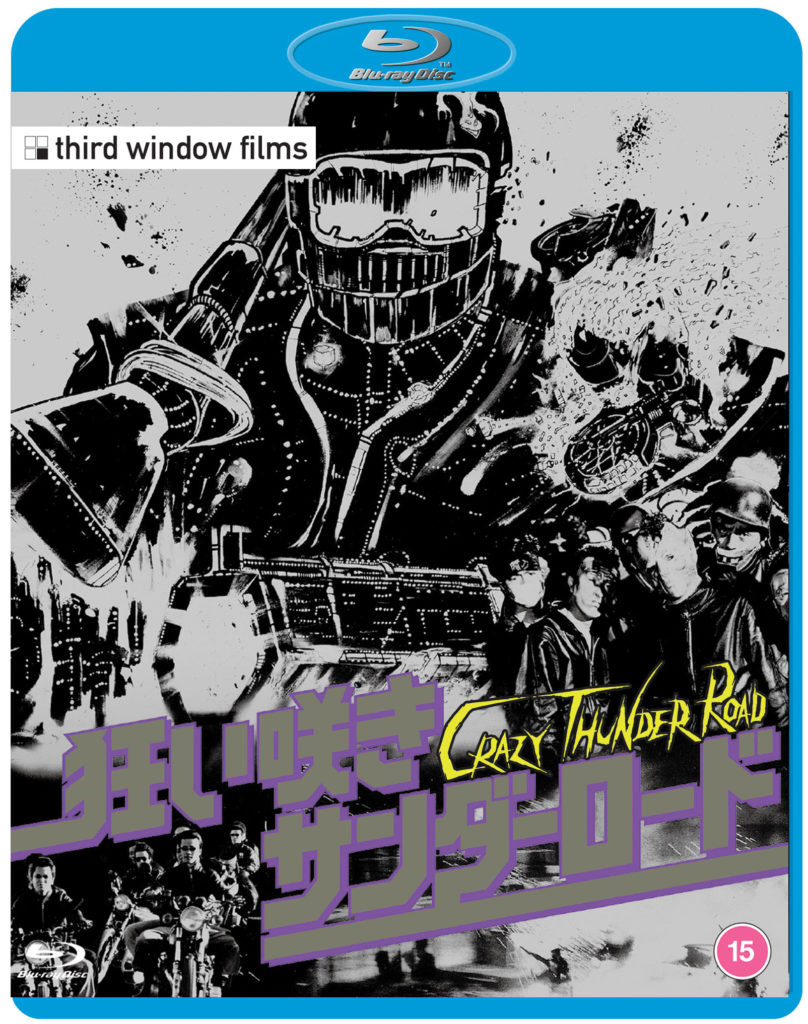 The listings magazine Pia, formed by aspiring filmmakers at a university film club as a way to list all films screening in Tokyo in a given week, recognised the value of this phenomenon and in 1977 set up the Pia Film Festival to showcase these films. The festival's first decade or so was especially crucial, exposing and giving prize money to Kiyoshi Kurosawa and Shinya Tsukamoto, among others. Keen to point out that Jishu Eiga were not limited to Tokyo, Sharp notes that the Yamagata International Documentary Film Festival similarly supported the highly personal filmmaking of documentarian Naomi Kawase.
Tom Mes is clearly in his element with his commentary, imparting all manner of trivia alongside much solid and insightful background information about the production. He points out the onscreen contrast between Kinji Fukusaku gangster movie regular Nenji Kobayashi, whose performance adheres to a written script and helps anchor the movie, and Tatsuo Yamada who improvises wildly and gives the film considerable energy. Kobayashi's extensive experience of film sets meant that he doubled as stunt co-ordinator for the final reel, making sure various car and bike set pieces went off without a hitch. Mes also gives a long build-up as to why it's taken so long for the film to appear on home video outside Japan. It would be a spoiler to give the exact reason, because you'll enjoy his commentary far more if you don't know what's coming. All those of us who are delighted to see this film released (which, frankly, should be anyone with even the slightest interest in Japanese cinema) owe a debt of thanks to Adam Torel at Third Window films for overcoming seemingly insurmountable obstacles to make it finally happen.
Crazy Thunder Road is released by Third Window Films on 21st February 2022.
Jeremy Clarke's website is jeremycprocessing.com