UK Premiere of Gundam the Origin VI at MCM London Comic Con May 2018
May 15, 2018 · 3 comments
Hi everybody! We've been peppering you with announcements pertaining to our MCM London Comic Con activities of late, be it the activities of Anime Guest of Honour, Shouji Gatou, or our efforts to bring anime to the big screen within Comic Con itself thanks to the return of MCM Loves Anime and screenings of Your Name and Maquia.
However, we're not done yet, and this one is for all of you Mobile Suit Gundam fans out there! If you're a regular attendee of London Comic Con, you'll know that over recent years we've tried to premiere the latest episode of Mobile Suit Gundam: The Origin at the event whenever possible, and this May we're doing it again by bringing you the very first UK screening of the final instalment in the series, Mobile Suit Gundam: The Origin VI – Rise of the Red Comet.
We'll be hosting this premiere to MCM London Comic Con attendees at the event's mobile cinema setup in the event's North Hall, where you'll be able to watch the film (which is approximately 80 minutes in length) from 10AM on Sunday 27th May 2018. This is a ticketed event. Simply come along on Sunday morning to buy your ticket,
Here's a little more about the film to whet your appetite…
---
MOBILE SUIT GUNDAM THE ORIGIN VI: RISE OF THE RED COMET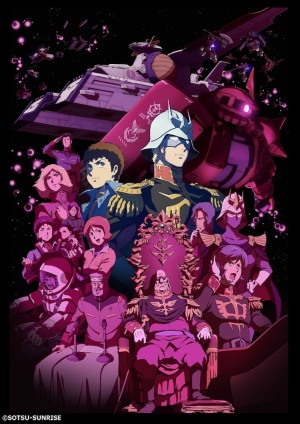 Synopsis: January 23, Universal Century 0079. The battlefield has shifted to Loum, and a clash between the Zeon and Earth Federation fleets has begun in earnest. Char Aznable, a young ace pilot of the Zeon forces, earns fame for his remarkable feats at the controls of his red Zaku mobile suit, and becomes known as the "Red Comet."
After the fierce battle, as the Zeon and Federation sides take their places at the negotiating table, a certain declaration is transmitted throughout the world. Meanwhile, the Federation Forces launch "Operation V," their plan for a counterattack.
And a boy named Amuro Ray, living a peaceful life at Side 7, takes action on his own to investigate the mystery of the new weapon called "Gundam…"
You can check out a subtitled trailer for the film below:

---
The language of the screening's presentation will be in Japanese with English subtitles. Entrance to the screening will be a on first come, first served basis, so be sure to arrive in good time to secure your seat.
We look forward to seeing you at this premiere, and stay tuned for even more details about our Comic Con plans in this final week or so leading up to the event!
Until next time, take care.
~Andy H
3 comments
Jamie Heffer

May 15, 2018 8:07 pm

Mobile Suit Gundam Literally is my life, I will be attending this dressed as the. Mighty Char Aznable himself. As I have done at MCM london for the past 6 years, I do hope that the movie will be in Japanese Audio With English Subtitles like you did for Gundam Origins Episode 4 which I attended! Because Char's Voice In Japanese is the best!!! I do look forward to it!

Jamie Heffer

May 15, 2018 8:11 pm

I meant Episode 3* sorry I actually got my Episode 3 signed that weekend!

Jack Han

May 20, 2018 6:16 am

Attended the screening for Origin I and II London about 3 years ago cosplaying as Bright Noa. I shall be here again for Origin VI