Hirokazu Kore-eda's Family Values
March 28, 2018 · 0 comments
by Jeremy Clarke.
Three recent Hirokazu Kore-eda movies I Wish (2011), Like Father, Like Son (2013) and After the Storm (2016) finally arrive on UK BD/DVD. Most of his art-house feature work has secured a release here, much of it (including these three titles) initially in cinemas. Kore-eda has been described as one of the great contemporary humanist directors. These three titles focus, as does the current cinema release The Third Murder (2017), on parent-child relationships. Arrow Academy has therefore sensibly released them as a three-in-one package under the moniker Family Values.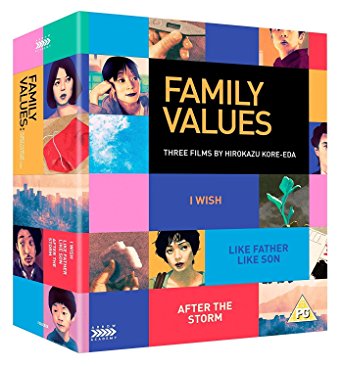 I Wish concerns a broken family of father, mother and two pre-teenage boys. Each of the boys is living with one of their parents at opposite ends of Kyushu, Japan's south-western island: the elder with his mother and grandmother in Kagoshima and the younger with their gigging rock guitarist father in Fukuoka. The two boys keep in touch by mobile phone. The story starts off with the elder brother Koichi (Koki Maeda), then switches back and forth between him and the younger Ryunsuke (Koki's real life younger brother Ohshiro) until they meet up in Kumamoto, halfway between the two cities.
With the news that a new branch of Japan's bullet train system is to link Fukuoka with Kagoshima, an urban myth catches the children's imagination: that anyone who witnesses the first two trains pass at the mid-point of their journey in Kumamoto can make a wish.
A lengthy on-camera interview of the director by Jasper Sharp under the title Family Ties is helpfully split into three sections so that the relevant part of the interview to each of the three films is on the disc containing that film. I Wish originally concerned a boy and a girl, but Kore-eda was so impressed with the Maeda brothers during casting that he altered the script to build the story around them. Something that comes over very strongly in all three films here is that the director constantly amends elements in his films on the principle that whatever he has can always be improved upon.
In the less child-centric Like Father, Like Son, upper middle class couple Ryota and Midori (Masaharu Fukuyama and Machiko Ono) get a call from the country hospital where their six year old son Keita (Keita Nonomiya) was born. Keita might not actually be theirs, but the son of Yodai and Yukari Saiki (Lily Franky and Yoko Maki), the two babies having been switched at birth. The two families are like chalk and cheese. The Saikis have three kids who live in and around Yodai's electrical goods and repair store. The better-off Ryota regards them with disdain but Yodai spends a lot more time with his family than Ryota does. When the parents eventually swap offspring, Keita feels thoroughly at home in the Saikis' larger, more nurturing family.
Kore-eda masterfully sketches his characters via a combination of a constantly rewritten script and his various actors' performances. Fukuyama is superb as Ryota, conveying a barely concealed snobbery. Conversely, who wouldn't want Franky's genial Yodai to be their dad? If a toy robot or remote control car breaks down, he fixes it. What's not to like?
Fukuyama plays another Kore-eda upper middle class professional as a hotshot lawyer in The Third Murder. Sharp points out that Like Father, Like Son was Kore-eda's biggest Japanese hit to date due in no small part to Fukuyama's presence. (It still is, making about three times as much as The Third Murder.) He also elicits the director's thoughts on his two manga adaptations Air Doll (2009) and Our Little Sister (2015).
In After The Storm (2016, previously covered on this blog, here), Ryota Shinoda (Hiroshi Abe) juggles child-care issues as a divorced father working for a detective agency which spies on clients' spouses. A published writer with a single, acclaimed novel to his name, he has a minor gambling problem. Like the wife in I Wish, his ex Kyoko (Yoko Maki) thinks he was too obsessed with his art to spend enough time doing a proper job to provide the wherewithal to look after their family. His gambling scarcely helps.
Regular Kore-eda actors feature prominently. Kirin Kiki has a lot of time onscreen here playing Ryota's long-suffering mother. Lily Franky turns up again as Ryota's detective agency boss and as in The Third Murder there are many scenes of office banter. Sharp's Family Ties segment throws in some perceptive questions on casting, revealing that as young men Kore-eda and his contemporaries were in awe of Yoshio Harada, who can be seen in not only bit parts in I Wish and Still Walking but also Seijun Suzuki's Taisho Trilogy (1980-91)
Prolific as ever, as reported by Screen Daily, Kore-eda already has another family drama in the works with regulars Lily Franky as a shoplifting father and Kirin Kiki as his mother as well as Ando Sakura (Sion Sono's Love Exposure, 2008) as his wife.
All in all, the three films released here make a fabulous package well worth getting hold of before Kore-eda's The Third Murder is out in cinemas now.
Family Values: Three Films by Hirokazu Kore-eda is released on Arrow Academy Dual Format Blu-ray and DVD, with After The Storm released separately on both formats. The Third Murder was released theatrically in the UK and Ireland on 23rd March 2018.