Interview: Masaaki Yuasa
March 15, 2018 · 0 comments
By Andrew Osmond.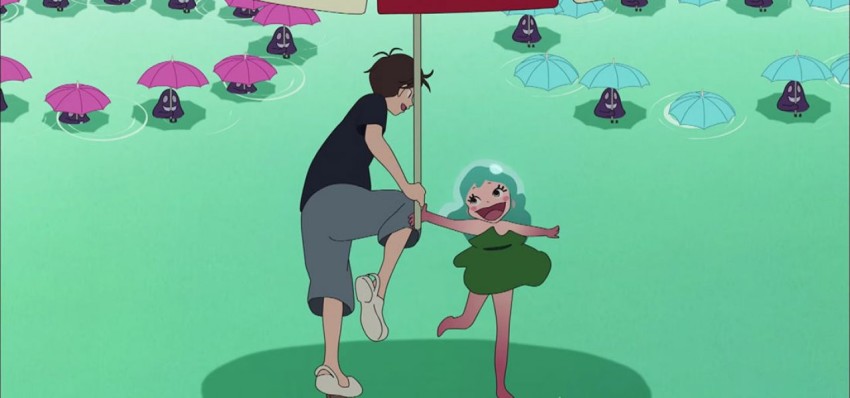 Masaaki Yuasa has made a cute kids' movie – Lu Over the Wall, released in British cinemas on 6th December (and is coming to home video in 2018). However, that won't stop us asking about metaphorical cartoon penises. If you've seen Yuasa's more adult work, you may have encountered a certain cowboy character that clatters through the director's comedies, symbolising the sex drives of haplessly horny heroes. The cowboy is called – what else? – Johnny. In old Hollywood cartoons, a wolf served that purpose; why did Yuasa depict a cowboy? And is there any significance in Johnny's resemblance to a certain Pixar character?
"No!" laughs Yuasa. "About the cowboy, that's a typical male, isn't it? But the character's actually quite naïve, so I wanted to make him sort of cute as well. He's very active, very strong, but he's got some sort of vulnerability. When he's happy, I wanted him to look happy."
If you believe artists present their souls through their work, then Yuasa's could only be described as manically, zanily ebullient. Lu features a cute mermaid displaying her finny, hoofing dance steps as she leads a beach of festival-goers in a high-kick romp. Yuasa's other new film, The Night is Short, Walk on Girl, turns late-night Kyoto into one huge party, with drinking duels with deities and sing-offs for love. Before that were the lunging limb-contorting athletes in Yuasa's sports serial Ping-Pong the Animation and more deranged Kyoto life in The Tatami Galaxy. But for some, Yuasa's mad masterpiece will always be Mind Game, which climaxed with a thousand-mile dash up the throat of a whale. Smoke that, Pinocchio.
In person, Yuasa is almost disappointingly sane, downplaying his reputation as anime's maddest inventor. "I want to make something that can appeal to the mainstream audience," he explains. "But I want something that I, as a member of the audience, would find fresh but not necessarily drastically different – 'That's new and nice' or 'I haven't seen this for a long time'. That's what I try for when I make my movies." Previously, Yuasa has spoken of relaxed, imperfect animation, which speaks of joy instead of painful effort. The philosophy seems embodied in characters like Lu and Ping Pong's Peco.
He's inspired by "illustrations, paintings, movies, various music styles… Anything that I find fun and interesting, I'm actually quite sure I can turn them into some sort of animation form. So I want to stay open to everything, really." It's no surprise Yuasa likes Monty Python – Night is Short feels especially Pythonesque – but he mentions it alongside such diverse British humour as The Full Monty and Bill Forsyth's 1983 classic Local Hero. Given Yuasa's anime are often tinged with fantasy and SF, I ask whether he's encountered Douglas Adams or Terry Pratchett, but the answer seems to be no.
He does, however, mention that he likes the band Queen, which prompts me to bring up one of the funniest scenes in The Night is Short, Walk on Girl. In the film, several characters have to express their feelings in impromptu, very silly songs (while wearing even sillier costumes). It's hard not to notice one of the songs sounds very like a certain famous Queen anthem. "In that part of the film, the songs were all written by non-professional, random people," Yuasa says. "I hummed the tune, and the composer made that into a proper score."
Yuasa's movie tastes include the trans-themed tragedy The Crying Game and the less-remembered British film S.W.A.L.K. (1971), a fond portrait of childhood scripted by Alan Parker, which was a huge hit in Japan and cited as a major inspiration on the recent Fireworks. As for animation, Yuasa mentions Britain's Beatles fantasia Yellow Submarine and two French films, The King and the Mockingbird – which was also a profound influence on Miyazaki and Takahata – and Rene Laloux's Fantastic Planet.
Fantastic Planet seems to influence one particular Yuasa film – "Happy Machine", a short segment of the Studio 4C anthology Genius Party, where a baby explores an alien planet that feels Laloux-ish in conception. Yuasa has created anime at a range of lengths, from series running several hours (Ping-Pong, Tatami Galaxy) to pieces of a few minutes like "Happy Machine" and his crowdfunded wrestling opus Kick-Heart. Some cartoon connoisseurs argue short films are the best format for innovative animation. But again, Yuasa declines to present himself as a counter-culture artist, fighting off the mainstream.
Asked whether short films offer more creative freedom, he says, "I don't really think too much about that. But I could make something really creative, or I'm happy to make something very much mainstream – obviously my mindset would be different making one or the other. You can make very creative but very mainstream short films too. But I think I'm more inclined towards making more mainstream work that everyone can enjoy."
Yuasa acknowledges, though, that he enjoyed freedom as a young animator, when he worked on two kids' franchises, Crayon Shin-chan and Chibi Maruko-chan. Both involve "simple," undetailed worlds and designs: "Because the pictures are quite simple, and easy to draw in a way, you could make it more complicated if you want to." There's an excellent fan commentary on one of Yuasa's Chibi Maruko-chan sequences here, starting four minutes into the video.
For the last decade, one of Yuasa's most important collaborators has been the woman artist Eunyoung Choi, who has prominent credits on titles including Tatami Galaxy, Ping Pong and Kick-Heart. Choi's non-Yuasa work includes directing a memorable Space Dandy episode in which the characters explore a world of sentient plants. Like Yuasa's "Happy Machine", it feels like a response to France's Fantastic Planet, but more mellow and melancholic.
In 2014, Yuasa and Choi co-founded a new studio, Science Saru, which has released Yuasa's work since then. As well as Lu and Night is Short, Saru has also made Yuasa's Devilman crybaby, a new version of Go Nagai's Devilman, which released by Netflix in January. I ask Yuasa if he and Choi share similar artistic sensibilities.
"Yes, I think we are sort of looking in the same direction," Yuasa says, "but we are, in fact, pretty much polar opposites. When we decided to set up this production company, that was the reason why we chose each other, because she's the harshest critic I have. She can actually say no to me, and I normally accept that."
Startled by this answer, I ask Yuasa if he can expand on why he and Choi are polar opposites. "The similarities are more important than the differences," he says. "What's important here is that it's quite hard to find somebody who is looking in the same direction when I'm creating animation. I just don't want people to say yes to me all the time, and some people are too polite to say no. But she does, so she's very important."
Lu Over the Wall is released in the UK by Anime Limited.