Millennium Actress and History
December 16, 2020 · 1 comment
By Jonathan Clements.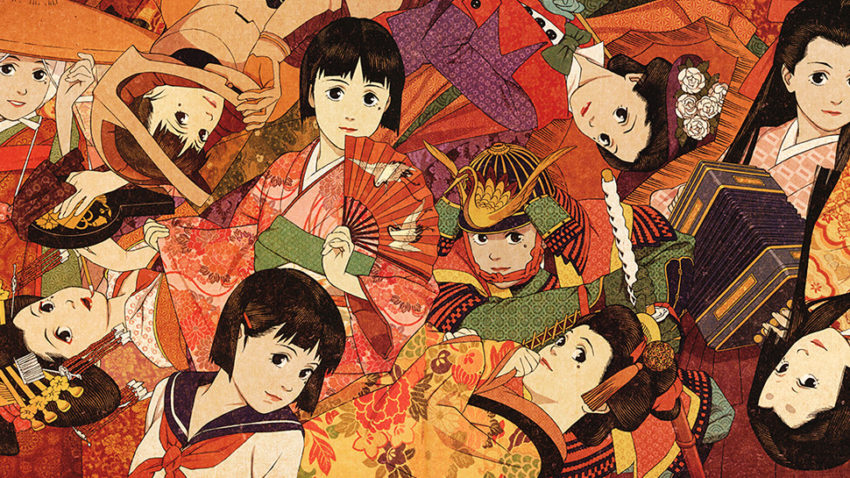 The approach of the year 2000 was fraught with a sense of commemoration and closure. Various media tried to put a cap on Japan's last ten turbulent decades. On television, for example, the TBS mini-series 100 Years: The Story of One Century (2000) would chronicle the experiences of a group of Japanese women, several generations of the same family, all played by the same actress. Nanako Matsushima hence became a Japanese everywoman, transformed only superficially, in clothes, hair and cosmetics, from the woman she had been at the turn of the century. In Kon's Tone, a book charting "the road to Millennium Actress," the director Satoshi Kon mentioned some of the documentary serials airing on Japanese television at the time he was writing the outline, including Images of the Showa Era and Images of the Twentieth Century.
Film technology itself was in a state of flux. When we first see Genya Tachibana, the point-of-view character in Kon's Millennium Actress, he is reviewing Chiyoko Fujiwara's movie appearances on VHS video tape, the death of which had already been announced in 1999, after Bandai Entertainment released its Tenamonya Voyagers straight to DVD in the United States. With DVD on the rise, particularly after the release of the PlayStation 2 in March 2000, VHS was on the verge of turning into a legacy format. Kon's camera lingers on Genya's TV screen as the tape spools backwards, lovingly recreating the onscreen tracking static that was familiar to 1990s cinephiles, and is doubtless unknown to many of today's digital viewers. By the time the film commenced production, much of the anime business was already operating on digital paint and trace. Millennium Actress was supposedly one of the last big features to be made with the old cel methods – subsequent animated films, even when retaining the cel-painted look, would be made entirely within a computer.
Even the physical geography of film-making was changing. Several anime have alluded to the archaeology of film history, notably Keiichi Hara's Colorful (2010), which traced the pathways of the tramlines that connected the old anime TV studios in their 1960s heyday. Millennium Actress pointedly begins with the demolition of a once-great studio building, openly alluding to the decommissioning of Shochiku's Ofuna studio in 1998. Ofuna had been a corner-stone of the company since 1936, when the studio had fled its original Kamata premises, which had been crowded out by rising industry and commerce. Thereafter, Ofuna had incubated many war-time classics, including Mitsuyo Seo's Momotaro, Sacred Sailors (1945), the sole surviving print of which had been found in its warehouse. But by the 1990s, the old site had been rebranded as Kamakura Cinema World, a movie-oriented theme park in which moments and images from an entire archive of genres and stories clashed together in a series of side-shows. This, too, folded in 1998, and the site is now part of Kamakura Women's College. If there are moments in Millennium Actress that seem to recall the real-world experience of wandering Kamakura Cinema World, where a turn of a street corner could take you from samurai Edo to Meiji-era Tokyo, and from the 1920s to the 1950s, this, too, may owe something to an experience not of movies, but of Kon's location-hunt among movie sets.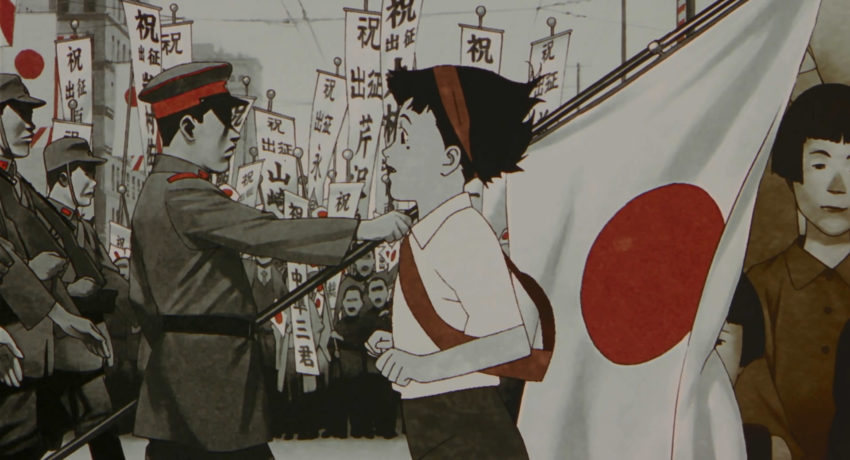 The 1990s also saw the retirement of the generation that had created post-war entertainment. In the anime world, multiple studios were merging, folding or changing ownership as the surviving founders and primary shareholders cashed in their chips and went off to play golf. A new generation of bright young things, including Kon himself, was taking over – either with a sense of sympathy and respect for the old guard (like the character Genya) or with a blithe dismissal of them (like his cameraman Kyoji Ida).
"Millennium Actress was a film that made me restore my connection with Japanese history and culture," the director wrote in Kon's Tone. "'Restore' might not be the right word. Because I only had weak connection before, it was more like constructing and enforcing that connection."
Millennium Actress contains within it a recurring sense of heritage on the verge of being lost. In interviews, Kon has claimed that this reflects his own journey in the making of the film – that he began as oblivious as Kyoji about much of his own country's history and culture, but finished as star-struck as Genya with the stories and achievements of his predecessors. When Kyoji cynically comments that this is a documentary that would have been better made thirty years earlier, he is voicing a historian's lament that, all too often, we don't know what we've got until it's gone, and the potential primary sources for historians have died off.
Jonathan Clements is the author of Anime: A History.
Millennium Actress is released in the UK by Anime Limited.
1 comments
Ian Smith

December 23, 2020 7:18 pm

Lovely post. Really looking forward to revisiting this film with this new release: it's a deeply emotive, poetic film with an absolutely sublime soundtrack (which had me rushing to import the CD many moons ago).