Momotaro's Devil General
January 12, 2021 · 2 comments
By Jonathan Clements.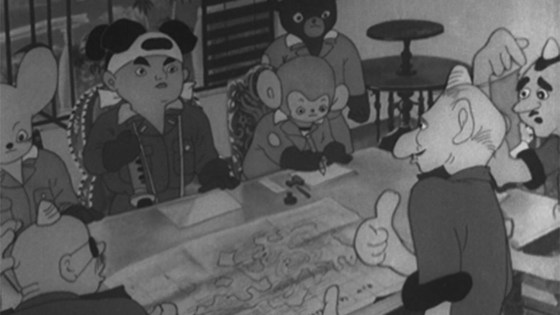 He shrugs and stammers, he mumbles and prevaricates. He can't surrender because he is not in command of all the troops, you see. The first English-language voice-actor in anime appears in the final scenes of Momotaro, Sacred Sailors (1945), desperately trying to wave away the demands of the Japanese victors on Devil Island. To this day, nobody knows who he was…
A couple of years ago, a Japanese film historian scoffed at me for suggesting that the voice of the devil general in Sacred Sailors might have been provided by a prisoner of war. The idea, he said, was "preposterous", although since there is ample evidence of many such personnel, I can only assume it's a subject unmentioned in Japanese schoolbooks. And to be fair, unmentioned in English-language schoolbooks, too.
For example, let's take this biography of Charles Hughes Cousens (1903-1964), taken prisoner in Singapore. "Soon after the capitulation on 15 February [1942], A.I.F. headquarters in Malaya inadvertently revealed to the Japanese that Cousens had been a radio announcer. He refused to broadcast on their behalf while in Changi prison. Taken alone from a prison-camp in Burma, he was shipped at the end of July to Japan. There, under threat and fear of torture and death (as he would always claim), he wrote propaganda scripts, 'coached' English-speaking Japanese announcers and made short-wave broadcasts over Radio Tokyo. He maintained that the broadcasts were of minimal use to the Japanese, and that he had frequently sabotaged them by subtle ridicule and by inserting information useful to the Allies."
Have I finally identified anime's first English-language voice actor? I suspect not — Cousens had a heart attack in June 1944 and had a reduced role in recordings and broadcasts thereafter. Cousens was the most prominent draftee into Japan's wartime English-language propaganda programme, but he was not the only one.
In spite of the fact that use of POWs in broadcasting was a direct contravention of the Geneva Convention, a number of British, Australian and American men were forced to help out in Japan's propaganda operation. Charles Williams, a British officer who refused to participate, was marched out of the broadcasters' camp and believed by his comrades to have been executed — in fact, he survived the war working in a mine.
As noted in Jane Robbins' book Tokyo Calling, a dozen native English speakers were co-opted into the propaganda scheme in December 1944, which happens to be when Sacred Sailors was completed and submitted to the censor. They began broadcasting the Hinomaru Hour later that month. The men read out carefully curated messages from prisoners, performed skits and radio plays, and even songs, including a ditty about "the daring young men of the flying Japanese." They also did everything they could to subvert their captors' intentions, including selecting as much British music as possible, because they hoped American servicemen would hate it.
It's my belief that anime's first English-language voice actor, stammering and slurring his words on the Sacred Sailors soundtrack in what may have been a deliberate attempt to sabotage the audio, is one of the dozen POWs rounded up and sent to "Bunka Camp" in December 1944. Precisely which one, however, remains a mystery for now. Robbins' account of their gentle subversion might help to explain that odd moment on the Sacred Sailors audio, unnoticed by the Japanese subtitler, in which one "devil soldier" whispers to the other: "The war is already on our side. We can just hold them off a little longer."
Jonathan Clements is the author of Anime: A History. Momotaro, Sacred Sailors is released in the UK by Anime Limited.
2 comments
Daniel Otto

January 15, 2021 8:03 pm

Excellent additional information to a great book! I did not expect anything less from Jonathan Clements!

Jonathan Clements

January 15, 2021 9:31 pm

Danke, Daniel. Das ist so nett zu sagen.