Newswire #75 & #76 – 15th June 2016
June 15, 2016 · 2 comments
After a week off today we bring our a double edition of the Newswire bringing you up to date on various tidbits from Anime Limited HQ. Read on below for the latest news.
~ First of all our latest releases this week are Tokyo Ghoul √A on Ltd Collector's Edition Blu-ray and Standard DVD, and Kill la Kill Part 3 standard edition on Blu-ray and DVD. You can find a full unboxing of our Tokyo Ghoul √A Blu-ray HERE. A reminder that it's only limited to 1000 units across all retailers. So once they're gone, they're gone.

~ We want to make a note we understand some retailers are listing different dates for Kill la Kill Part 3 but we want to 100% confirm it is available now. We are in the process of getting the dates amended with retailers.
~ Don't forget that Rage of Bahamut: Genesis and Lord Marksman and Vanadis are both available now on Ltd Collector's Edition Blu-ray and standard DVD. You can check out our unboxing for Rage of Bahamut: Genesis HERE and Lord Marksman and Vanadis HERE.
You can watch the trailers for both below.


~ Looking ahead our next releases are on 27th June when Aldnoah.Zero Season 1 on Ltd Collector's Edition Blu-ray and standard DVD, and Sword Art Online II: Part 4 on Ltd Collector's Edition Blu-ray/DVD and standard DVD. We'll be having unboxing for both at our site for you over the coming week. You can watch a trailer for Aldnoah.Zero, taken from our Facebook page, below.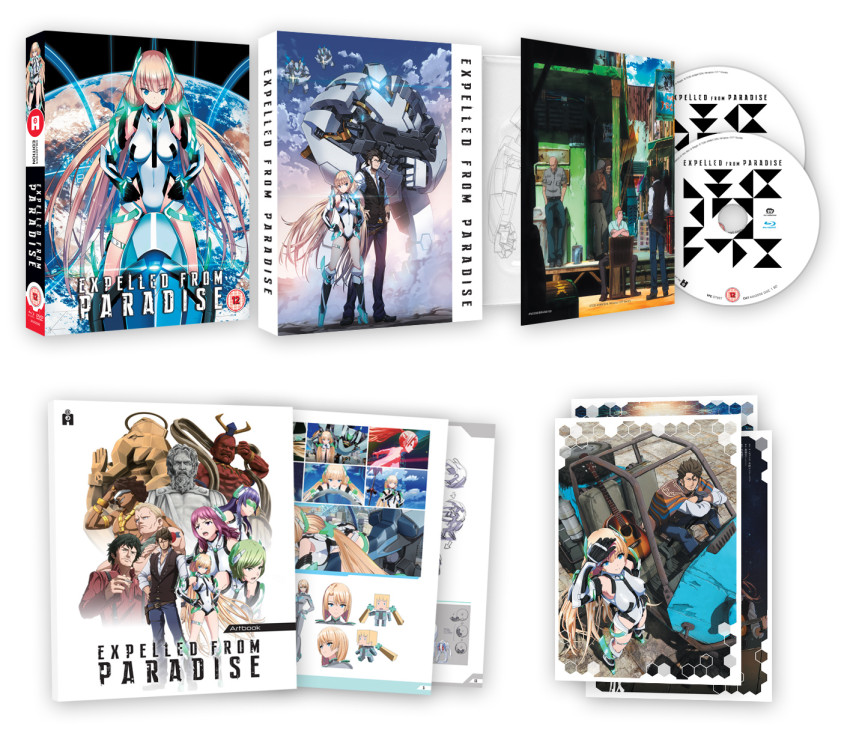 ~ Following that 4th July sees the release of Expelled From Paradise on Ltd Collector's Edition Blu-ray/DVD and standard DVD. You get a glimpse of our what our Ltd Collector's Edition set will look (right.) It will include 40-page booklet inside the rigid case that will also hold the digipack containing both discs. On-disc extras include trailers and the "Making of…" film too.
~ Also on 4th July, the standard edition Blu-ray of Terror In Resonance will be released.
~ Then the week after on 11th July will (finally) see the release Ping Pong: The Animation as a Ltd Collector's Edition Blu-ray+DVD set.
~ This Saturday our resident giant Jeremy Graves will be at Sunny Con that takes place at St. James Park, the home of Newcastle United Football Club in Newcastle. There will be an All The Anime industry panel at 3:45-4:45 in Bamburgh Suite South.
You can find more details on Sunny Con at their site HERE.
You'll also be able to purchase a variety of our titles at the event at the Gundam Mad stall all weekend.
~ For those of you on the fence about pre-ordering our Fullmetal Alchemist Ultimate Edition Blu-ray set, we got confirmation today that in total nearly half the 1000 units being produced has been pre-ordered. A reminder that pre-order for this are exclusive to our web shop and Zavvi.
A reminder that the early bird price of £124.99 expires on 5th July.
If you're not familiar with our upcoming release of this visit Fullmetal.alltheanime.com for all the details.
~ We know it's been quite a while since our last Podcast so we wanted to give a small update on this. There's going to be a new episode within the next week or two that will feature audio from our two panels at MCM London Comic Con. It will likely be select parts from the Friday panel, including talking about Fullmetal Alchemist Ultimate Edition, and then the majority if not all of the audio from our panel on Sunday.
After that I'm hoping we might be able to make the podcast a more frequent occurrence during the summer. I (Jeremy) am currently toying with a few ideas internally to make this a possibility, because while we love recording the podcast unfortunately being able to actually find time to gather all the team together and record an episode is very difficult. Hopefully will have some news in the next few weeks about this.
~ And to conclude this weeks Newswire we want to bring you some new details on on our upcoming Mobile Suit Zeta Gundam Part 1 Blu-ray release. As we've previously discussed we're going to be bringing you Part 1 in August, and it will be a Blu-ray only release. As was the case with our first print run of our Mobile Suit Gundam Part 1 release, we are delighted to confirm that the first 1000 units of our Mobile Suit Zeta Gundam Part 1 release will come with a Limited Edition Box. (see left)
To highlight this right now, the limited edition box is NOT EXCLUSIVE TO ANY ONE RETAILER. No matter where you pre-order this you will receive the box with you order. We can promise this as it will be the only version available on day of release.
Our release of Mobile Suit Zeta Gundam Part 1 will come with episodes 1-25 of the series and include both the original Japanese language audio (with English subtitles) and the English language dub. To touch on this now, no our release will not include the original opening theme to the series. This is the case with releases of the series in English territories as well.
=-=-=-=-=-=-=-=-=-=
AllTheAnime.com EARLY-BIRD PRE-ORDER SPECIAL OFFER
Until 12pm on Wednesday 22nd June you can pre-order our release of Mobile Suit Zeta Gundam Part 1 with the Limited Edition Box for only £34.99.
Get more details at our web shop HERE.
=-=-=-=-=-=-=-=-=-=
UPCOMING EVENTS
As mentioned earlier in this Newswire Jeremy will be at Sunny Con this coming Saturday with a panel. In addition to we can confirm there might be a panel next weekend at MCM Northern Ireland Comic Con in Belfast, we're just waiting for final confirmation on that, and we will also be at MCM Ireland Comic Con in Dublin the weekend after.
Sunny Con @ St. James Park, Newcastle – Saturday 18th June
— Panel @ 15:45
[TBC]
MCM Northern Ireland Comic Con
@ Eikon Exhibition Centre, Belfast – Saturday 25th June
—  Panel (TBC)
MCM Ireland Comic Con @ RDS, Ballsbridge, Dublin – Saturday 2nd July
— Panel (TBC)
MCM Manchester Comic Con @ Manchester Central, 30-31st July
Amecon @ Warwick Arts Centre, 29-31st July
Signing out~!
Jeremy
2 comments
Matthew

June 17, 2016 12:45 pm

You probably won't answer this, but why do you keep delaying Assassination Classroom Part 1 on DVD? You've delayed twice now for a total of two months. I can't imagine the Japanese studio is to blame, they're already on the closing stages of Season 2.

jeremy

June 22, 2016 1:09 pm

Hi Matthew, we're very sorry for the in response and for the delay in our release. The reason the date has been pushed back a few times is due to a delay in approvals. To give more context, our Limited Edition Blu-ray release is the same as how Funimation released theirs in the USA, however they have not released a standard edition DVD like we will be. Because of this it meant we had to create our own standard edition DVD version. As is case with all releases, we need to gain approval on the design, contents, etc before we can release it. Because there has been an unexpected delay in this is has meant us needing to be push it back a few times now. As things stand, we're still waiting on approval, but we're trying our hardest to get this sorted as quickly as possible. We appreciate how fruatrating this must be but once we have more details we'll be sure to share them. I hope this helps and once again we're very sorry for the delay to this. ^JG