"The Works of Mamoru Hosoda" comes to London this October
September 17, 2018 · 2 comments
This post was updated on 11th October 2018 to add the following information:
What to expect at the exhibition
Details of the Special 'Works of Mamoru Hosoda' Gift Shop
---
A couple of weeks ago, we revealed the exciting news that Mamoru Hosoda's forthcoming film Mirai would be receiving its UK premiere at the London Film Festival, where it would head up the prestigious Family Gala for the festival with screenings on Saturday 13th (which has now sold out) and Sunday 14th of October – you can read more details regarding that on this page of our blog.
As part of that announcement, we also promised more exciting news relating to Mamoru Hosoda, and so today we're thrilled to announce something very special indeed – the first of its kind in the UK, no less!
From Saturday 13th October through to Saturday 20th October 2018, we'll be bringing an exhibition of The Works of Mamoru Hosoda to London, showcasing this incredibly talented auteur's work across all of his well-known films – The Girl Who Leapt Through Time, Summer Wars, Wolf Children, The Boy and the Beast and, of course, Mirai. From artwork and storyboards through to fun interactive elements, there's something for everyone at the exhibition whether you're an anime fan interested in the production process or a family looking to explore the imaginative, enchanting worlds crafted by this renowned director.
Entry to the event, located just a very short walk from Oxford Circus tube station, is absolutely free, and the exhibition will of course include a gift shop offering up exclusive merchandise covering all of the director's major films – whether it's something for yourself or a loved one, we'll have you covered.
For all of the specific details, read on below:
---
"THE WORKS OF MAMORU HOSODA" EXHIBITION
Anime Limited and Noho Studios are partnering to bring an immersive and interactive visual event experience of the beautiful hit films of iconic Japanese anime director Mamoru Hosoda to the West End of London.
The first such exhibition dedicated to an anime director to ever come to the UK, for one week only, from Saturday 13th October until Saturday 20th October, walk through the creative wonders that made the beloved worlds and characters of Mamoru Hosoda's films from "The Girl Who Leapt Through Time", up until the present day with "Mirai", which made history as the first Japanese anime film to have its world premiere at the Cannes Film Festival.
The exhibition will also feature a shop, where visitors can purchase merchandise that is to be made available for the first time in the UK. Entry to the event is free.
When? The exhibition runs from Saturday 13th October 2018 to Saturday 20th October 2018. Daily opening hours for the event are 10AM until 6PM.
Where? You'll be able to find the exhibition at the following address: Noho Studios, 46 Great Titchfield Street, London, W1W 7PZ. The venue is located just two minutes walk from Oxford Circus London Underground station.
"Mamoru Hosoda has had a huge impact in the UK ever since The Girl Who Leapt Through Time – we're very honoured to be hosting the first exhibition of this kind to showcase his work to date.  There's no better time to explore the works of this incredibly talented director, when Mirai has been welcomed as the Gala film for Family at the BFI London Film Festival." said Andrew Partridge, President of Anime Limited.
---
WHAT TO EXPECT AT THE EXHIBITION!
We don't want to give everything away on what you can expect, but at the same time we want to give a teaser of what you can look forward to. At the exhibition itself you are going to have the opportunity to see a variety of exhibits and experiences relating to Mamoru Hosoda's works that have never been on display outside of Japan before and there's something for people of all ages to enjoy! So here's a little preview of a few things that will be inside the exhibition:
If you're a fan of The Girl Who Leapt Through Time, you'll have the chance to have a photo with a life size statue of Chiaki from the film. Hot off the heel of the UK Premiere of the film at the London Film Festival, you'll be able to see storyboards from his latest film, Mirai, in the form of a chandelier. Nope, not even joking when I write that. You'll have to come along and see for yourself.
Did you love the virtual avatar filled world of Oz in Summer Wars? You can become part of that world through special augmented reality technology and you'll even be able to have something to share with friends and family members to show off after the fact! If you enjoyed the antics of young Ame and Yuki in Wolf Children you'll even be able to become part of the film itself with a special photo opportunity where you become part of a scene from the film.
But that's not all as we'll even have a special gift shop too!
SPECIAL 'WORKS OF MAMORU HOSODA' GIFT SHOP
We're delighted to say that we're going to have a selection of official merchandise directly from Japan based on a variety of works by Mamoru Hosoda available in a gift shop that you will find within the exhibition. You'll be able to get your hands on framed posters, mugs and glasses, stamps, notebooks, towels, stickers, pouches, pass holders, folder files, phone charms, even a set of Mamoru Hosoda Animation Works Playing Cards!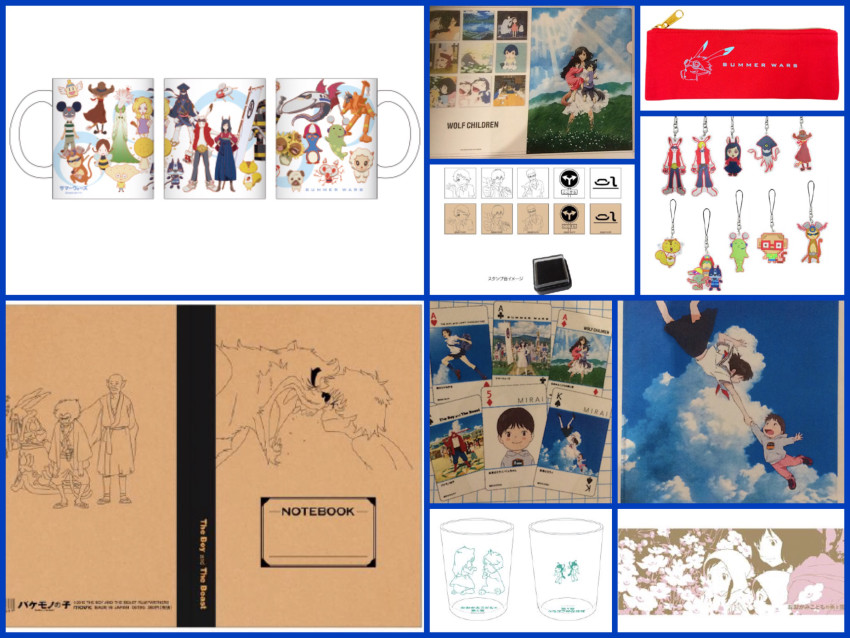 The pictures you see here is of just some of the items we will have available; there's a variety of designs based on different films for various types of items. You'll need to come to the exhibition itself to see what else is available! And all items in the gift are only available while stock lasts. So once an item is gone, they are gone!
The gift shop will be open during opening hours of the exhibition itself – from Saturday 13th October 2018 to Saturday 20th October 2018. Daily opening hours for the event are 10AM until 6PM.
---
We hope you're as enthused as we are to see Mamoru Hosoda's work made available to explore in this new and exciting way, and we look forward to seeing you in London next month to wander through The Works of Mamoru Hosoda with your friends and family. It's an incredible opportunity never before seen in the UK, so make sure you don't miss it!
Finally, don't forget that you can still book tickets to Mamoru Hosoda's latest film, Mirai, at the BFI London Film Festival on October 14th, or you can find it screening across the UK from Friday, 2nd November with tickets available on the official web site. The film also receives its Scottish premiere at Scotland Loves Anime 2018.
Until next time, take care!
~Andy H
---
©2006 TOKIKAKE Film Partners
©2009 SUMMERWARS FILM PARTNERS
©2012 "WOLF CHILDREN" FILM PARTNERS
©2015 THE BOY AND THE BEAST FILM PARTNERS
2 comments
Paul Jacques

September 30, 2018 7:14 pm

Where can I send my money?

ThatsNotMyName

October 16, 2018 6:43 pm

Just a big thank you for bringing this exhibit to the UK. I thoroughly enjoyed getting a chance to be immersed in Hosoda Mamoru's work. It was informative, interactive and utterly charming as well as being a nice way to meet fellow fans. Also a shout out to the staff on site who were all very friendly, up for a chat and always on hand for those all important photos! Now I've just got to wait for the movie