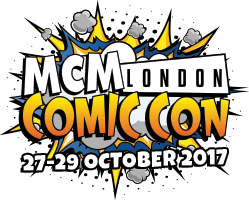 For those of you who've been following us over recent weeks, you'll already have seen us posting lots of exciting news and information about our plans at this weekend's MCM London Comic Con. With early stock of new releases, Your Name and Anime Limited merchandise, Anime Guests of Honour, screenings and panels, as well as plenty to take in at the All The Anime stand, you'd be forgiven for losing track of where you'll want to be and when over the course of the weekend.
If your Comic Con schedule is currently in disarray however, then fear not! For this post is designed to tell you exactly where you should be and when during the event to ensure you don't miss a second of the exciting panels, signings and screenings we have lined up for you. We'll also use this post to keep you appraised of announcements made both during and in the run-up to the event to ensure that you don't miss a thing.
So, without further ado, let's start by breaking down all of the events you'll want to carve out some time for to ensure you have the best possible Comic Con experience courtesy of Anime Limited!
Friday, 27th October
6PM – 6:30PM – Silver Theatre (North Hall) – All The Anime Panel – If you're at Comic Con on Friday evening, join Jeremy Graves and Andy Hanley to talk all things All The Anime. Before you ask, yes, we will have some exciting (and quite possibly unexpected) announcements to share with you too!
SATURDAY, 28TH OCTOBER
11:00AM – 12:00AM – Bandai Namco Entertainment Booth (Stand #621, South Hall) – Little Witch Academia signing session – If you're a fan of Studio Trigger and Little Witch Academia, don't miss this opportunity to meet some of the talent behind both the hit anime on Netflix and the forthcoming video game, Little Witch Academia: Chamber of Time. Our friends at Bandai Namco Entertainment will be holding this signing session with Yoh Yoshinari, director of the series, along with two producers of the series Naoko Tsutsumi and Katsuhiro Takei and producer of the upcoming video game Yosuke Futami – you'll even be able to get a free signed Little Witch Academia: Chamber of Time poster into the bargain!
1:30PM – 2:00PM – Platinum Upper Theatre – Violet Evergarden Episode 1 UK Premiere screening – Be amongst the first people in the UK to see the opening episode of Kyoto Animation's opulent new anime series Violet Evergarden, as we bring you the UK premiere of the series months before it airs on Japanese television, and well in advance of its worldwide airing on Netflix and our future home video release of the series. For more details, take a look at this blog post.
2:00PM – 3:00PM – Platinum Upper Theatre – Anime Guest of Honour Panel – The talent behind Little Witch Academia appear on-stage to talk about their work, offering some exclusive glimpses at the Little Witch Academia: Chamber of Time video game and behind the scenes chatter about the popular anime series.
3:15PM – 4:45PM – Signing area (South Hall) – Little Witch Academia signing session – Another chance to meet the talent behind the Little Witch Academia series and game and walk away with some fantastic autographs and a free Little Witch Academia poster.
SUNDAY, 29TH OCTOBER
10:00AM – 11:00AM – Bandai Namco Entertainment Booth (Stand #621, South Hall) – Little Witch Academia signing session – Another day means another opportunity to meet four guests responsible for Little Witch Academia and its forthcoming video, Chamber of Time, with more posters from the game also available to give away and sign!
1:00PM – 2:00PM – Signing area (South Hall) – Little Witch Academia signing session – Your final chance to meet our four guests, get their signatures and pick up a free Little Witch Academia poster.
4:00PM – 4:30PM – Silver Theatre (North Hall) – AllTheAnime Panel – Jeremy Graves and Andy Hanley return to the Silver Theatre stage for another panel, talking about their MCM London Comic Con weekend and maybe – if you ask really nicely – dropping another announcement or two into the mix as well!
Alongside all of these scheduled events, we surely don't need to remind you to visit the All The Anime stand, which you can find at stand number 2521. Buy some of our hottest releases before they arrive in retail, pick up some merchandise, and celebrate 5 Years of Anime Limited with our photo booth and exhibition space.
For more details on the reasons why you should make All The Anime the focus of your Comic Con weekend, have a read of our previous blog post giving you six great reasons to come and see us. We've also been treating you to an influx of other announcements, so here's a quick break-down of what's what:
– Official Your Name merchandise at MCM London Comic Con – As well as offering the first chance to own Makoto Shinkai's hit film on DVD and Blu-ray, we're also bringing a selection of official merchandise for the film to the event – the only place you'll be able to find official goods at the show! Check out our blog post for all of the details of what we have on offer for you.
– UK premiere of Violet Evergarden – We've already mentioned this in the schedule above, but there's no harm reiterating that we're incredibly proud to be bringing this new Kyoto Animation series to the UK, premiering its first episode at Comic Con well before it airs in Japan and with a home video release planned in the future.
– AJIN: Demi-Human coming to DVD and Blu-ray – We have limited quantities of the DVD edition of this title available at the All the Anime stand this London Comic Con, but you can read more about both this and our Collector's Edition Blu-ray plans here.
– Hyouka Part 1 Unboxing – We already have limited stock of this title available during Comic Con weekend and the All The Anime stand, so you can be amongst the first to own this release before it reaches retailers in December. Check out what you're getting out of this beautiful Collector's Edition in this post.
– Attack on Titan: The Last Stand board game – If you're a big fan of board games or Attack on Titan (or both!), then this weekend will be your first chance to officially purchase this fantastic game based around the popular franchise. Check it out and pick up a copy from the All The Anime stand!
– Tokyo Ghoul Live-action coming to select cinemas in 2018 – Our first major new title announcement of MCM London Comic Con week was to reveal that we'll be bringing the live-action Tokyo Ghoul to the big screen next year.
If you need some additional help finding your way around the show floor, check out the image below or visit the PDF pull-out guide on the official MCM Comic Con web site.
Hopefully you've now added all of that information to your calendar for the weekend and set reminders accordingly, so we'll be sure to see you there this weekend. We can't wait for London Comic Con, and we're sure you can't either, so be sure to come and say hello and check out the plethora of great experiences and products we have ready and waiting for you!!
Looking forward to seeing you all, but take care for now!
– Andy Hanley