'Works of Mamoru Hosoda' Exhibition Opens Today!
October 13, 2018 · 0 comments
The wait is over! Today is the day that 'The Works of Mamoru Hosoda' exhibition opens in central London for a limited time – just one week! Doors open in just under an hour (at time of writing) so now is the perfect time to give you a quick refresher on the details you need to know if you planning to visit it!
Read on below for the details
---
THE WORKS OR MAMORU HOSODA EXHIBITION
When?
The exhibition runs from today (Saturday 13th October 2018) to Saturday 20th October 2018.
Daily opening hours for the event are 10AM until 6PM.
Where?
You'll be able to find the exhibition at the following address: Noho Studios, 46 Great Titchfield Street, London, W1W 7PZ. The venue is located just few minutes walk from Oxford Circus London Underground station.

Cost?
Nothing! It's 100% free to enter!
---
In case you missed it, you can read our original announcement about the exhibition HERE.
---
WHAT TO EXPECT AT THE EXHIBITION!
We don't want to give everything away on what you can expect, but at the same time we want to give a teaser of what you can look forward to.
At the exhibition itself you are going to have the opportunity to see a variety of exhibits and experiences relating to Mamoru Hosoda's works that have never been on display outside of Japan before and there's something for people of all ages to enjoy! So here's a little preview of a few things that will be inside the exhibition:
If you're a fan of The Girl Who Leapt Through Time, you'll have the chance to have a photo with a life size statue of Chiaki from the film. Hot off the heels of the UK Premiere of the film at the London Film Festival, you'll be able to see storyboards from his latest film, Mirai, in the form of a chandelier. Nope, not even joking when I write that. You'll have to come along and see for yourself.
Did you love the virtual avatar filled world of Oz in Summer Wars? You can become part of that world through special augmented reality technology and you'll even be able to have something to share with friends and family members to show off after the fact! If you enjoyed the antics of young Ame and Yuki in Wolf Children you'll even be able to become part of the film itself with a special photo opportunity where you become part of a scene from the film.
But that's not all as we'll even have a special gift shop too!
---
SPECIAL 'WORKS OF MAMORU HOSODA' GIFT SHOP
We're delighted to say that we're going to have a selection of official merchandise directly from Japan based on a variety of works by Mamoru Hosoda available in a gift shop that you will find within the exhibition. You'll be able to get your hands on framed posters, mugs and glasses, stamps, notebooks, towels, stickers, pouches, pass holders, folder files, phone charms, even a set of Mamoru Hosoda Animation Works Playing Cards!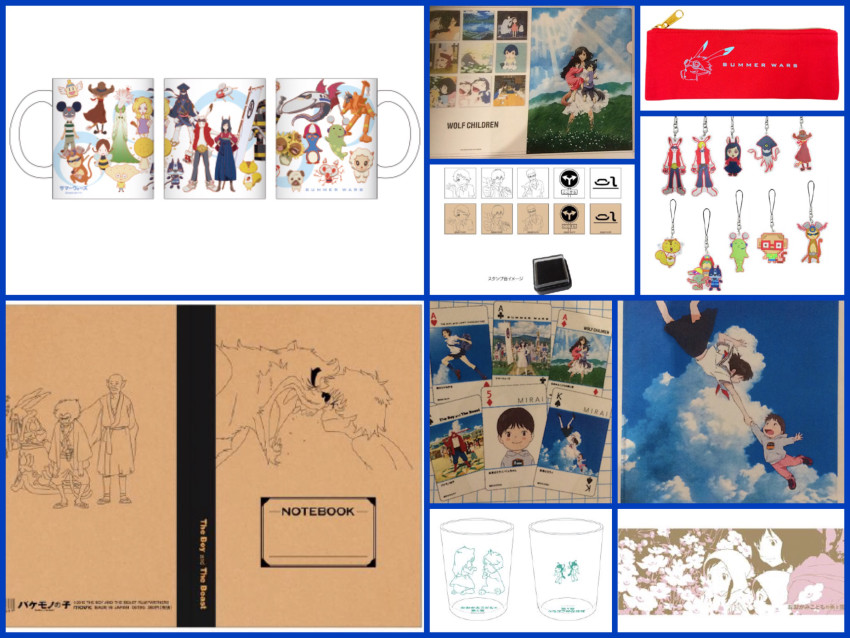 The pictures you see here is of just some of the items we will have available; there's a variety of designs based on different films for various types of items. You'll need to come to the exhibition itself to see what else is available! And all items in the gift are only available while stock lasts. So once an item is gone, they are gone!
The gift shop will be open during opening hours of the exhibition itself – from Saturday 13th October 2018 to Saturday 20th October 2018. Daily opening hours for the event are 10AM until 6PM.
---
---
And there you have it! Don't miss out on the chance to experience this exhibition! Be sure to keep an eye on our social media platforms (Facebook | Twitter | Instagram) for updates throughout the coming week.
And be sure to share your experience at the exhibition with us! We'd love to hear your thoughts.
Signing out~!
Jeremy
---
©2006 TOKIKAKE Film Partners
©2009 SUMMERWARS FILM PARTNERS
©2012 "WOLF CHILDREN" FILM PARTNERS
©2015 THE BOY AND THE BEAST FILM PARTNERS