Shinkai on Tour
October 14, 2016 · 0 comments
By Andrew Osmond.
After storming the Japanese box-office in recent weeks, Makoto Shinkai's film Your Name set another milestone by becoming the first anime to play in competition at the London Film Festival. Its national cinema release in the UK and Ireland will be on 24th November (if you want to see the film, there's an official website for venues and tickets). Shinkai was present to launch the film in Blighty, arriving hotfoot from the Busan Film Festival in South Korea (doubtless dodging zombies). I joined a round table press interview with the director at Leicester Square, then saw him quizzed by an audience at the 'Embankment Gardens' cinema, erected for the festival, where Your Name had its UK premiere. "I wondered, did you enjoy the film?" asked Shinkai shyly as the credits rolled. The audience responded resoundingly.
Your Name is the story of two teens, country girl Mitsuha and Tokyo boy Taki, who start magically swapping bodies and lives, much to their consternation. The body-swap hijinks give way to a more epic story, but it always swirls round the central couple. In my write-up of the Your Name, I commented that parts of the film feel shockingly Hollywood, even while Shinkai's auteur presence remains evident. Combining broad comedy, breakneck action and five-hanky weepy moments, Your Name feels engineered for the mass market. I asked Shinkai whether it was less "personal" film for him than his previous work.
"This film is what I really wanted to make," rebuts the director with his characteristic gentleness. "But I collaborated with various talented people." He picks out the character designer Masayoshi Tanaka, whose credits include Anthem of the Heart, and Masashi Ando, the former Ghibli animator who we've highlighted for his work on A Letter to Momo and When Marnie Was There. "That was a really amazing combination, they gave so much depth to my work. And also the music by RADWIMPS, who gave loads of colours to the film, and made it more 'catchy.' It was my first time to do that scale of collaboration, and I owe that to them. But having said that, this film is 100% mine and very personal."
Your Name has the biggest budget of Shinkai's films to date, and the biggest staff. Asked if there were commercial pressures, Shinkai says, "I get asked that by various people, and not just by media. I work with Toho, and people wonder if my freedom was restricted and actually, no. They didn't tell me what to do at all. Sometimes I didn't know what to do, whether to do this or that, and then the Toho people would say, 'I think this would work better.' I think that's pretty much all. They never told me what to do, to change this or that. There was no compromise, and I was able to do more through working with Toho than I could do before. Genki Kawamura (a producer on Your Name) said, 'We have to leave the director free, he's controlling the movie, not us.' He gave me advice, but never told me what to do."
Nonetheless, Shinkai credits Kawamura – who also produced Mamoru Hosoda's The Boy and the Beast – with improving his story. "He gave me really good suggestions and a fresh perspective about the structure of the film." Shinkai cites the opening part of Your Name, which is set in the small mountain town that's home to the girl Mitsuha. "Kawamura said, 'You've got to keep (the sequence) within fifteen minutes; any longer will be boring.' I agreed that was a good idea." Later, there are two pivotal scenes in the film, both involving strange meetings. It was Kawamura who suggested that Shinkai should run one scene straight after the other.
Shinkai adds, "We had a series of script meetings once a month for six months, with Kawamura and a team in Toho. I did the script myself, but every month I met up with them and we talked about it, and they would say, 'This is boring' or 'That's too complicated.' So I would update everything and meet up again four weeks later." After completing the script, Shinkai wrote the novelisation of the film, which was published before the film's release and became a bestseller. "I rewrote the script (in the novelisation) from a first person perspective. It gave me more depth for each character, so it really helped me direct the voice-actors, because I knew more about the characters."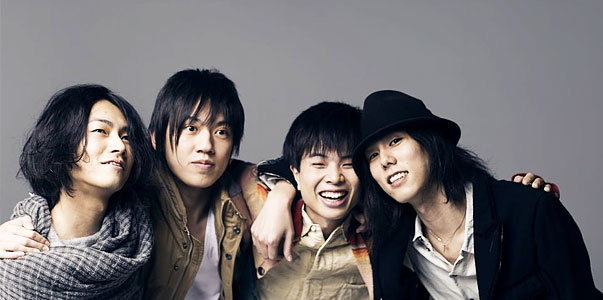 More story lubricant was provided by the music of the rock band RADWIMPS, whose epic contribution to Your Name recalls Queen's work on the 1980s fantasies Highlander and Flash Gordon. "It was 18 months of collaboration; four vocal tracks and 22 music tracks," says Shinkai. "RADWIMPS had never done any film soundtracks. I gave them the first script draft and told them to write anything. They came back with several songs; I played them and changed my script accordingly, here and there. I carried on writing the script, went back to them and said, I've got this scene, can you change this and that? – and we did that for about 18 months. It was really hard. But it was worth it… When we started working, RADWIMPS said to me, 'Please don't leave us, we won't let you down and we want to carry on.' I thought, 'Yes, I want to work with them,' and that was the 18 months."
Shinkai presents himself as a proud populist, playing the audience with his film. "What I was thinking is, how can I control the film's running time? I wanted to take all of you on a rollercoaster ride, so how can I control the emotions? I was making a special effort at that. I actually made a feature-length storyboard video (an animatic), with the voices of me and my wife, and music and sound effects, and 'mapped' the film before I even started making it." In effect, Shinkai still makes his films solo, 14 years after Voices of a Distant Star.
"It's been 14 years since I started making animated films," the director reflects. "What I always had in my mind is that I wanted more people to see my movies, more people than the last one. And also I wanted people to think that they had a really good time. So in a way, Your Name is a dream come true. But the scale of it is so massive that I'm totally overwhelmed and not really comfortable about it." As of writing, Your Name has topped Japan's box-office for seven weeks, and is the sixth highest-grossing Japanese film ever.
That may be linked to Your Name being by far the most comedic of Shinkai's films, especially in its scenes of body-swap hijinks. "When I started making this film, I wanted the audience to leave with a smiling face," Shinkai says. "And also I wanted to put some comedy elements into my script; that's probably the first time that I did it. I wanted to put in every emotion, happiness, sadness, melancholy… Two years ago, when I started the movie, I was confident that I could do it. Probably I wouldn't have been before, but I knew I could do different emotions with this one."
Shinkai sees Your Name's body-swapping as a device, a front, for the film's real themes. "The characters could have 'met' through social networks," he says. "It didn't have to be a body-swap. The main theme here is these two people (who) haven't met." Body-swapping, though, allows for more risqué humour than normal in a Shinkai film. During the public Q&A, Shinkai shows a mischievous side: "It's quite funny to have Mitsuha waking up in the morning and feeling her tits!" Endeavouring to lower the tone, I asked Shinkai to say more about the film's sexual depths. As well as the boob gags, there's also a strange strand involving female saliva…
"Well, basically I wanted to make a fun movie, so maybe that's why!" Shinkai responded, before pointing out the 'fun' has a serious context. Like many of today's Japanese films, including the live-action Shin Godzilla by Hideaki Anno, Your Name makes clear reference to the Tohoku earthquake and tsunami of 2011. "That event changed every single person in Japan, including myself," says Shinkai. "I really wished that some miracle would happen (to undo the disaster), but obviously that's impossible… but at least I can make a movie."
Your Name also contains treasures for aesthetes. Midway through the film, there's a striking animated sequence while Taki is in a cave; it's a bit of cosmology that conflates outer and inner space, with more than a tinge of 2001.  "That scene was directed by Yoshitoshi Shinomiya who's an artist, a classical Japanese painter," Shinkai explains. Shinomiya also illustrated posters for Shinkai'sThe Garden of Words, and directed a public service commercial in a Shinkai-esque vein.
"Shinomiya has a different perspective on colours and I wanted that scene in Your Name to be different from any other," Shinkai continues. "So I just left it to him; I did the storyboards but the actual direction and art direction was by him. The sequence is only two minutes long; originally I wanted to make it kind of vague, fantastic, because the film is kind of tense and I wanted the audience to feel a bit relaxed. But Shinomiya gave it more tension, he made it tighter, more powerful. I didn't expect that but I think the result is really good."
Another standout piece of animation is the shrine dance of Mitsuha and her sister early in the film. "I had Ichitaro Nakamura, a kabuki actor, demonstrate that dance to create that scene. I shot the dance (in live-action) and it was close to rotoscoping, we traced everything." Shinkai says the scene is based on a real country ritual that he was familiar with from childhood (he grew up in the mountainous Nagano prefecture). "I'm not an expert on all the cultural elements you see in the film, but they're things that I'm very familiar with. This is the Japan I know; to be honest, I didn't expect this film to go round the world. I think there are things (in the film) that a Japanese audience will know without asking."
Shinkai says he made Your Name for a young audience, but not a "family" audience. "I've got a completely blank sheet in front of me about my future. Your Name was a huge and unexpected hit in Japan; I'm supposed to be working on the next movie, but I'm still working on Your Name because of that. One thing I can say is that I'm not going to make a family movie like Hayao Miyazaki. My themes are about teenagers, the pain of growing up, emotions, so I think the next movie will deal with that." He may be anime's king of the world, but Shinkai is still Shinkai.
Your Name is playing at Scotland Loves Anime next week, and goes on national release on 24th November.