Age of Shadows
March 22, 2017 · 0 comments
by Jeremy Clarke.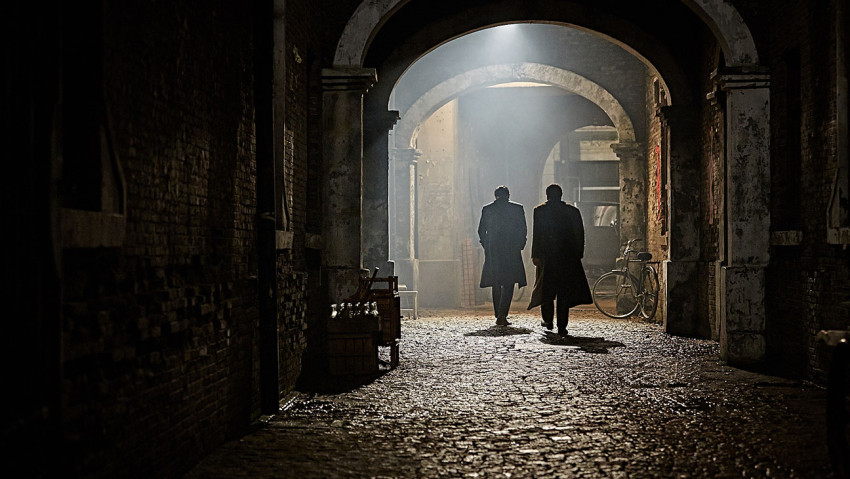 The Age of Shadows opens with an unexpected Warner Bros. logo, confirming it as the Hollywood studio's first Korean-language production. It was made in conjunction with director Kim Jee-woon's own Grimm Pictures. His previous works include celebrated horror outing A Tale of Two Sisters (2003) and gangster movie A Bittersweet Life (2005), both preceding his own Hollywood debut helming Arnold Schwarzenegger's The Last Stand (2013). Rumours in the movie business long claimed that his next project was to be Inrang, a Korean remake of the anime classic Jin-roh: The Wolf Brigade. But instead he has surfaced with a film that seemingly returns to his recurring interest in the forgotten cul-de-sacs of north-east Asian history, an obsession last seen in his The Good, The Bad and The Weird, a 'western' set in Japanese-occupied Manchuria.
The Age of Shadows is also set during the period of Japanese imperialism, the 1920s, when Korea was a Japanese colony. It pits colonial police investigators against fighters in the resistance. The police are Japanese-run with Korean operatives in the rank and file, although some of the native staff are already in cahoots with the rebels. So, despite its cops and robbers feel, this is equally a spy movie where a number of the characters could be double agents working for either side. Beyond that, the film seems less interested in exploring the specific history of the period than in setting up serial intrigues between the characters on both sides of its struggle.
That said, one clear historical reference peppers the proceedings. Kim Sang-ok was the real-life bomber of Seoul's Jongno Police Station in 1923, who escaped by shooting his way through a police cordon around his house, killing three of his pursuers. Subsequently surrounded by a thousand Japanese police officers at Mount Namsan, he shot himself rather than be captured. That bombing is stylishly and effectively staged with fictional characters towards the end of The Age of Shadows to the relentless accompaniment of Ravel's Bolero.
Kim's manhunt provides material for the film's bravura opening where the similarly-named resistance member Kim Jang-ok (Park Hee-soon) finds himself at the culmination of a cat-and-mouse game when the house he's in is surrounded. He escapes and runs through the narrow streets. Hunting him both along the ground and over the rooftops is a battalion of soldiers and the odd plain-clothes cop. Kim takes a bullet in the foot during one of these exchanges and takes shelter in a house. He pulls off his own toe and throws it on the floor. This visceral element sets the tone for later torture sequences which dwell on some similarly violent bodily detail. Police inspector in charge Lee Jung-chool (Song Kang-ho) goes in to negotiate with Kim only for Kim to shoot himself in front of the policeman.
On one level, Inspector Lee embodies the well-worn cliché of the hard-bitten cop who always gets his man. Familiar Korean film industry face Song Kang-ho from Snowpiercer, The Host and Memories of Murder is the perfect Korean star to play him. The film plays around with the tropes of cop movies from America and elsewhere, so we have the policeman, his boss, his colleagues and his criminal quarry. But since the historical setting dictates that Lee's boss and a number of his colleagues on the force will be Japanese rather than Korean, his work milieu embodies to some degree the tensions within occupied Korean society at this time. So his superior Higashi (Japan's Shingo Tsumuri from Dead or Alive) puts him under Japanese officer Hashimoto (Um Tae-goo). Japan was pretty ruthless in its exploitative treatment of the Korean nation after it annexed it in 1910, creating much ill-feeling on the part of Korean nationals towards the occupying Japanese.
Posing as a resistance sympathiser, Lee makes contact with known resistance operative and antique shop/photographic studio owner Kim Woon-jim (Gong Yoo) and the pair bond during an evening where they consume more than a barrel of alcohol between them. As the inspector hopes, this leads him to the leader of the resistance himself Jeong Chae-san (Lee Byung-hun). However Inspector Lee may not be quite what he seems: to the Japanese he's a loyal cop, to the Korean resistance a good operative. There's no denying he's playing one side against the other but it's initially unclear as to where his true loyalties lie.
Historically, Korean resistance fighters recruited foreign experts to manufacture explosives outside their borders in places such as Shanghai, as home-grown Korean materials weren't up to the task. So a hefty plot element in The Age of Shadows concerns a train journey from Shanghai to Seoul during which Lee, Hashimoto and assorted police subordinates attempt to identify a group of resistance fighters carrying explosives. While Hashimoto is trying to follow his superior's orders, Lee is at once communicating with Kim Woon-jim and attempting to hide him from Hashimoto. At one point Kim lowers his head to avoid being seen over the top of a seat, and improvises changing the dirty nappy of a woman stranger's baby in order to conceal his own identity as a lone traveller. It's enthralling stuff, and director Kim choreographs it all with considerable skill.
You can't fault these sequences or the film overall, for its production design and sense of place. It's a lavish affair throughout which makes you really feel you're seeing 1920s Korea, although some of the overly convoluted plot is tough to follow. Anyone who's seen The Good, The Bad and the Weird will know Kim Jee-woon's films can be impenetrable at times. However, if you ever get confused as to the finer points of who's who and exactly what's happening, the breakneck pace throughout ensures there's always enough going on to keep you on the edge of your seat.
The Age of Shadows is released theatrically in the UK and Ireland on 24th March 2017.