AllTheAnime.com Exclusive "AJIN: Demi-Human" Bundle
November 17, 2017 · 0 comments
Over the past month we've been telling you about our upcoming release of AJIN: Demi-Human season 1 on Blu-ray and DVD! (In case you missed, you can see the unboxing we published last week HERE).
Today we're very happy to announce that while stock lasts if you pre-order the Ltd Collector's Edition Blu-ray set of AJIN: Demi-Human season 1 from our web shop starting today (Friday 17th Nov.) you will also receive an AllTheAnime exclusive A3 sized poster in addition to the actual product! It's a bundle offer that is exclusive to our AllTheAnime.com web shop.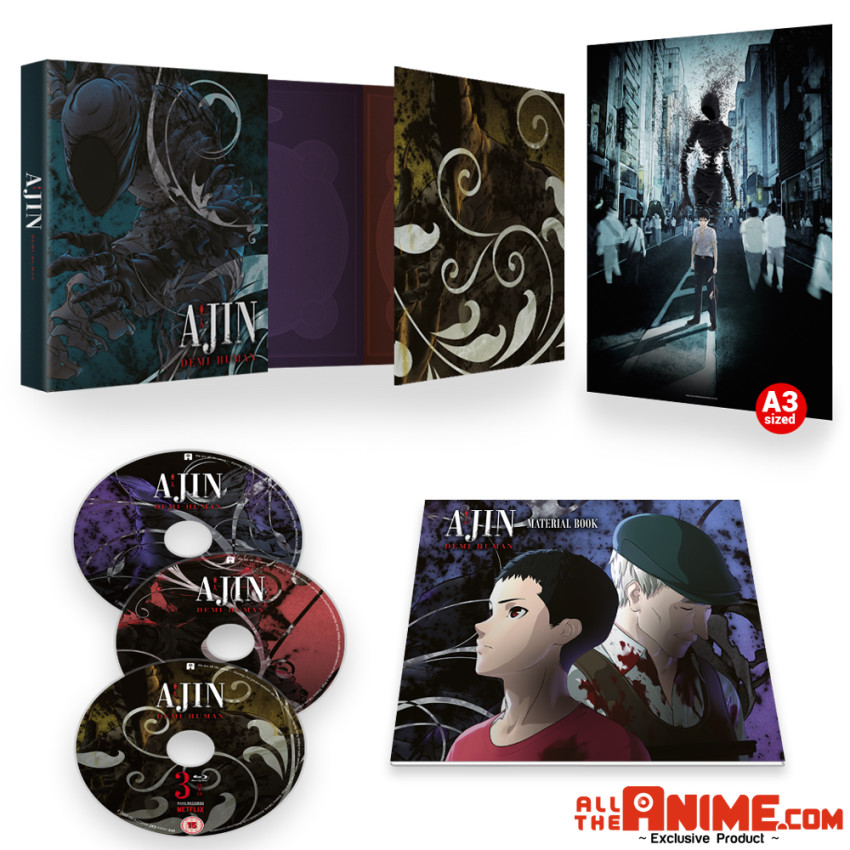 And we're happy to say that we're taking pre-orders for this exclusive bundle right now!
---
AllTheAnime.com Special Pre-order offer
Until Monday 27th November you can pre-order this AllTheAnime.com Exclusive bundle for £34.99
(Regular price: £41.99 | SRP: £59.99)
---
In terms of release, we've previously announced this would be arriving on 27th November however due a delay in receipt of materials – as it's the Christmas season, the entire entertainment industry on high alert getting products ready in time for the holidays – the release itself has been pushed back by a few weeks to 11th December.
But as is always the case, once our fulfilment house has received finished stock they will be getting those sent out as soon as possible.
A few additional notes for you about this bundle offer –
— How long is the bundle offer available for?
As is the case with other AllTheAnime.com exclusive products/bundles, this is available to order while stock of the poster lasts. Once the the listing appears as "Sold out" it means there are no more posters.
— How will this bundle be shipped?
The poster and the product will be shipped separately. It's entirely likely that one will arrive before the other. So don't be surprised if that happens 🙂
— How will the poster be sent?
It will be sent in a poster tube.
— Aside from the poster, what's different about this?
Nothing to be honest. The product itself is the same Ltd Collector's Edition Blu-ray set that can order from the likes of Amazon, Zavvi, Base and HMV, except ordering from us directly means you'll receive an A3 poster too!
— I ordered this from another website? Can I still get the poster?
The only way you can get poster is by ordering this through our AllTheAnime.com web shop.
— If I were to purchase this set from you at an event in the future, an MCM Comic Con for example, will I get the poster?
As things stand, you can only get the poster when it ordering from our AllTheAnime.com web shop specifically. We have no plans to have the poster the available at any event we exhibit at. Whether that might change in the future or not is not known.
---
There you go everyone! We hope you're looking forward to adding this to your collection.
Singing out~!
Jeremy