By Tom Smith.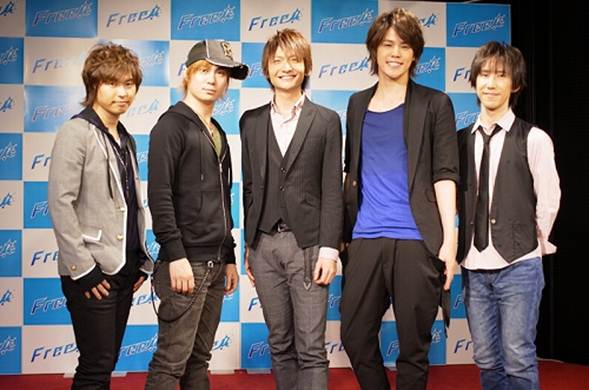 Anime music doesn't get much more "anime" than STYLE FIVE, a super group formed especially for the ending themes to a series all about breaststrokes, front crawls and doggy paddles; Free! Eternal Summer.
The series kicks off with a blaster of an opening song from OLDCODEX. That's the band fronted by Free! voice actor Tatsuhisa Suzuki, the man behind the series' green-eyed, scaredy-cat Makoto Tachibana. STYLE FIVE takes that concept even further and has all five of Free!'s main characters' voice actors team up to form a J-pop quintet, coupled by anime lyricist Soari Codama.
Codama began her career signed to major label Victor in 1999 and then worked as a lyricist a few years later in 2002. Since then, she's penned almost 400 songs used in anime and videos games (including 13 tracks from TIGER & BUNNY, seven from Negima?! and a whopping 39 from Free!), as well as a further 150 for voice actors turned singers.
SPLASH FREE, the first of STYLE FIVE's songs from Free! is also one of Codama's and proved hugely popular in Japan, where it reached number eight in the national weekly singles chart, and 15 in the monthly chart. Of course, Codama's catchy lyrics ("Pull! Pull! Pull! Deep! Deep! Deep!") weren't the only reason for its success, what with STYLE FIVE being the One Direction of the male seiyuu world.
Between the five of them, Nobunaga Shimazaki, Mamoru Miyano, Tsubasa Yonaga, Daisuke Hirakawa and Tatsuhisa Suzuki, they've racked up a heap of achievements and adorning fans. They've played lead roles in the likes of sci-fi thriller Parasyte, pop-culture phenomenon Death Note, parody series Mobile Suit Gundam-san, the Japanese dub of Lord of the Rings and Final Fantasy XV respectively, not to mention all the other massive series they've starred in, making them some of the most popular male voice actors currently in the business.
Naturally, with SPLASH FREE doing so well, the crafty marketing team swapped it out of episode 12 for a special one-off STYLE FIVE song entitled EVER BLUE. This one, however, wasn't purchasable as a single. If you wanted this, you'd have to buy the double disc soundtrack to Free!, or the remix EP, if you didn't mind settling for a remix.
For the second series of Free! FIVE STYLES' song FUTURE FISH became the ending theme, also written by Codama. This time round, the song's accompanying ending video was true fan service and saw each of the show's characters acting out their dream jobs, including a certain black-haired merman… (Someone really should tell Haruka that that's not a real job).
Free! Eternal Summer is released in the UK by Anime Limited.