It's Tuesday and that means it's time for your latest edition of the Newswire. Read on below for updates on 009 Re:Cyborg, Tokyo Ghoul, Full Metal Panic, Sword Art Online II and more.
NEWS/GENERAL UPDATES
~ First of all the wait is over as our UK Limited Edition Blu-ray/DVD set of 009 Re:Cyborg is available now. Featuring the 3D and 2D versions of the film, lots of behind-the-scenes material and a booklet containing lots of background information on the world of film in general. You can order your copy from from Amazon UK HERE, Zavvi and through our own web shop HERE.
~ Speaking of 009 Re:Cyborg, you can now watch the final part of the Kenji Kamiyama Q&A from the European Premiere of the film and a new preview clip from the film the below.
~ Our next release is this coming Monday and with Sword Art Online II: Part 1 on both DVD and Limited Collector's Edition Blu-ray/DVD. Over the weekend we shared a full unboxing of the Collector's Edition version. You can check it out HERE.
~ We've also released a preview clip from the show focusing on the character, Sinon. You can watch it below.
~ If you're a fan of Full Metal Panic be sure to check out our preview of our upcoming Ultimate Edition Blu-ray release coming in December that will include all three seasons of the series. You can find the preview of this HERE.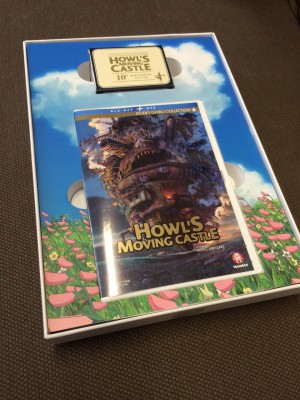 ~ Following on from our preview of Full Metal Panic Ultimate Edition (linked above) we wanted to make an additional note about the packaging, and specifically how the three cases will be held. To try and give you an idea of how it will be, we wanted to highlight this photo (left) looking at the part of the packaging in one of Madman Entertainment's premium Studui Ghibli releases in Australia.
The way they have formulated the packaging to hold the amaray case holding the discs is similar to how we will be doing it for Full Metal Panic, but obviously different sizing being involved. We hope this helps gives clearer indication of how the three Blu-ray amarays will be packed in our release, but obviously once we have the finished product we'll be sure to share images with you.
~ For those of you planning to get our upcoming DVD release of Tokyo Ghoul, we want to make note that it will now be released on 26th October. We apologise for the delay, but it was unavoidable in this instance. However our Limited Edition Blu-ray release of Tokyo Ghoul is still on track for 28th September.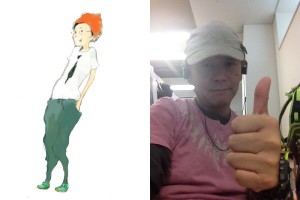 ~ A reminder that the next event we will be attending is MCM Scotland Comic Con in Glasgow the weekend after next on 26th-27th September. As announced last week, the special guests for the weekend are WIT Studio's Kotomi Deai and Hiroshi Shimizu. 
Kotomi Deai is an anime Director who recently helmed the series The Rolling Girls. Other credits include directing the second season of Silver Spoon and being Assistant Director on Shinichiro Watanabe's series, Kids On The Slope.
Hiroshi Shimizu is an Animation Director who has worked on the Studio Ghibli classic Porco Rosso, Princess Mononoke and Only Yesterday. Other credits include the original Fullmetal Alchemist series, Space Dandy and Mamoru Hosoda's The Girl Who Leapt Through Time.
We will have more details on our activity at MCM Scotland Comic Con next week.

~ For those of you who utilise the Animax streaming service here in the UK they have launched iOS and Android apps. Plus they've added a selection of our titles to their catalogue including both Tiger & Bunny films The Beginning and The Rising, Giovanni's Island and 009 Re:Cyborg. You can get more details about Animax at their website HERE.
~ In case you missed the news, Anime Limited is the official sponsor of the Scotland Loves Anime film festival in Glasgow and Edinburgh this year. The entire lineup has been announced and tickets for all the screenings are available now! Details on each of the films can be found at LovesAnimation.com
Tickets for Glasgow screenings can be found HERE
Tickets for Edinburgh screenings can be found HERE
~ In case you missed it last week, we released a new episode of our Podcast. You can get all the details on it HERE. We're planning to have our next episode available next week. Stay tuned for more details.
SIMULCAST UPDATE
Looking at our simulcast lineup for this season as a whole it stands at:
The Heroic Legend Of Arslan (continuing from last season)
Aoharu x Machinegun (aka Aoharu x Kikanjuu)
Castle Town Dandelion
GANGSTA.
Chaos Dragon
Blood Blockade Battlefront
Episode 23 of The Heroic Legend of Arslan can be watched HERE.
Episode 11 of Aoharu x Machinegun is now live at Viewster. Watch it HERE.
At time of writing Episode 11 of Castle Town Dandelion can be watched HERE.
Following last weeks recap episode, episode 10 of GANGSTA. can be watched HERE.
Episode 11 of Chaos Dragon are available now on Viewster HERE.
The first 11 episodes of Blood Blockade Battlefront are available to watch at Viewster HERE. The air date for the final episode has not been set yet.
REPLACEMENT UPDATE
Durarara!! Limited Edition
The latest round of confirmation messages were sent earlier today. We're currently waiting on a new delivery of replacement discs, so once we have that the next wave will be sent. If you've yet to apply for discs please follow the steps of filling out the survey AND emailing us your proof of purchase. (Simply doing one of the two steps is not enough.)
If you have questions or concerns about your replacement request please feel free to email Jeremy on Jeremy@AllTheAnime.com. If you have yet to apply for replacement discs please follow all the guidelines HERE.
UPCOMING EVENTS
Here's the list of upcoming events we'll be attending. More specific information will be posted closer to the events themselves.
MCM Scotland Comic Con, 26th-27th September
– Anime Guest Of Honor Panel (day/time TBC)
– Anime Limited Panel (day/time TBC)
– Scotland Loves Anime Panel (day/time TBC)
Scotland Loves Anime – Glasgow, 9th-11th October
Scotland Loves Anime – Edinburgh, 12th-18th October
MCM London Comic Con, 23rd-25th October
MCM Birmingham Comic Con, 21st-22nd November
RELEASE CALENDAR
Here is the most up-to-date version of our release schedule.

OUT NOW: Space Dandy Season 2 [Collector's Edition] (DVD, Blu-ray)
OUT NOW: Space Dandy Complete Season 1 & 2 Set (DVD only)

14th September: 009 Re:Cyborg (Collector's Edition Blu-ray/DVD combi)

21st September: Sword Art Online II: Part 1 (Collector's Edition Blu-ray/DVD combi, DVD)

28th September: Tokyo Ghoul Season 1 (Limited Edition Blu-ray)

OCTOBER – DECEMBER 2015
26th October: Ping Pong The Animation (Blu-ray, DVD)
26th October: Sword Art Online II: Part 2 (Collector's Edition Blu-ray+DVD combi, DVD)
26th October: Tokyo Ghoul Season 1 (DVD)

2nd November: Beck: Mongolian Chop Squad – The Complete Collection (DVD)
2nd November: Fate/kaleid liner Prisima Illya (Collector's Edition Blu-ray, DVD)*
16th November: Samurai Flamenco: Part 1 (Blu-ray **subtitle-only release**)
30th November: Fusé: Memoirs of a Huntress (Collector's Edition Blu-ray+DVD combi)
30th November: Mobile Suit Gundam: Part 1 of 2 [tentative title] (Blu-ray)*

[TBC November/December] Baccano! (Collector's Edition Blu-ray)*
[TBC December] Mobile Suit Gundam: Part 2 of 2 [tentative title] (Blu-ray)*
7th December: Full Metal Panic Ultimate Edition [Season 1 + Fumoffu + The Second Raid] (Blu-ray)
7th December: A Letter To Momo (Blu-ray, DVD)
14th December: Sword Art Online II: Part 3 (Collector's Edition Blu-ray+DVD combi, DVD)
14th December: Gankutsuou: The Count Of Monte Cristo (Blu-ray)
21st December: Gundam: Reconguista In G Part 1 (Blu-ray **subtitle-only release**)

*Tentative date

We should be able to confirm specific dates soon for those marked as tentative.

Signing out~!

Jeremy

Follow Anime Limited on Facebook | Twitter | Instagram | Tumblr | YouTube