Turning Red
March 14, 2022 · 2 comments
By Andrew Osmond.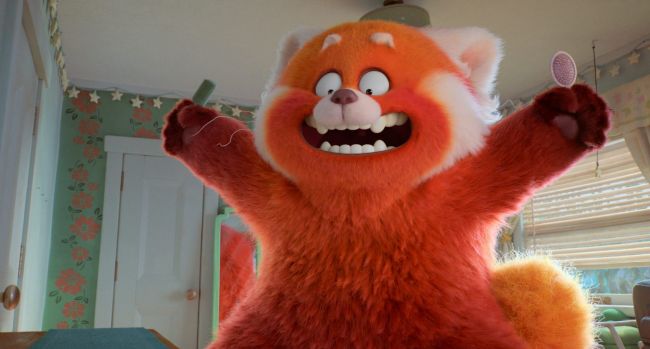 Over the years, I've cast an "anime eye" over new Pixar and Disney films, judging them against anime. Pixar's latest film Turning Red dropped on Disney+ last Friday, missing a cinema release because of the Omicron surge over winter. The decision was taken in early January; Turning Red's producer Lindsey Collins points out it couldn't have been deferred until later, because of the rumbling marketing machine.
In Turning Red, a 13 year-old Chinese-Canadian girl in Toronto is shocked when she starts transforming into a red panda when she's stressed or excited. It's a story of growing pains, and yes, it's specifically about those female growing pains suggested by the title Turning Red. It's also about culture clashes, mothers and daughters, and the perils of choosing to let it go. Here's the Japanese-language trailer:
Turning Red's relationship to anime has been played up, especially with Mamoru Hosoda creating a lovely bit of crossover art showing Turning Red's heroine Mei and Hosoda's Belle as besties. Turning Red director Domee Shi has also been listing her anime influences… and then there's the happy coincidence that Anime Limited has a red panda as its own mascot. Oh, and one of the film's suggested titles was My Neighbour Toronto.
So it's interesting that Turning Red feels so little like anime when you see it. There's an obvious reason for that. Many anime depict what you might call the teenage condition, in its awkwardness and absurdities. But few anime show it as loudly as Turning Red.
I'm thinking especially of the film's opening minutes, introducing us to 13-year-old Mei, charging through her school life. As an animated character, she seems close to Bart Simpson in attitude, though this Bart has merged with his sister Lisa. (It's plainly intentional; the Simpsons siblings get a cute namecheck very early.) Mei is rebel and swot; she aces tests and leads the school band, when she's not turning cartwheels, drooling over boy-bands, and living to the max.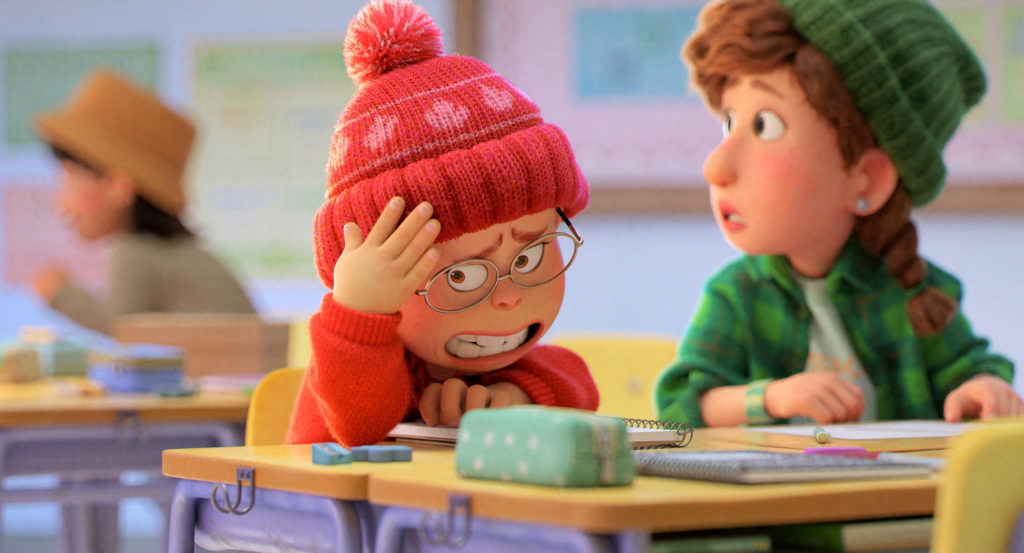 Her design feels Anglo-Asian; she looks more convincingly ethnic than most anime characters outside Akira, but her big teeth are pure Aardman. To add to the mix, there's a running gag where all the girls (and occasionally boys) are subject to sudden shiny "shojo manga" eyes, usually when they see kittens, red pandas or boy bands.
But Mei's behavior feels utterly different from anime teens, especially anime girls. Think of the protagonists in Sailor Moon, InuYasha and Fruits Basket, all cited as inspirations by Shi. Could you imagine any of Usagi, Kagome or Tohru showing themselves off like Mei, in the audience's face and proud of it? Not in a million years.
Shi also cites Mamoru Hosoda's Girl Who Leapt Through Time, which gets a very funny visual nod in the film. Hosoda himself said he wanted to make Maokoto, the heroine of Girl Who Leapt, relatable to 2000s audiences, and Makoto was indeed more mouthy and assertive than most anime girls. But is she introduced like Mei in Turning Red? Absolutely not. Makoto would die of embarrassment before showing off like that, as would any other girl in Hosoda's films.
It reminds us how deeply shyness is embedded in anime. Granted, it's partly a sexist thing. Anime boys have more leeway to behave loudly, especially in the pages of Shonen Jump. But even so, most anime boys don't unless they're on the battlefield. The real extroverts tend to be natives of wild worlds far removed from high-school – Naruto, Luffy, Asta (Black Clover), Inosuke (Demon Slayer). Or else they're in raucous sex comedies… and Turning Red is also a sex comedy, of a kind.
There's been much attention rightly paid to Turning Red's treatment of menstruation. One of the film's comic highlights is when Mei has her first transformation while sleeping. When Mei wakes up, her mum hears her child's terrified reaction and draws the obvious conclusion, leading to increasingly comic miscommunications.
The film's far franker about periods than the vast majority of mainstream media, barring some recent adult American animation, especially Netflix's Big Mouth. If you think Mei's experiences in Turning Red are mortifying, try Big Mouth's second episode with its REM-ish anthem, "Everybody Bleeds."
In manga and anime, there've been occasional acknowledgements of menstruation. You may have heard of the prizewinning manga Little Miss P which started as a webcomic in 2017. As you can probably guess, it anthropomorphised periods as cute little red creatures, because Japan. The manga was turned into a sweet live-action film, though it caused rows when store employees were invited to wear Little Miss P badges at the appropriate time.
Menstruation is also prominent in one vignette in Isao Takahata's Only Yesterday and crops up in a few other anime – for instance, at a crucial point in the new Takahata-ish film, Fortune Favours Lady Nikuko. It's commonly claimed the menstruation references were why Disney never distributed Only Yesterday in America, though honestly, that film didn't fit Disney's slate for other reasons. For the record, Disney animated an educational film, The Story of Menstruation, back in 1946. If only Mei and her friends could do a reaction video to it!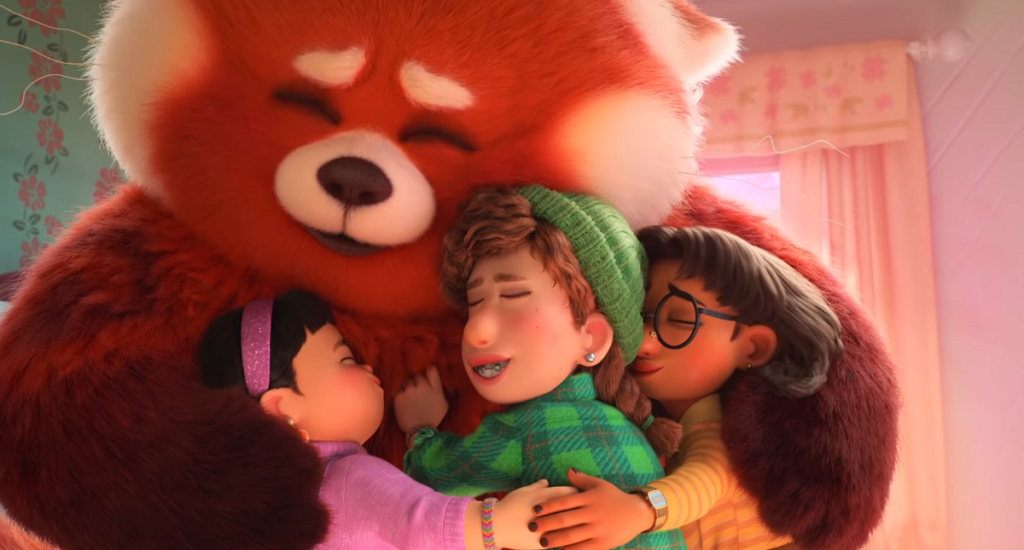 Nonetheless, both Western animation and anime are usually coy on the subject. As I commented years ago, Makoto Shinkai's blockbuster Your Name was about a girl and boy swapping bodies, but somehow never had the boy experience that part of a girl's life. It's indisputable that Turning Red is breaking boundaries, and setting a challenge to anime directors – not just to women but also men like Hosoda, who's talked big about showing girls honestly.
More broadly, Turning Red highlights Mei's budding sexuality. One sequence, when Mei finds herself obsessively drawing will draw howls from any fan artist. The director Shi has insisted in interviews that tween girls typically go through a boy "mermaid phase," which sounds somewhat analogous to straight girls' love for BL. Imagine the pictures Mei would have drawn if she'd grown up in Tokyo…
Actually, that might have shocked Mei's mum less. Voiced by Killing Eve's Sandra Oh, the mother is horrified to find a sketch of Mei in a hug with a (blameless) older boy in the neighbourhood. That leads to one of the film's excruciating best scenes – though I can't help noting that the BBC's school drama Grange Hill did a comparable storyline forty years ago, when parents find their daughter's diary about dating a teacher and don't realise it's fantasy.
Like menstruation, girls' burgeoning sexuality is usually taboo in media. Consider how girls usually transform in animation. For boys, the linking of puberty with transformation is a hoary trope, from Spider-Man to Akira, from Overfiend to Evangelion. Get in the robot, Shinji, and deal with your new big and frightening body.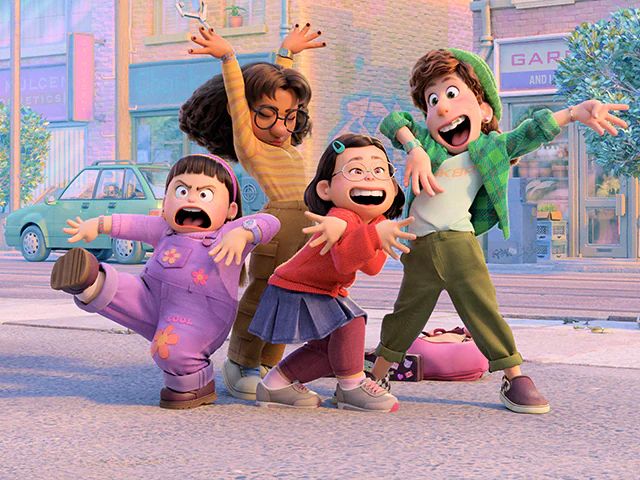 It's very different in girls' transformation stories. In animation, shape-changing girls are often children, as in the recent Irish fantasy Wolfwalkers and many magic girl anime. Hosoda's Wolf Children offers an especially interesting contrast to Turning Red. The film's girl character, Yuki, turns into a wolf from infancy, but she voluntarily suppresses that side when she grows older and makes friends. For her, womanhood means growing out of the wolf.
Of course, it's more complex than that. There's a huge literature analyzing the teen transformations of Sailor Moon, which inspired Shi, and the Tezuka-written Marvelous Melmo (1971) which turns a girl into an adult. But these series hide their allegories under cutesy layers which Turning Red tears aside. Thematically, Turning Red is closer to live-action werewolf films such as Company of Wolves and Ginger Snaps, whose pubescent girls embrace their beasts in ways Yuki wouldn't dare. Both films had feted woman writers, Angela Carter and Karen Walton.
And yet, the fundamental conflict in Turning Red isn't about puberty. Rather, it's about Mei's twin heritage as a Chinese-Canadian girl, striving to honour her parents, especially her mother, and to express her true self at the same time. I confess that I didn't take to Mei's revved-up introduction at the start of the film, but I got far more interested when we see her struggle with her double daily life, as dutiful daughter versus street-smart homie.
I also confess, though, that I had trouble with one of the film's most familiar story hinges. This is when – spoiler – the protagonist betrays some of the dearest people in her life at the end of act two, because of her emotional (and in Mei's case, cultural) conflict. Despite all of the ways it's seeded, the moment felt… wrong, forced to me, given all we've seen of the characters' bonds.
On pain of cancellation, I wonder if this moment was really meant for viewers nearer to Mei than I am; certainly not just for Asian-Canadians, but for any x-generation immigrant who's felt tugged between country and family. One of the most pilloried reviews of Turning Red, archived here, dared suggest viewers might not find the characters relatable. After seeing the film, I'm forced to wonder if the writer had a point.
Or maybe that's balderdash and it's the kind of viewer response that's irreducibly personal. A few weeks ago, I saw online reviews of Hosoda's Belle which called its heroine chronically unsympathetic, because of how she treats her dad while she's grieving her mum. That behaviour struck me as wholly understandable, but maybe that is just me.
For all Turning Red's story twists and touching character reveals, including some mother-daughter moments which made me tear up, the conclusion is shockingly blunt. In brief, West is best. Mei refuses to give up her personal wants and freedoms as a pop-loving, self-expressing, assimilated citizen of Toronto, even when her Asian family traditions demand that. In that way, Turning Red is the most political family CG cartoon since Disney's Trump-baiting beast fable Zootropolis. The film's forthright statement could only be made in 2022 by a director like Domee Shi, speaking as a Chinese-Canadian herself.
As of writing, Disney's withholding Turning Red from Russia for obvious reasons. But I'd also be surprised if the film opens in China any time soon.
Andrew Osmond is the author of 100 Animated Feature Films. Turning Red is available now on Disney+.
2 comments
Jordan Scott

March 20, 2022 11:29 pm

Maybe it didn't in the US, but it did have a small, blink-and-you'll-miss-it cinema release in the UK. Disney did done their best to make no one know about it, but I noticed that at the least it had a week of morning screenings at my nearest Showcase the same week that "DIGIMON ADVENTURE LAST EVOLUTION KIZUNA" played there.

sf

March 29, 2022 6:51 pm

Seems like you think "West is Best" too. What a bizarre, nasty, chauvinistic note to end on.