Newswire #21 – 26th May 2015
May 26, 2015 · 0 comments
This past weekend was a very big one for Anime Limited at MCM London Comic Con, and this weeks newswire will bring you up to date on what we announced over the weekend, include an important update to anyone who purchased Kill la Kill Box 3 from our booth at the event and more! Read on below for all the details.
NEWS/GENERAL UPDATES
~ First of all we want to extend a big thank you to everyone who visited our booth at MCM London Comic Con this past weekend and attended any or all of the panels we were involved with during the event. You have no idea how much your passion helps fuel us throughout the weekend.
~ In case you missed what we announced over the weekend, we kicked things off on Friday morning with an announcement that made a lot of people to a double take as we revealed we'll be releasing Sword Art Online II in the UK in Blu-ray and DVD. (You can read find our SAOII announcement HERE.)
This was followed up later in the day with the news that we'll be releasing the film Fusé: Memoirs of a Huntress on Blu-ray and DVD. (See our announcement HERE.)
On Saturday morning, hot on the heels of us releasing the first season a few weeks ago, we revealed that we will be releasing the series Durarara!! x2 on Blu-ray and DVD in the UK. You can find our announcement HERE.)
And finally on Sunday morning we announced that we will be bringing the series Aldnoah.Zero to the UK on both DVD and Blu-ray. (Announcement HERE.)
~ Following up on those announcements, we wanted to address a few of the frequently asked questions here on the Newswire that came up over the weekend.
We're not able to confirm exact release dates at this time for each, but once we know more we'll be sure to share the news accordingly.
Our license of Durarara!! x2 includes all 3 seasons or arcs of the series. (Though we're unable to confirm at this time the breakdown of how it will be released, given only the first arc has been broadcast.)
It is both seasons of Aldnoah.Zero we will be releasing.
~ One important thing we would like to touch on is in relation to Kill la Kill Part 3. We were delighted to have pre-release copies over the weekend for attendees to purchase but by the final day of the event it became apparent to us that some people were experiencing issues removing the digipack and book from the rigid case inside the Collector's box. We checked some of the stock we had on the booth and following this we immediately had all remaining stock at our production house quarantined as we experienced the same problems. This is despite the samples we were sent prior to the event, and that we ultimately signed off on in order to have them produced in time for the event, not having this issue. In turn a new rigid box correcting the issues discovered for all units will now be produced.
As a result it does mean that Kill la Kill Part 3 has been delayed once again with a new tentative date being the end of June or possibly even early July. We're going to refrain from announcing a new date until we have discussed this more with our production house but we do want to say we are extremely sorry about this (and believe me we're really disappointed and frustrated an issue such as this has come up) but the last thing we want is to have this problem to be present for the general retail release.
With the above in mind we are today launching a replacement programme for those who purchased their Kill la Kill Box 3 from our booth during MCM London Comic Con this past weekend. As we are now (for intents and purposes) still in the pre-production phase for this title, we can launch this sooner than we could with other titles, hence why we're able to act quickly on this. Please read on below for details.
---
KILL LA KILL BOX 3 REPLACEMENT SCHEME FOR MCM LONDON MAY 2015 PURCHASES
To everyone who purchased Kill la Kill Part 3 at MCM London Comic Con, May 2015 – we are going to begin a replacement scheme for the reason specified above. To apply for your replacement please email Jeremy on Jeremy@AllTheAnime.com with the subject line "KILL LA KILL PART 3 – MCM LONDON REPLACEMENT" and it must including the following:
your full name
your postal address
a photo of your Kill la Kill Box 3 DVD/Blu-ray
Please tell us in your email if you purchased the DVD or Blu-ray version.
and proof of you having been at MCM London Comic Con in the form of sending us a copy of the confirmation email you will have received when you purchased your tickets online.NOTE: If you purchased your ticket(s) to the event on the day you attended and/or don't have email confirmation, please include a picture of your ticket/pass/wristband in the photo of your Kill la Kill Box 3. Please have both the Box and you ticket/pass/wristband in clear view.(If you can't do any of the above, email Jeremy on Jeremy@AllTheAnime.com so we can discuss.)
VERY IMPORTANT – Deadline to apply for Kill la Kill Box 3 MCM London replacements is 9am on Monday 8th June.
In terms of when replacements will be fulfilled, we are endeavouring to get them to all applicants as soon as possible, but we are aiming for it to be before the general release of the title.
---
NOTE: We will be publishing a separate post here at our website about this Kill la Kill Box 3 replacement programme, but we wanted to get the details out early given the relatively quick turn around time.
~ Earlier today we recorded our post MCM London Comic Con edition of the Anime Limited Podcast. You can expect to surface in the next day or two. You can hear previous episodes HERE. Also it's now available on iTunes HERE.
SIMULCAST UPDATE
The latest episodes of Seraph of the End, and Plastic Memories are available now! Click on the links below to watch them.
Seraph of the End episode 8
Plastic Memories episode 8 (at Viewster)
Plastic Memories episode 8 (at Crunchyroll) 
Please note that episode 8 of The Heroic Legend Of Arslan should be available on Viewster soon. There has been a delay in receiving the subtitle assets.
REPLACEMENT UPDATE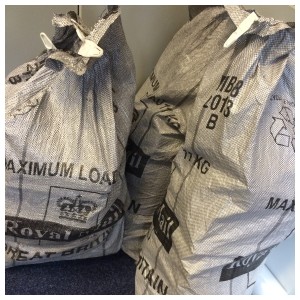 DURARARA!!
~ We're happy to report that all going well we're intending to get the remaining UK and Ireland replacements for Durarara!! sent this week. We're also hoping to cover a lot of ground when it comes to the international replacements too.
~ A reminder that a confirmation email will be sent once following the dispatch of your all applicants replacements to the email address you registered with. (Be sure to check your spam box as well – sometimes anything can end up in there and you don't even realise it.)
~ If you've yet to register for replacement discs, a reminder that those who purchased our Limited Edition Blu-ray set of Durarara!! can still apply for a replacement set of discs. Get the full details HERE. (If you're planning to apply for replacement discs please take the time to read all the details posted.)
KILL LA KILL BOX 1
~ Just to make a note of it here, we haven't forgotten about this. Hopefully we'll have some details on this soon.
KILL LA KILL BOX 3
~ Please refer to the details listed above, but as mentioned there will be a separate post made here at our website detailing the replacement programme.
UPCOMING EVENTS
Here's the list of upcoming events we'll be attending in some capacity.
MCM Manchester Comic Con, 25th-26th July
MCM Ireland Comic Con (Dublin), 29th-30th August
NOM Con, 31st July-2nd August
KITACON, 31st July-2nd August
MCM Scotland Comic Con, 26th-27th September
Scotland Loves Anime – Glasgow, 9th-11th October
Scotland Loves Anime – Edinburgh, 12th-18th October
MCM London Comic Con, 23rd-25th October
MCM Birmingham Comic Con, 21st-22nd November
RELEASE CALENDAR
And so with the above information in mind here's the most up-to-date version of our release schedule. For the purposes of this newswire we've included the 4 titles announced over the past weekend. (We will of course continue to update this in every Newswire accordingly.)
April – June 2015
OUT NOW: Wings Of Honneamise (DVD, Collector's Edition DVD+Blu-ray combi)
OUT NOW: Durarara!! Complete Series [Standard Edition] (Blu-ray, DVD)
June/July (TBC): Kill la Kill Part 3 [Collector's Edition] (DVD, Blu-ray)
June (TBC): Tiger & Bunny – The Rising (Collector's Edition Blu-ray/DVD)
July onwards [COMING SOON*]
13th July: Space Dandy Season 2 [Collector's Edition] (DVD, Blu-ray)
13th July: Space Dandy Season 2 [Standard Edition] (Blu-ray only)
13th July: Space Dandy Complete Season 1 & 2 Set (DVD only)
July (TBC): 009 Re:Cyborg Collector's Edition (Blu-ray/DVD combi)
July (TBC): 009 Re:Cyborg Standard Edition (DVD)
July (TBC): Fate/kaleid liner Prisim Illya (Collector's Edition Blu-ray, DVD)
TBC: Nerima Daikon Brothers (DVD only)
TBC: Baccano Complete Series [Collector's Edition] (Blu-ray only)
TBC: Makoto Shinkai The Place Promised In Our Early Days / Voices Of A Distant Star Twin Pack (DVD, Blu-ray)
August (TBC): Sword Art Online II (Collector's Edition Blu-ray+DVD, DVD)
TBC: Fusé: Memoirs Of A Huntress
TBC: Durarara!! x2
TBC: Aldnoah.Zero
*Tentative date – not final.
If you have any questions on any of the above please feel post them in the comments below or via our Twitter and Facebook.
Signing out~!
Jeremy
Follow Anime Limited on Facebook | Twitter | Instagram | Tumblr | YouTube