Newswire #101 – 24th March 2017
March 24, 2017 · 4 comments
So, it's been about a month since our last Newswire. Time really has flown by! I may sound like a broken record at this point but things really have been chock-a-block busy here Anime Limited HQ which is why I've not been able to write a Newswire for a while. My goal with these going forward is to make these a fortnightly venture; so after this Newswire the next one will likely be towards of end of the week commencing 3rd April.
---
CINEMA UPDATES
~ First of all earlier this week we announced that coming this summer to cinemas in UK & Ireland will be the new film directed by Kenji Kamiyama (Ghost in the Shell: Stand Alone Complex) called Napping Princess. (aka Hirune Hime.)
You can read about this film HERE.
~ A Silent Voice has screened, and continues to screen in various locations across the UK. If you haven't booked your tickets yet you can do so right now at http://asilentvoice.co.uk/
~ Regarding A Silent Voice screenings in Ireland, following there being a delay in IFCO certification that meant we couldn't screen it at the same time as in the UK, I'm happy to confirm that screenings are taking place at the Cineworld in Dublin from today (Friday 24th March) through to Thursday (30th March) at 7:30pm daily! You should be able to find these listing on our ASilentVoice.co.uk ticket site, but in case you can't, here's a link to the Cineworld in Dublin's page HERE.
We can also confirm the following screenings in Ireland as well:
Sunday 26th March @ Light House Cinema, Dublin
Wednesday 5th April @ Triskel Christchurch, Cork
Wednesday 5th April @ EYE Cinema Galway
You should be able to find links to these respective listings at ASilentVoice.co.uk right now.
Please know that we are looking to add more screenings, but at this time this is what we have confirmed. If there any more we'll be sure to make it known.
~ Our next film to be screened in cinemas is Sword Art Online The Movie: Ordinal Scale! In case you missed our announcement about this last week (SEE HERE) you can book tickets right now for this at saothemovie.co.uk
Be sure to check our announcement from last week as we touch on many topics when it comes to our screenings of the film. (There's a handy F.A.Q. in there 🙂 ) Also, check out the trailer below too!

---
ALL THE ANIME UPDATES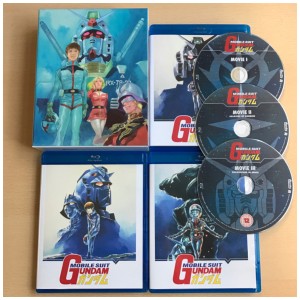 ~ First of all, this coming Monday (27th March) sees the release of our *AllTheAnime.com Exclusive* Mobile Suit Gundam Movie Trilogy Blu-ray set! (Pictured left.) If you haven't already, check out the unboxing for this that we posted last week HERE.
~ Looking ahead, Monday 3rd April sees the release of Persona 3 Movie #2 Midsummer Knight's Dream. In case you missed it earlier check out a full unboxing for this HERE.
Also out on 3rd April is our standard edition Blu-ray of Gankutsuou: The Count of Monte Cristo!
~ In our last Newswire we highlighted a number of release dates for the coming months. Following that we want to take a moment to highlight how things are currently shaping up when it comes to AllTheAnime releases for the next month or so-
3rd April
—Persona 3: Movie #2 Midsummer Knight's Dream
—Gankutsuou: The Count of Monte Cristo
24th April
—Mobile Suit Zeta Gundam Part 2
—Evangelion 1.11
—Tokyo Marble Chocolate
TBC April
—Escaflowne DVD (TV Series + Movie)
8th May
—Outlaw Star Blu-ray standard edition
—Your Lie in April Part 2
15th May
—Selector Infected WIXOSS
There have been a few changes since our last Newswire back in February. We're very sorry for the changes but as mentioned what you see above is our release schedule for next month or so. We'll have more news on upcoming past what's listed above for you in the coming weeks.
~ Looking way ahead, while we can comment on any specifics until everything is signed and approved, if you're wanting to get in early on pre-ordering A Silent Voice you can now at Amazon UK HERE.
---
FUNIMATION TITLE UPDATES
~ First of all, Heavy Object Part 1 is available now on Blu-ray! If you not familiar with the series have a read of THIS by Andy Hanley.
~ This coming Monday sees the release of Snow White with the Red Hair: Season 1 on Blu-ray! It includes episode 1-12 with both the English dub and original Japanese with subtitles. You can check out the trailer for this below.
~ We can confirm that Shimoneta: A Boring World Where the Concept of Dirty Jokes Doesn't Exist has passed BBFC certification. It passed with an '18' rating. The series will be released on Blu-ray and DVD from 24th April. You can watch the trailer for it below –
~ Regarding Fairy Tail 12 and it being delayed due to the printing error (SEE THIS) we're happy to say that corrected units are now available! But we want to stress, should you buy a copy of it and it turns out to be a leftover copy that had a printing error, that's not a problem. Please see THIS POST and drop us a line so we can get a corrected version out to you 🙂
~ Regarding the upcoming release of Daimidaler: Prince vs. Penguin Empire, today we can confirm that this title now be getting released on Blu-ray only.
The reason this has occurred is a requirement by the licensor that the DVD is released in PAL. As has been the case with other titles that have recently switched to being Blu-ray only releases, unfortunately remastering in PAL for the DVD release has prohibitive costs that, based on the title involved and the current level of demand, are difficult to absorb, therefore releasing this on DVD is no longer possible. Unless there were extraordinary demand for this title on DVD it is very unlikely that DVD release of this would be explored again in the future. We apologise to those of who were looking forward to the DVD releases of this.
But to reiterate, Daimidaler: Prince vs. Penguin Empire will now be a Blu-ray only release.
~ Looking ahead, here's how things are shaping up the next few months when it comes to Funimation titles:
27th March
— Snow White with the Red Hair: Season 1
3rd April
— Fairy Tail Part 13
24th April
— Shimoneta: A Boring World Where the Concept of Dirty Jokes Doesn't Exist
— Daimidaler: Prince vs. Penguin Empire
8th May
— Fairy Tail Part 14
Unfortunately there are some titles that have had to pushed back a bit due to delays in approvals. We're very sorry about this but please know there will be more details about these releases for you in the coming weeks!
---
REPLACEMENT SCHEME UPDATES
— Escaflowne Ultimate Edition, Disc 3
We're still working to get these fulfilled as quickly as possible. We've managed to cover a lot of ground of on this recent weeks, so if you haven;t had your confirmation of it being dispatched yet we apologise for this but ask you please wait a little bit longer for this – it will be getting sent soon.
— Fairy Tail Part 12, sleeve
As mentioned above, replacements for this will be getting sent out from this coming week!
---
An Update on AllTheAnime.com
and some changes to the site
(Ha ha! I've surprised you with an additional section!) And finally to close out this Newswire, some of you eagle eyed people may have noticed a few updates to our website the last few weeks. I'm wanted to take a few moments to highlight these changes and the thinking behind them –
~ First of all, there's now a hub page of sorts for films we're going to be screening that can be accessed directly from the home page of AllTheAnime.com. This page will be updated accordingly with cinemas screenings we will be holding for upcoming titles of ours. This won't include specific screening listings, only the titles in question.
~ On a similar note, I've received lots of feedback for many months asking for a way to be able to keep track of upcoming releases directly through our website. After much deliberation and thinking on the best way for me to be able to keep things as up to date as possible on the site for everyone – and partly so you guys don't have to rely on Newswire & social media posts the entire time – you will now find the 'Upcoming Titles' page at our website has lots of listings for upcoming releases, in release date order, added. But the catch being you can't actually order them direct from us yet. Expect more listings to appear on the site in the coming weeks!
It's something we've talked about at length before, but to reiterate, due to the limitations of our web shop we cannot take delayed payments for any order – so we're not able to list a title for order months down the line unless you pay for it there and then. So what we're now going to be doing is having listing for titles appearing on our site much earlier than normal, but they will not available to order until closer to the date of release itself. (More often than not this will be between 2-4 weeks ahead of release. Though there may be some exceptions to the rule.)
Now this being said, this does not mean that early-bird pre-order offers will no longer happen. So be sure to keep an eye for those as we can bring them to you.
I will be updating and adding listings as often as possible, but some titles being added may ultimately come down to when things such as contents, artwork and so-on have been signed off. I'm hoping long term this will help you all to be able to keep track of where things stand when it comes to upcoming releases, for both AllTheAnime and Funimation titles, and also cut the down the waiting time between you paying for an order and then actually receiving it 🙂
~ In addition to this, you'll also be happy to hear there is now a dedicated release schedule page I'm going to be updating as needed. You can find that HERE. You can also access this page through the 'Menu' button at the top of AllTheAnime.com and our web shop.
It's a simple, to the point page and will also point you to the respective listings of titles (assuming they are listed at our web shop) as well. Chances are this will only look ahead by a few months at a time, but I hope this will also help some of you to keep track on things.
Again I know some of you have wanted to have what many perceive as 'simple things' for quite a while, but when push comes to shove it's all about practicality and making sure I can keep on top of this for all of you. I hope this helps but if you have any feedback on the changes highlighted above please feel free to post them in the comments, or send messages through Facebook & Twitter or drop me an email.
And that wraps up this newswire from me. As mentioned our next Newswire will be in a few weeks time! So be on the lookout for that.
Signing out~!
Jeremy
Tagged with:
A Silent Voice
,
Daimidaler
,
Daimidaler vs. Penguin Empire
,
escaflowne
,
Evangelion 1.11
,
Fairy Tail
,
Gankutsuou
,
Gundam
,
Hirune Hime
,
mobile suit gundam
,
mobile suit zeta gundam
,
Napping Princess
,
outlaw star
,
Persona 3
,
PERSONA 3 MOVIE 2
,
Persona 3 Movie 2 Midsummer Knight's Dream
,
Selector Infected WIXOSS
,
Shimonet: A Boring World Where the Concept of Dirty Jokes Doesn't Exist
,
Shimoneta
,
Snow White with the Red Hair
,
Sword Art Online
,
Sword Art Online The Movie
,
Sword Art Online The Movie Ordinal Scale
,
Tokyo Marble Chocolate
,
Your Lie in April
,
zeta gundam
4 comments
Marco

March 24, 2017 7:31 pm

Nice update! Question, Uk-anime reported that My Hero Academia has been issued a BBFC certification by Universal UK. Wasnt it supposed to be released through Anime Limited/All the anime? Is Funimation switching UK distributers AGAIN?

Matthew

March 27, 2017 9:25 pm

I doubt it. Anime Limited are still releasing Funimation titles. Universal likely just picked up the license from Funimation.

Shiroi Hane

March 25, 2017 4:31 pm

Re: Tokyo Marble Chocolate, the store listing indicates it to be an AllTheAnime.com exclusive. If this is correct, how is it different to the product available through Amazon etc?

Konno

March 26, 2017 11:31 pm

Hi still know news on the Melancholy of Haruhi Suzumiya release. I just wanted to know if this title is going to be coming out? Thanx