Newswire #85 – 24th August 2016
August 24, 2016 · 5 comments
Another week brings you another edition of our Newswire! Bringing you up to speed on all thing AllTheAnime and Funimation Titles. There's a lot to tell you about this week, including updates on Gundam releases, revealing what you can expect from our releases of Blood Blockade Battlefront and The Tatami Galaxy, and more! Read on below for details.
~ First of all, this coming Monday sees the release of the Zavvi Exclusive Ltd Collector's Edition Blu-ray Steelbook of Satoshi Kon's classic movie Perfect Blue. There's still time to order your copy from their site HERE.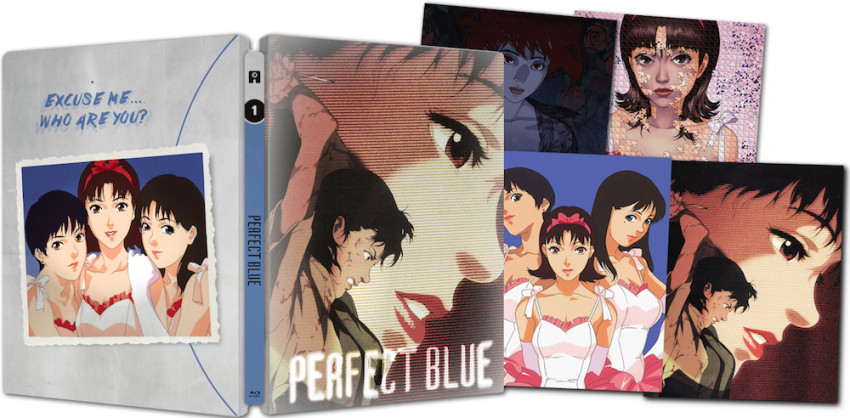 If you've never seen it before, check out our exclusive trailer for the film, originally used when we released our now out-of-print Collector's Edition version way back in 2013, below.
~ Speaking of Perfect Blue, if you're a fan of soundtracks Zavvi are currently selling a Limited Edition vinyl of the soundtrack. You can find details on it HERE.
~ Following on from Perfect Blue this week, our next release will be on 5th September with our Limited Collector's Edition Blu-ray of Samurai Flamenco Part 2. After that the 12th September will bring the first complete series release of Beck: Mongolian Chop Squad in the UK on DVD.
So with all the above in mind here is how things are shaping release date wise:
5th September – Samurai Flamenco Part 2
12th September – Beck: Mongolian Chop Squad
26th September –
Assassination Classroom Season 1 Part 2
Free! -Eternal Summer-
Project Itoh: The Empire of Corpses
~ If you haven't listened to it already we (finally) released a new episode of our Podcast over the weekend. You can get all the details on this HERE.
Some of the info we'll be covering below stems from that podcast.
~ If you've listened to our podcast you'll already know this but we have an update on Turn A Gundam for you! Been a while since we last mentioned that (SEE HERE) hasn't it? Chances are some of you have likely seen this news floating around elsewhere already, but we are delighted to confirm that we will be bringing the series to Blu-ray! We haven't got specifics confirmed at this time, but we'd say expect it to be part of our Q1 2017 lineup and there will be more details as we can bring them in the coming months.
The one crucial bit of information on this is now we are able to bring to Blu-ray we can confirm the originally planned DVD release of Turn A Gundam has been cancelled.
This is the latest update on this, so probably expect us to not mention this very much, if at all, before we have some more concrete details regarding our release to bring you. But know that as soon as we have more news we'll definitely let you guys know.
~ Elsewhere on the Gundam news front, we also confirmed on our podcast that we will be bringing Mobile Suit Gundam ZZ (aka Gundam Double Zeta) to Blu-ray in the UK! This was also a title originally set for a DVD only release. However that has changed as we'll be releasing it on Blu-ray in place of DVD.
To confirm, as is the case with Turn A Gundam, the originally planned DVD release of Gundam ZZ will now be Blu-ray only. There will not be a DVD release of Gundam ZZ.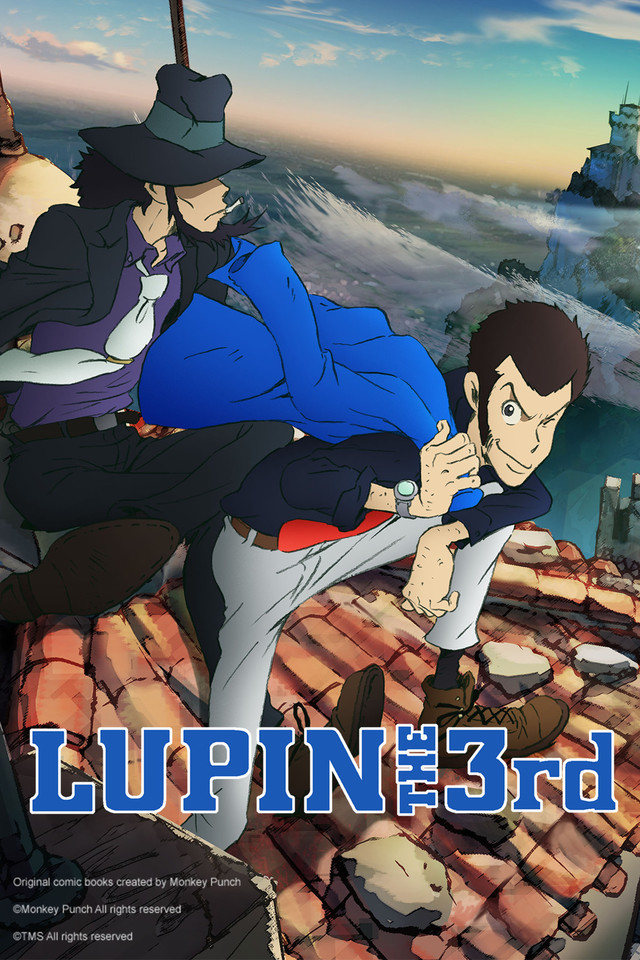 ~ So, following the news we posted a few weeks ago about Lupin III (2015) (aka Lupin the 3rd Part 4) being part of our provisional Q4 lineup, and interesting development has occurred. To give full context, at the time we announced we would be bringing this series to the UK back in May, this was set to be a subtitle-only release, meaning in Japanese with English subtitles only. The reason for this being that there was no English dub. However, since we solicited our provisional Q4 schedule it was brought to our attention that an English dub may be in the works. To give us the necessary time to ascertain whether this is indeed the case or not, we are delaying our release until 2017.
We want to thank everyone who has shown interest in the possible English dub of Lupin III (2015) as this has helped to us make this decision to hold our release back until we are sure whether this is indeed the case or not.
Simply put, you more than likely will not hear us mention Lupin III (2015) until there is a significant development we can bring you. Us not mentioning it until such a time is not to say we won't be releasing it, because we fully intend to. It's just easier for everyone if the next time we mention it is when there is some actual news to bring you.
If you've not seen the series before you can watch it sample it subtitled right now at Crunchyroll HERE.
~ In case you missed it late last week we've started taking pre-orders for the Gundam Origin IV set. You can all the details on this HERE. We are taking pre-orders of this Japanese Blu-ray Collector's Edition set until 10th October 2016, with fulfilment expected to be in mid-late November.
~ Looking ahead, if you listened to our podcast you'll know we mentioned there will likely be some date shifting of upcoming released inbound and today we can confirm some of these for you.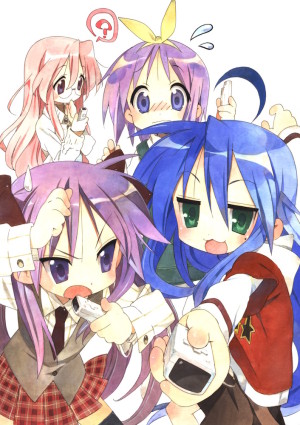 Lucky Star
This is an interesting one to note, as we can confirm we're delaying our release but this is actually because we're adding an additional disc into our set! To give full context, we bringing the series to Blu-ray and will be utilising the Funimation masters for our discs. The way they were authored in the USA meant that a lot of extra content was not included on Blu-ray and instead were kept on DVD only. So we've gone back to the drawing board on this and are now factoring in a additional bonus DVD disc that will have these extras on it. So this means our release will now be a four disc set, with 3 Blu-ray discs comprising the series plus the bonus DVD extras disc.
At time of writing we can't confirm a new release date, but we're hoping it will be before the end of the year – hopefully in time for Christmas. The reason we can't confirm a new date is that we now need to redesign, re-cost and get new approvals on our release. This all takes time but it will be well worth it so we can include the extra disc in our release!
So if you see any release dates being advertised for our release of Lucky star, please take them with a pinch of salt until we confirm it on our channels.
Your Lie In April
We were hoping our release of this wouldn't be too far away, however we are waiting for approval on our release of Your Lie In April, so currently Part 1, that some retailers are advertising for a date in September, will definitely not be coming out next month. Currently we're hoping you won't have to wait too much longer. All going well we're hoping for the release of Part 1 in October. Part 2 has no tentative date at this time.
Until we have approval, we're not going to jump the gun on saying what we have planned but once all is set in stone we'll definitely make it known.
For those of you wondering we can tell you that Part 1 has been allocated a BBFC certificate of 12.
Project Itoh: The Empire of Corpses
You may have noticed us mention it earlier, but following our recent news that we've had to push back our release due to a production delay, we're happy to confirm the new date set for The Empire of Corpses is 26th September.
Eden of the East Ltd Collector's Edition Blu-ray
There are some retailers listing this for release in September however we can confirm that this is not accurate. All going well we're hoping for this to be released in November, but you never know it could be earlier for all we know. This release is still in the approvals phase of things which is why we haven't said too much about this yet, but as soon as all is approved we'll be able to tell you more!
Claymore
As things stand we're hoping this will be available by the end of the year, hopefully sooner. Currently this is in approvals, which is why you haven't heard us talk about it very much. But know it's still very much in our plans for this year, so be on the lookout for more details soon.
Gundam Reconguista in G
Sometimes the best laid plans get scuppered, and in this instance we can now confirm that Reconguista in G will now be arriving on 7th November. Reason being due to a delay in printing of the product itself, so really not much at all we can do about that. It has already been brought to our attention that some retailers are advertising a late October release date for this. Please note that date is not accurate and 7th November is the date for your calendars.
Aldnoah.Zero Season 2
We can confirm the September release date being advertised by some retailers is not accurate. Currently we don't have a tentative date for you but we're intending to slot it into our Q4 lineup, all going well pending approvals and such. Once we have a more concrete update to give you we'll be sure to share asap.
NOTE: We know there a lot of titles we've acquired that we likely haven't mentioned for a while. If we've not mentioned an upcoming titles of ours above, it means there is no update on that at this time. But once a title is scheduled we'll be able to mention it.
~ Today we very excited to show you what you expect from two of our upcoming releases, Blood Blockade Battlefront and The Tatami Galaxy.
First of all, Blood Blockade Battlefront. We'll be releasing this as a Limited Collector's Edition Blu-ray set and on standard DVD on 7th November. You can get a first glimpse of our Ltd Collector's Edition Blu-ray release below, and we'll expand on details underneath.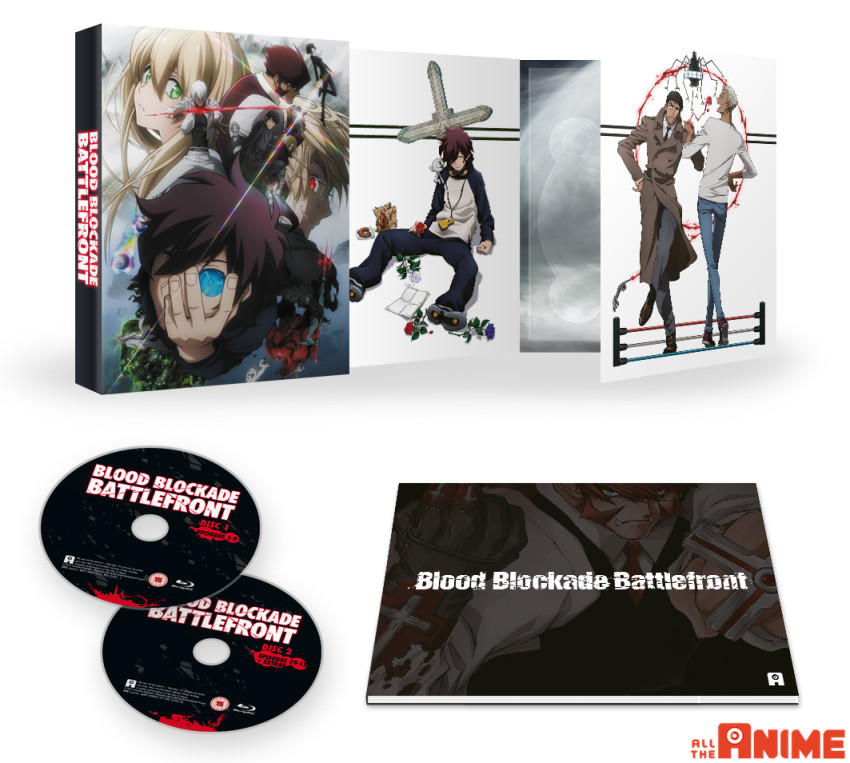 To give you the rundown, our release will come packed in a rigid case (top left), inside that a digpack (top right) to hold the two Blu-ray discs. Also inside the rigid cast will be a 120-page art book that will include character image boards, art settings and interviews with some of the staff who worked on the show. Specifically interviews with the original creator Yasuhiro Nightow and Character Designer Toshihiro Kawamoto, Art Director Shinji Kimura, Creature Designer Koji Sugiura, Taisei Iwasaki (who wrote the music for the series) and Effects Animation Director Takashi Hashimoto.
On disc content on the Blu-ray includes the entire series (12 episodes) with both the English dub and original Japanese audio with subtitles. Extras wise there will be Episode 10.5: Even These Are the Worst and the Best Days Ever, interviews with Aaron Dismuke & Ian Sinclair and Micha Solusod & Mike McFarland, Textless Opening and Closing title sequences, Promotional Videos & TV Spots and Blu-ray/DVD promos.
=-=-=-=-=-=-=-=-=-=-=-=-=-=-=-=-=-=
~AllTheAnime.com Early-Bird Pre-order Special Offer~
Until 31st August at AllTheAnime.com you can pre-order our Limited Collector's Edition Blu-ray of Blood Blockade Battlefront for £39.99
(SRP: £69.99)
=-=-=-=-=-=-=-=-=-=-=-=-=-=-=-=-=-=
Next up, The Tatami Galaxy.
We're bringing the series to the UK for the first-time on Blu-ray as a Limited Collector's Edition set on 28th November. It will come packed in a rigid case, inside that a digipack to the hold the two Blu-ray discs, 4 art cards and a 60-page art booklet. The art booklet containing characters designs for main characters and other cast members, plus there are also background art settings for many of the locations in the series. You can see what our set will look like below.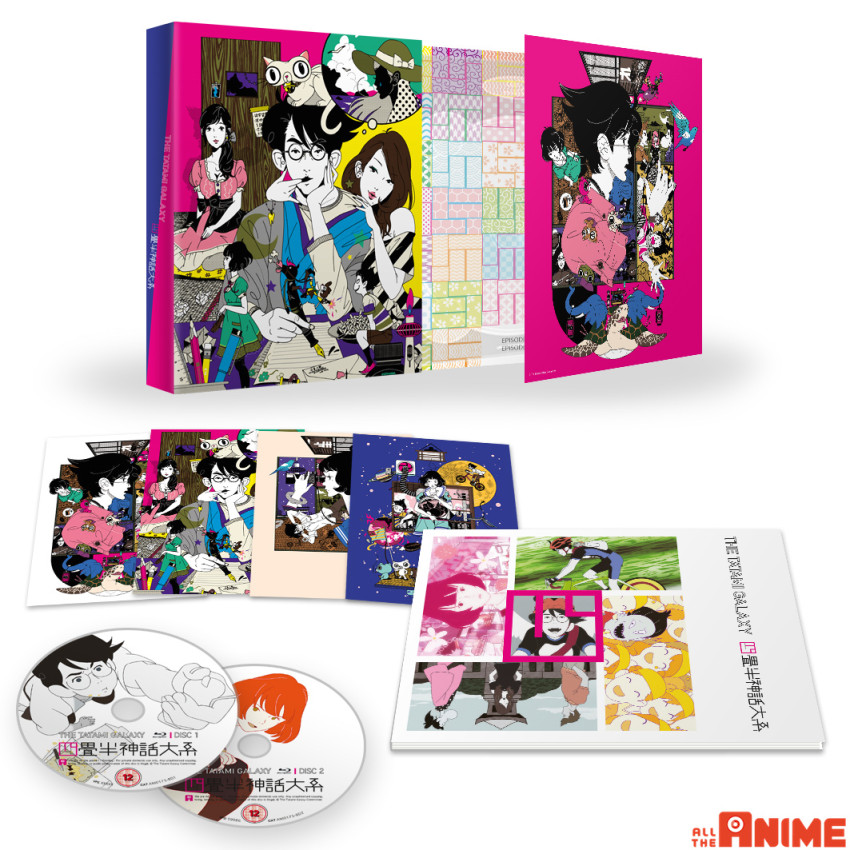 On-disc content wise, you'll get the entire series (11 episodes) – a reminder that the series has no English dub so it a Japanese audio with English subtitles only release – plus a promo video, clean opening and clean endings and a nearly 20 minute Making of… featurette that follows some of the team involved in the series going to various locations used in the show.
You can get in early and pre-order your copy of The Tatami Galaxy today from the likes of Amazon and Anime on Line today. Listings on other retailers sites will be appearing soon.
FUNIMATION TITLE UPDATES
~ After a pretty dormant few weeks when it comes to news, we have an update on a few titles for you! First of all we're happy to confirm that Gonna Be The Twin-Tail!! is set for release on 26th September. Though BBFC certification is currently still ongoing, we are confident all will be well and we have slotted it in for that date. You can pre-order your copy from the likes of Amazon, Base and Zavvi now.
~ No-Rin has now been tentatively scheduled in release on 10th October.
~ No further update on Fairy Tail at this time, but as we said on our podcast we're anticipating Part 10 to be arriving in October.
~ We can confirm two new tentative release dates of other titles we've previously mentioned for you! The series Yurikuma Arashi is set 31st October and Brothers Conflict is due on 14th November. Both will be Blu-ray/DVD combi sets.
~ The only other update we have for you at this time is, as confirmed on our Podcast (see right at the top of this post for details), that the series Overlord will be coming to the UK in the future as part of the titles we are distributing for Funimation. We don't have any other details than this right now, but once we have more information we'll be sure to make it known.
With the above in mind, here's how things are currently shaping up on the Funimation title front:
26th September – Gonna Be The Twin-Tail!!
10th October – No-Rin
31st October – Yurikuma Arashi
14th November – Brothers Conflict
SCOTLAND LOVES ANIME FILM FESTIVAL
Yes it's that time of year already, we are fast approaching the Scotland Loves Anime Film Festival that will be at the Glasgow Film Theatre and Edinburgh Filmhouse in October. There's going to be lots of news about the festival through the festival's channels – visit their website HERE, Facebook HERE and Twitter HERE – coming very soon but if you haven't already put these dates in you calendars.
The Glasgow leg of the festival will be from 14th-16th October and the Edinburgh week long event will be from 17th-23rd October.
For those of you planning to go to Glasgow, the Glasgow Film Theatre (GFT for short) have made a very limited number of weekend passes available to purchase now! CLICK HERE to be taken to the GFT website for more information.
We'll be sure to keep you updated on the latest news from Scotland Loves Animation through our Newswire and such too, but be sure to keep an eye on them for the news as it breaks!
UPCOMING EVENTS
Our next event will be at the end of September and then we move into Scotland Loves Anime Film Festival territory! Expect lots to details about the festival to be surfacing very soon!
24th/25th September – MCM Scotland Comic Con @ Glasgow
14th-16th October – Scotland Loves Anime @ Glasgow Film Theatre, Glasgow
17th-23rd October – Scotland Loves Anime @ Edinburgh Filmhouse, Edinbugh
28th-30th October – MCM London Comic Con @ Excel London
That's all for this Newswire. Stay tuned for more news as we can bring it to you!
Signing out~!
Jeremy
Tagged with:
Aldnoah.Zero
,
Blood Blockade Battlefront
,
Brothers Conflict
,
Claymore
,
Eden of the East
,
Gonna be the twin-taill!
,
Gundam
,
Gundam Reconguista In G
,
Gundam ZZ
,
Lucky Star
,
lupin iii
,
No-Rin
,
Perfect Blue
,
The Empire of Corpses
,
The Tatami Galaxy
,
Turn A Gundam
,
Your Lie in April
,
Yurikuma Arashi
5 comments
Marco

August 25, 2016 5:25 am

For how long will the tryout of releasing combo sets (blu-ray/DVD) for Funimation titles go on for? I honestly hope it fails. I dislike to be forced to spend 10-15 bucks more because of it. I refuse to buy any of those combo sets despite I want to add them to my collection... Anime fan is a expensive hobby without this...

Marco

August 25, 2016 5:36 am

I would buy a beautiful Anime like Yona, Barakamon, High School DxD Season 3 (why isnt S2 being released btw???) on blu-ray. But stuff like Gonna be the Twin-Tail!, Daimidaler: Prince vs Penguin Empire, Blazblue: Alter Memory, Absolute Duo despite being fun anime to watch I would never ever buy it on blu-ray.

Pluton

August 26, 2016 11:21 am

Any news what anime will be next in the Zavvi Exclusive Steelbook series?

TheCodeTrigger

August 29, 2016 12:31 pm

I hope they bring Gundam Build Fighters in the future.

Adad

November 28, 2018 6:37 am

Any update on Turn A? 2018 is nearly over and still nothing.