Podcast #27 – 7th July 2017
July 7, 2017 · 1 comment
All The Anime Podcast #27 – Season 2, episode #5:
"I said canned laughter, not machine-gun"
[Recorded on 7th july 2017]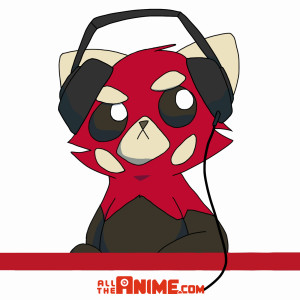 Andrew and Jessica are once again on assignment, so the podcast this week is brought to by the C-Squad of Anime Limited; Jeremy, Kat and Keith as they bring a fun (what somehow ended up being nearly) 80 minutes of discussion on a bunch of topics relating to anime and not.
Topics covered include (but not limited to) are our pitch for the next Mission Impossible film, a few things that excited us from the utter deluge of announcements at Anime Expo in Los Angeles last week, the live-action movie of Bleach [NOTE from Jeremy: only the teaser image had been published at time of recording], some chatter on what we've been watching including Haikyu!!, My Hero Academia – and it's parallels to Naruto – and Attack on Titan Season 2. Also talk on the most recent season of Berserk and Jeremy's new absolutely insane and possible life threatening drinking game while watching it. There'e even some Doctor Who chatter too.
Then the random topic generator returns with submissions from you, the listeners, included! As if that wasn't enough there's also some updates to our website to tell you about, including how you can keep updated on when a title is close to being out of print, plus an update on our release of Charlotte Part 2. 
A fun podcast as always! We hope you enjoy listening to it and we'll be back next Friday with another episode for you – and more than likely we'll be covering questions you've all been sending on that show.
NOTE: As always please note this podcast contains strong language and any views expressed by individuals in this podcast do not reflect those of Anime Limited.

(To download the podcast as an mp3, click on the arrow pointing down in the top right corner of the player above.)
Download and subscribe to the podcast through iTunes UK HERE.
Find our Souncloud page here: HERE.
There is also a Soundcloud app available on both iTunes and Google Play, so you download and listen to our podcast through there as well.
---
Past Podcasts episodes:
Season 1
Episode #1 | Episode #2 | Episode #3 | Episode #4 | Podcast #5 | Podcast #6 | Podcast #7 | Podcast #8 | Podcast #9 |Episode #10 | Episode #11 | Podcast #12 | Episode #13 | Podcast #14 | Podcast #15 | Podcast #16 | Podcast #17 | Podcast #18 | Podcast #19 | Podcast #20 | Podcast #21 | Podcast #22
Season 2 
Podcast #23 | Podcast #24 | Podcast #25 | Podcast #26
Signing out~!
Jeremy
1 comments
Matthew

July 9, 2017 12:19 am

That sucks about Charlotte Part 2 being delayed but I suppose it's better than releasing something you feel isn't in a release worthy state yet.