Podcast #30 – 28th July 2017
July 28, 2017 · 1 comment
All The Anime Podcast #30 – Season 2, episode #8:
"Alternative fact"
[Recorded on 26th july 2017]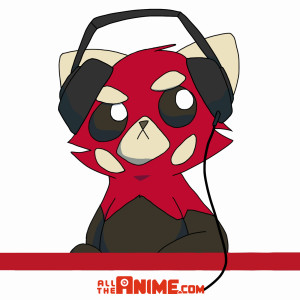 So, let's get straight to a fact here: the majority of the team is knackered and probably not all there. It's been one of those weeks – not to mention that most of the team were loading a van bound for MCM Manchester Comic Con this weekend – so if it feels like we might not be our usual chirpy selves that might be why. But that doesn't stop us Jeremy, Jessica (for a short time), Andrew, Kat, Keith and for the first-time our events manager Chris from bringing you about 40 minutes of chatter.
Chatter on the show week including the fact we (and Kat – as she's in the comic village representing her awesome art) at MCM Manchester Comic Con this weekend, seagulls, snap chat, the live-action Fullmetal Alchemist promotional posters, the Death Note live-action trailer and perhaps mentions (and possible updates) on the following anime in no particular order: Space Dandy, Death Parade, idol anime in general, Lupin the 3rd, Eureka Seven, Fairy Tail Dragon Cry.
Plus, perhaps the most important question that will ever be asked is brought to the table! What is it? You'll have to listen to find out!
A fun podcast as always! We hope you enjoy listening to it and we'll be back next Friday with another episode for you. We'll be putting out the call for questions on our social media channels early next week, so stay tuned!
NOTE: As always please note this podcast contains strong language and any views expressed by individuals in this podcast do not reflect those of Anime Limited.

(To download the podcast as an mp3, click on the arrow pointing down in the top right corner of the player above.)
Download and subscribe to the podcast through iTunes UK HERE.
Find our Souncloud page here: HERE.
There is also a Soundcloud app available on both iTunes and Google Play, so you download and listen to our podcast through there as well.
---
SHOW NOTES
– Live-action Fullmetal Alchemist poster featuring the cat, that we mention
– Death Note live-action trailer
---
Past Podcasts episodes:
Season 1
Episode #1 | Episode #2 | Episode #3 | Episode #4 | Podcast #5 | Podcast #6 | Podcast #7 | Podcast #8 | Podcast #9 |Episode #10 | Episode #11 | Podcast #12 | Episode #13 | Podcast #14 | Podcast #15 | Podcast #16 | Podcast #17 | Podcast #18 | Podcast #19 | Podcast #20 | Podcast #21 | Podcast #22
Season 2 
Podcast #23 | Podcast #24 | Podcast #25 | Podcast #26 | Podcast #27 | Podcast #28 | Podcast #29
Signing out~!
Jeremy
1 comments
Matthew

July 28, 2017 9:50 pm

Did anyone from Anime Limited watch Persona 3 Movie 4? I'm asking because there's some glaringly obvious subtitle errors/mistakes multiple times during the movie. When it happens, it looks like a word has been cut off or something and replaced with symbols. The most obvious ones are within the first half hour. I never experienced that with the first three movies.