Podcast #37 – 16th Sept. 2017
September 16, 2017 · 0 comments
All The Anime Podcast #37 – Season 2, episode #15:
"Raiding rooms for water"
[Recorded on 15th September 2017]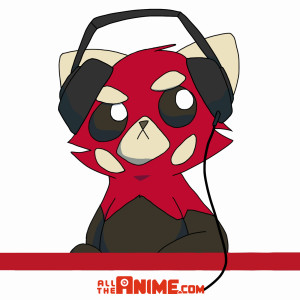 The All The Anime Podcast is back, a day later than usual, to bring you some anime related chatter to conclude your week or in this case, keep you busy over the weekend. Join Jeremy and Andy as they talk about Night is Short, Walk On Girl coming to cinemas on 4th October and also give you some spoiler-free thoughts on the film too! Plus, tickets for Lu Over The Wall at the BFI London Film Festival are on sale now, and arguably one of the bigger stories for many fans this week, we bring you details on the Ltd Deluxe Edition version of Your Name that was announced shortly before this podcast was recorded! 
And there's also time during the show to briefly talk about how Andy's house moving is going, some thoughts about the atmosphere at the Arsenal vs. FC Cologne game – that Jeremy attended – which leads onto some talk about atmosphere at Comic Cons too. A nice simple, fun and informative show.
Oh and Keith manages to find time gatecrash the podcast for about minute. (Not even joking.) Also a quick note that next week: we'll be exhibiting at the MCM Scotland Comic Con event, so we're still planning to have a podcast next week if at all possible. But to put this out there in advance, perhaps don't be surprised if we ultimately aren't able to bring you one.
NOTE: As always please note this podcast may contain strong language and any views expressed by individuals in this podcast do not reflect those of Anime Limited.

(To download the podcast as an mp3, click on the arrow pointing down in the top right corner of the player above.)
Download and subscribe to the podcast through iTunes UK HERE.
Find our Souncloud page here: HERE.
There is also a Soundcloud app available on both iTunes and Google Play, so you download and listen to our podcast through there as well.
Past Podcasts episodes:
Season 1
Episode #1 | Episode #2 | Episode #3 | Episode #4 | Podcast #5 | Podcast #6 | Podcast #7 | Podcast #8 | Podcast #9 |Episode #10 | Episode #11 | Podcast #12 | Episode #13 | Podcast #14 | Podcast #15 | Podcast #16 | Podcast #17 | Podcast #18 | Podcast #19 | Podcast #20 | Podcast #21 | Podcast #22
Season 2 
Podcast #23 | Podcast #24 | Podcast #25 | Podcast #26 | Podcast #27 | Podcast #28 | Podcast #29 | Podcast #30 | Podcast #31 | Podcast #32 | Podcast #33 | Podcast #34 | Podcast #35 | Podcast #36
Signing out~!
Jeremy